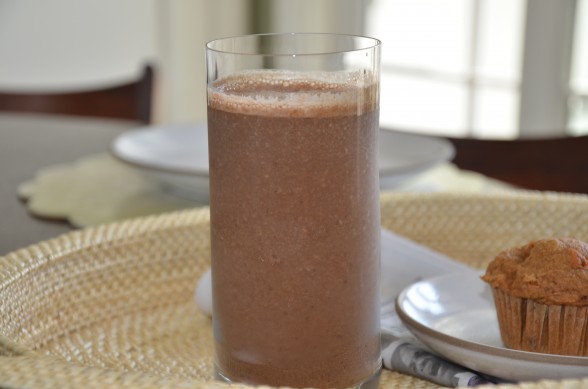 If you opened this post with glee and thought I actually put a recipe on my site for a real iced blended mocha, well then, you don't know me well at all, do you?  But if you clicked on the link anticipating a recipe for something that tastes just as delicious as an iced blended mocha, but is actually good for you, then we are probably already friends.  Iced blended mocha is a cold coffee drink mixed with chocolate, very much like a Starbucks Frappucino, and usually pureed with ice.   My husband, who has a real taste for all things toxic, used to drink sweetened iced coffee drinks much too often.  Before we were married, he used to buy the sweetened chocolate powder mix and coffee "extract" from our local coffee shop so that we could make them at home.  The mix was full of all sorts of scary ingredients, not the least of which was sugar and partially hydrogenated oil.  Needless to say, I haven't made my husband one of these since I became enlightened.
But his sister, my healthful food soulmate, has just come to his rescue!  She made up a truly guilt-free version of an iced blended, but sweetened with dates.  My daughter and I were playing around with the recipe last weekend and tried a few different variations and they were all delish, even the batch we made with faux coffee granules.  I think we'll surprise her dad Father's Day morning with a blast from the past!
Iced Blended Mocha
Serves:
makes about 20 ounces, enough for 2 medium drinks
Ingredients
2 big handfuls of ice
2 Tablespoons carob powder or unsweetened cocoa powder (we tried both and they were equally good)
2 teaspoons decaffeinated instant coffee granules or grain-based coffee substitute, such as Pero (again, we tried both and they were equally good)
16 pecan halves or ¼ cup pecan pieces
6 pitted dates
1 - 1½ cups unsweetened almond milk
Instructions
Put everything in a blender and process until smooth. Taste before serving. You may prefer more ice than I did. Also, I would use 1 cup of almond milk for a more intense mocha flavor or 1½ cups to keep it light. You can serve this over ice, if you like.