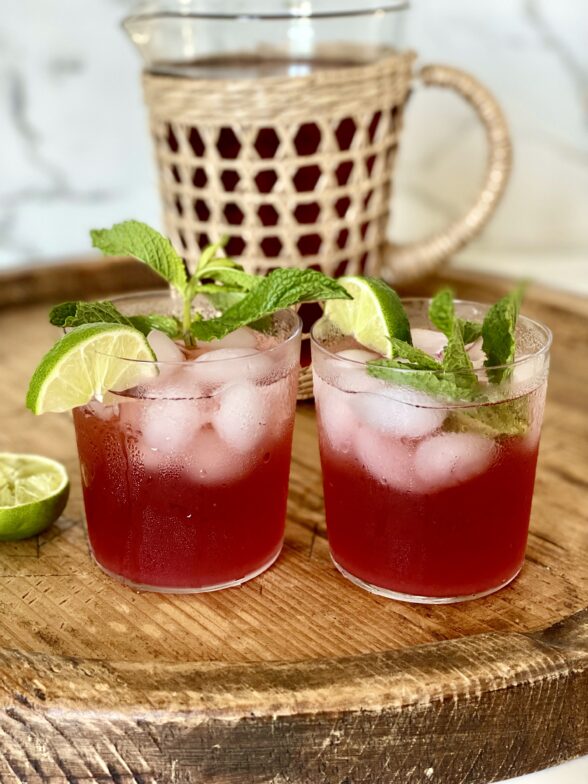 I'm on a mocktail kick this year.  What started with my Ginger-Lime Mocktail has expanded to my latest Hibiscus Mocktail!  I certainly love a nice refreshing cocktail or a good glass of wine every now and then.  But I don't need alcohol to have a good time or relax and I really don't love when I feel yuck the next morning.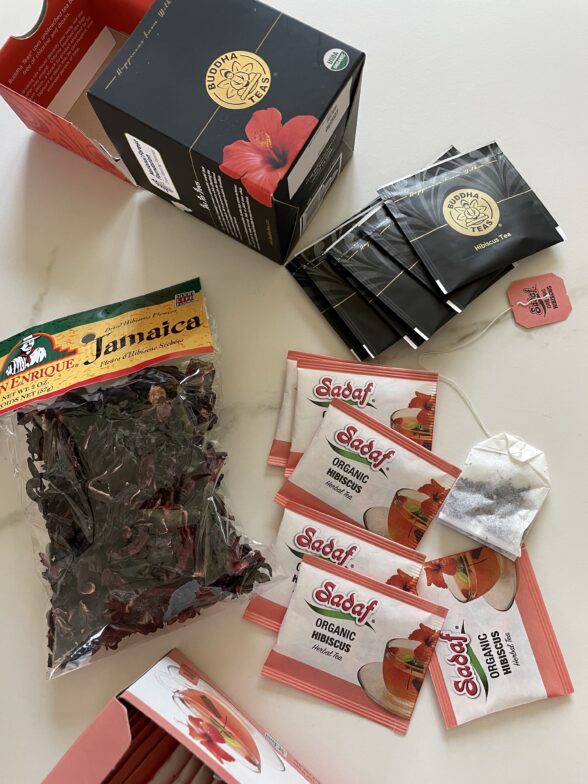 Hibiscus tea has a wonderful light fruity flavor.  It's obviously not sweet on its own which is why I add a few drops of stevia.  Plus the lime juice adds tartness.  This recipe is not really a recipe in as much as my telling you how I make this.  Who needs a "recipe" to make a mocktail?? Let's keep simple things simple.  You need guidelines and just taste as you go.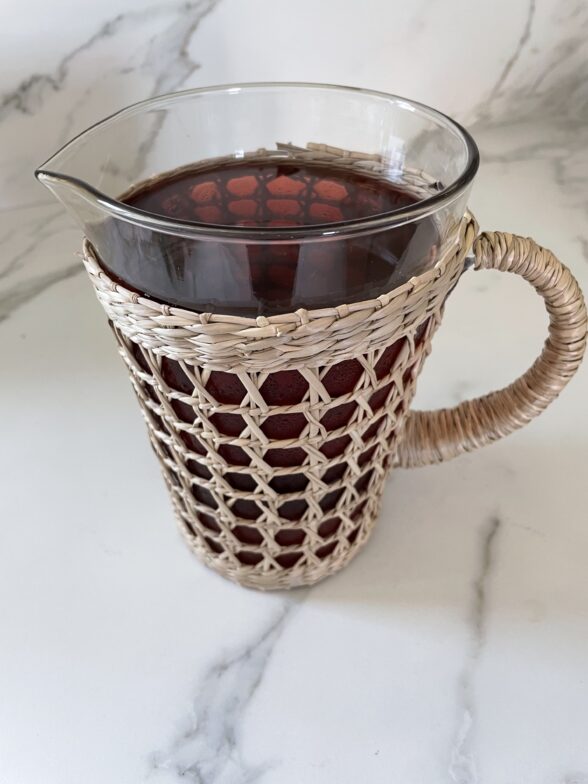 My advice is to brew a lot of tea in advance and keep it on hand in the fridge so you can whip this up on a moment's notice.  It's also such a beautiful color if you want a healthy, pretty drink to serve to guests. Healthy?  Yes!  Hibiscus tea is anti-inflammatory, can help with blood pressure, and is considered to be an anti-aging drink. Give me a double please!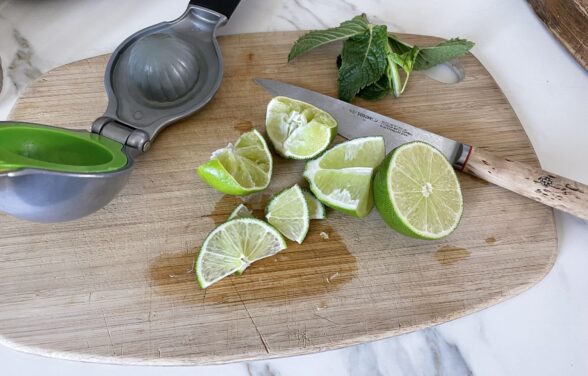 I make this consistently with tea + lime juice + stevia + ice + sparkling water.  Sometimes I add fresh mint, berries, pineapple, orange slices, or other fruit.  Check out my recipe here for fruity iced tea.  You can also add a little fruit juice instead of the stevia.  If you wanted to add a splash of alcohol to make it a cocktail, try a little gin, vodka, tequila or rosé wine.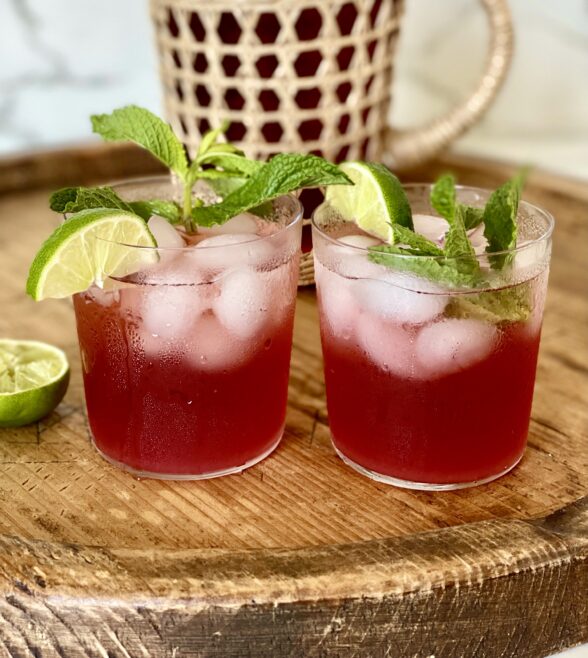 Please tag me @pamelasalzman #pamelasalzman on Instagram if you make it.  And let me know your favorite mocktails!  I'm always ready to mix it up!
You can shop the tools I used for this recipe by clicking on the images below:

Hibiscus Mocktail
Ingredients
Hibiscus tea bags (I use Sadaf, Buddha Teas, or the hibiscus tea in my Prolon boxes)
Ice
Fresh lime juice
Couple drops of stevia (I am using Thrive Market brand or NOW) or your favorite sweetener to taste
Sparkling Water
Fresh mint leaves
Other add-ins: berries or pineapple (I have added the washed rind of pineapple after I cut it up.)
Instructions
I make a big batch of strong hibiscus tea and keep it in the fridge. Figure 2 tea bags for 16 ounces of hot water. (I usually do 4-5 for a pitcher of water.) Allow teabags to steep until water is room temperature, about 2-3 hours. Transfer to jars or bottles and refrigerate until cold.
Add a few ice cubes to a 12-ounce glass and fill it about ¾ with chilled hibiscus tea. Add the juice of half a lime (sometimes I add a full lime.). Add a few drops of stevia or to taste. Top off with sparkling water and stir. Add mint leaves and enjoy.
Notes
Once I added rosé (wine) to the mocktail and it tasted like sangria!