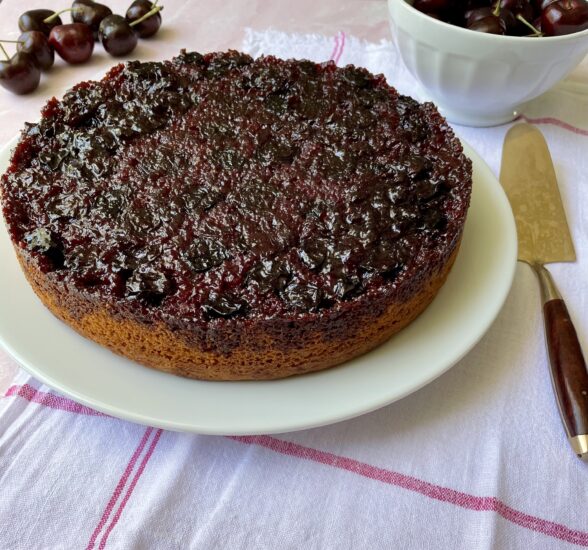 Make this cake!  It's delicious, easy, not over-the-top sweet, and would be a dream for your July 4th celebration or if you're having guests this summer.  An upside down cake always looks more impressive than it is to make, so look no further if you're in the market for an easy show stopper!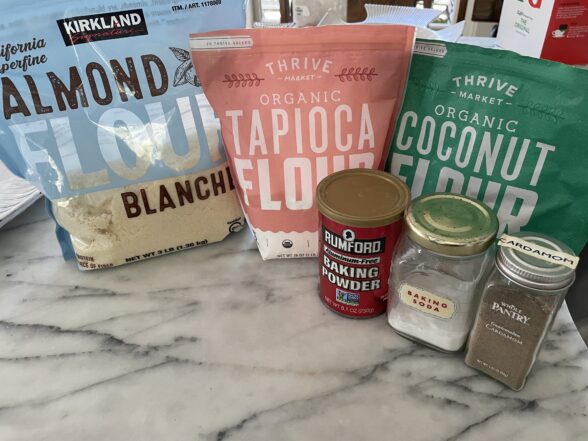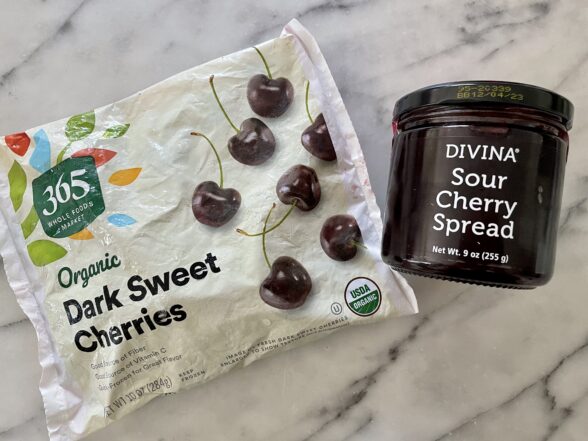 I went with my personal favorite grain-free formula which results in a beautiful texture for the cake, with a nice bounce and moistness.  Unfortunately, I cannot recommend making an swaps for the flours unless you wanted to try fine cashew flour for the almond flour.  If you love the idea of this but you can't have nuts, try your favorite basic vanilla cake with the cherry mixture listed here and add in a little almond extract to the cake batter.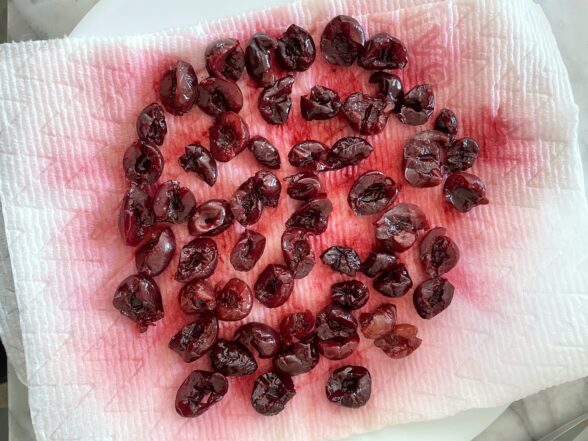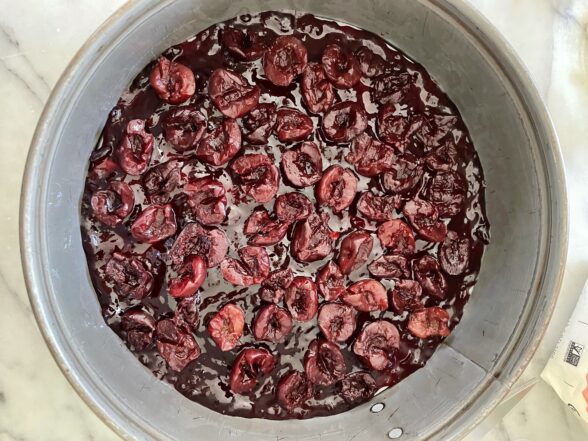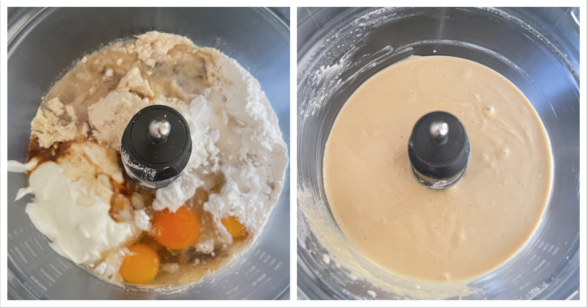 Even though cherries are in season, I hate pitting them.  I mean, I really have better things to do with my time.  Furthermore, frozen cherries cook up better in this recipe than fresh ones do.  But the secret in this recipe is using cherry preserves to add more cherry flavor and create that jamminess that you would otherwise need to make with a sugar-butter-fruit situation.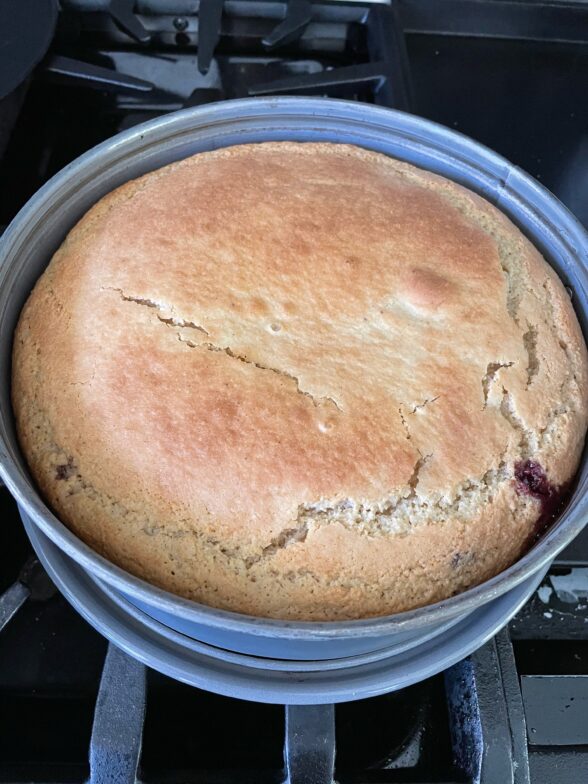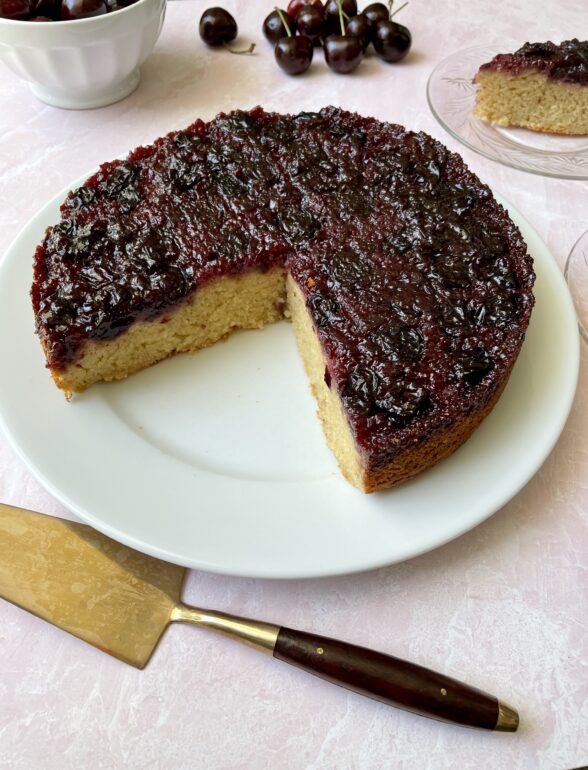 I dislike having more gadgets and appliance than I need, but I love a springform pan.  I really use it more than any other cake pan.  It's deeper and perfect when inverting a pan may be difficult.  I think they're worth the investment.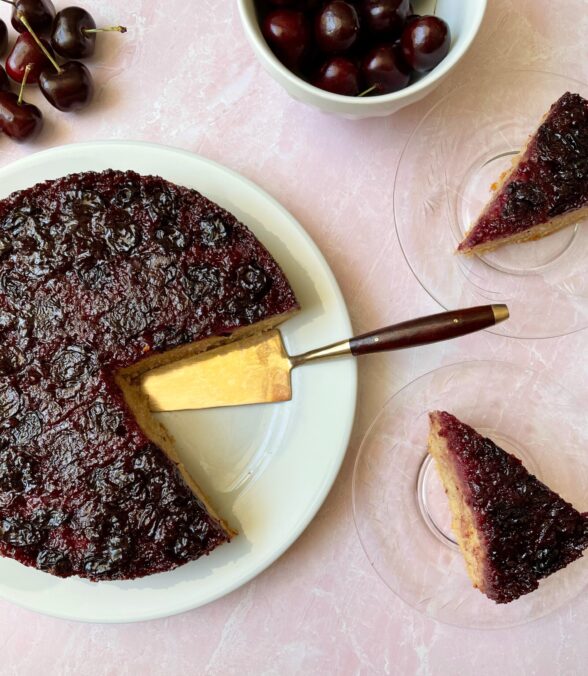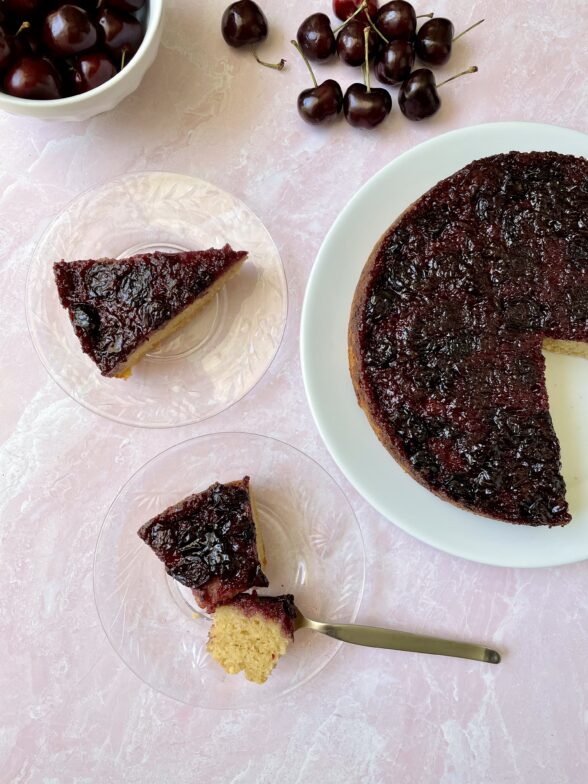 Look at that crumb!  It's just sweet enough, fragrant with vanilla and a hint of almond (a must for anything with stone fruit.) I would 100% serve this for dessert or brunch.  Stick some American flags in it or light some sparklers and you'll be the hit of the 4th of July!!
If you make this recipe or any of my recipes, please tag me on Instagram so I can see your beautiful creations @pamelasalzman #pamelasalzman!
You can shop the tools I used for this recipe by clicking on the images below:

Grain-Free Upside Down Cherry Cake
Serves:
1 CAKE, serving 8-12
Ingredients
¾ cup no sugar-added cherry preserves (or a sour cherry preserves, but those usually have added sugar)
⅔ cup thawed frozen cherries, halved and patted dry
2 cups blanched almond flour (not almond meal)
⅔ cup tapioca starch
¼ cup coconut flour
2 teaspoons aluminum-free baking powder
½ teaspoon baking soda
½ teaspoon sea salt
Pinch of ground cardamom
¼ cup melted unrefined virgin coconut oil (or olive oil) + more for greasing the pan
3 large eggs
½ cup unsweetened, plain whole milk yogurt or non-dairy yogurt
½ cup pure maple syrup
¼ cup freshly squeezed orange juice or unsweetened milk of choice
⅛ teaspoon almond extract
1 teaspoon pure vanilla extract
Instructions
Preheat oven to 350 degrees. Lightly grease an 8-inch or 9-inch cake pan, preferably a springform pan, with coconut oil and line the bottom with unbleached parchment paper.
Spread cherry preserves evenly over the parchment lined bottom of the cake pan. Arrange cherries over the preserves.
In the bowl of a food processor fitted with the metal blade, add the rest of the ingredients and process until well combined, scraping down the sides of the bowl once to make sure all ingredients are well incorporated. Alternatively, whisk the dry ingredients in a large bowl. Whisk the wet ingredients in a medium bowl until well blended. Pour the wet mixture into the dry mixture and mix until well combined. I find that blended in a food processor prevents the coconut oil from clumping up.
Pour the batter over the cherries, spreading the top with a spatula. Bake in the middle of the oven for 35 - 40 minutes or until cake is lightly browned and a toothpick comes out clean. Baking time will depend on your oven as well as the size pan you use.
Allow cake to cool for 10 minutes, then run a knife around the edge of the pan and invert onto a cooling rack. DO NOT LEAVE THE CAKE IN THE PAN FOR LONGER OR CHERRY GLAZE WILL HARDEN AND PREVENT YOU FROM INVERTING CAKE. Allow to cool completely before serving.
Notes
If some of the cherries stick to the parchment after you invert the cake, simply scrape them off and add to the top of the cake.
St Dalfour is a good brand of no sugar-added cherry preserves and I love the DIvina sour cherry jam which does have added sugar.
I have not tried this recipe with any substitutions.