Summer fruits are my favorite and I often put them in pitchers of water with or without fresh mint, with or without cucumber, and tell my kids it's "spa water."  🙂  The fruit flavors the water so subtly and makes it look beautiful which is my goal so that everyone is more inclined to keep hydrated during the hot summer months.
I hardly ever serve beverages in my house other than water or tea (I drink Argentine yerba mate more than anything else.)  I never buy soda or fruit juice.  Once in a blue moon, my daughter will buy some kombucha and my husband makes a lot of unsweetened iced tea.  But in the summer, especially if we have other families over, I like to have one non-alcoholic drink, like an agua fresca, lemonade or iced tea.  My lemonade recipe in my cookbook uses orange juice to sweeten it in addition to sugar.  I decided to use that to make a sweetened iced tea with my favorite Argentine Yerba Mate and load the pitcher with fruit.  Oh my stars – SOOOOOO refreshing and delicious!!!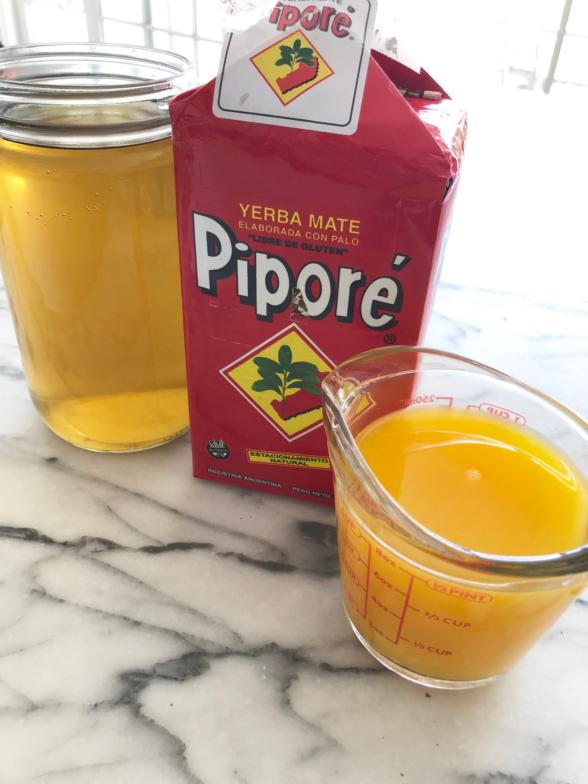 In addition to being super tasty, this iced yerba mate drink also gives you an energy boost without making you jittery.  I am very sensitive to caffeine.  Even too much cacao can make me uncomfortable.  But I can drink a tall glass of this drink and feel great afterwards.  Try ditching your coffee, which likely has been processed with chemicals, for this iced yerba mate instead and see how you feel.  Yerba mate also has antioxidants, vitamins and minerals, too!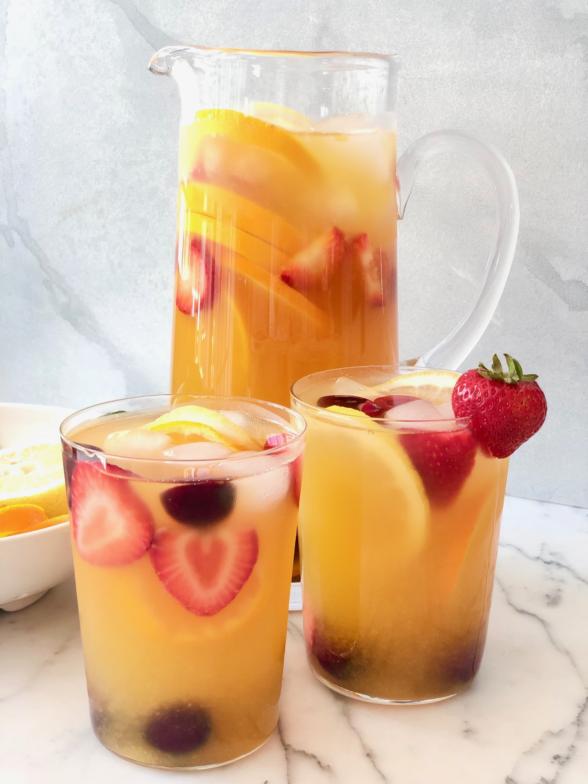 I arbitrarily choose to add oranges, lemons, cherries, and strawberries to this batch of tea because that's what I had.  But, I have also used peaches, nectarines, blueberries, plums, and grapes.  You can use whatever you have that looks pretty and tastes good. As far as sweetening the tea, I think apple juice would also be fine.  And if you're thinking what I'm thinking, this does look like sangria!  Maybe top off the adults' glasses with a little sparkling rosé!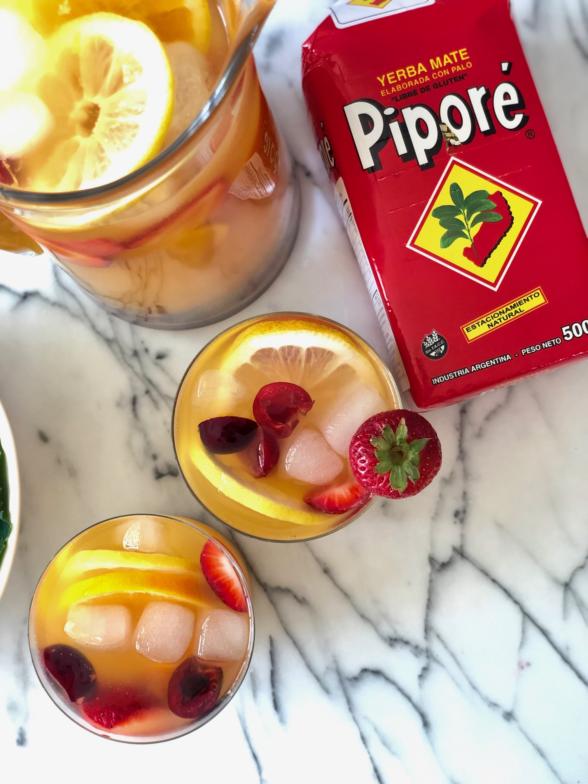 The two questions I get most often are where do you buy yerba mate and what kind?  I always prefer Argentinian yerba mate for the best flavor and quality.  Some brands to look for are Rosamonteand CBSe.  Have you tried yerba mate yet? What do you think?
As always, I love when you make any of my recipes and it is the biggest thrill for me to see them out there.  So tag me @pamelasalzman #pamelasalzman so I can check them out!
Shop the tools for this recipe by clicking on the images below:

Fruity Iced Yerba Mate
Ingredients
8 cups hot water
⅓ cup loose yerba mate tea
2 cups fresh orange juice
Sliced fruit: 1 orange, 1 lemon, 1 pint hulled strawberries, 2 cups cherries, pitted
Instructions
Steep the yerba mate in a large pitcher or container with hot water for 5 minutes. Strain and refrigerate until cold.
Stir orange juice into brewed yerba mate. Add sliced fruit and serve with ice, if desired.