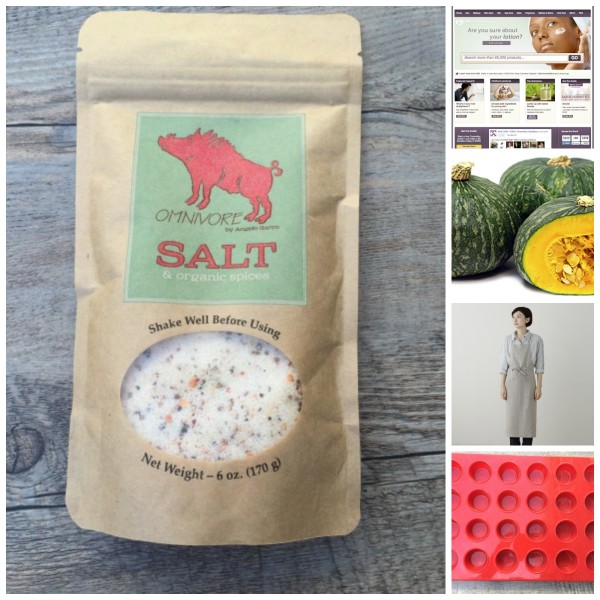 Happy Friday, my dears.  The temps are seasonable.  My air conditioning works beautifully.  I have no complaints.  I now have to think of other things to talk about with my friends though, since the weather is no longer an issue and I am already over the Presidential election.  Of course, there's always those last 5 pounds and what we're going to try next to get rid of them.  That's always fodder for good conversation. 😉
Just kidding!  (Not really!)  Here are some of the fun things I've been chatting up in class this week:
 Omnivore Salt

I love salt and that is no secret to anyone that knows me or to any of my students who come to my classes. I like everything well-seasoned!  There is a new salt on the market that I am crazy about- Omnivore Salt. It is a blend of sea salt and organic spices and is made by Angelo Garro, an Italian man in San Francisco.  The ingredients aren't listed anywhere in order to keep his family recipe a secret. Apparently, Angelo has been giving his salt to chefs at famous restaurants in New York and San Francisco, and they all begged of him to release it on the market.  Full disclosure, he did NOT give this salt to me, although I would have been beyond flattered by that.  He finally obliged his fans and it is now available for purchase by us regular and not famous folk.
This salt is great on any kind of animal protein- hence the name- and is really intended to be a blend of spices that come together just right and bring out the natural flavor in the food.   I tried rubbing it under the skin of a whole chicken before roasting it, on some scrambled eggs and sprinkled on some sautéed cabbage.  It's for savory dishes and although I don't know what's in there, I taste a hint of fennel and crushed red pepper.  I'm thinking about rubbing one of my Thanksgiving turkeys with it.  It is fairly priced at $10 for a 6 oz bag and you can check out the website here for a list of on-line retailers as well as where you may be able to find it locally.  I do have to let you in on a secret that Thrive Market has it for $2-3 cheaper!  Can't beat that.  I think this would make a nice little hostess gift during the holidays for a foodie friend.
Silicone mini muffin pan

Everything is always so much cuter when it's mini, which is why I love this silicone mini muffin pan. The holidays are a time when baking is in full swing.  This silicone muffin pan that I have is so versatile for making mini muffins, brownies, blondies, chocolate almond butter cups, even frittata bites. The reason that I love the silicone here is because silicone doesn't leach anything harmful into your foods and doesn't retain any odors.  It is naturally non-stick so it doesn't need to be lined with anything and cleans up easily. But also, the flexibilibty of this pan allows you to make little treats that may be difficult to get out of a more traditional aluminium pan. For example, these almond butter cups are a breeze to make using this pan, doughnut holes are great because you don't have to use a liner, and I have even made mini versions of this cheesecake using the pan, which would have been much more difficult had I not been able to "pop" the mini crusts out from the bottom.  You can also use any muffin or cupcake recipe and spread it equally amongst the cups, which would make for great gifts!  Who wouldn't love a bag full of mini pumpkin muffins??  The possibilities are endless here, as you could do mini frittatas or quiches, sliders, mini meat loafs, I could go on and on!  This pan is available on Amazon with free prime shipping!
Fog Linen Natural Linen Aprons

I have featured a few different aprons on my past Friday Favorites that are unique, stylish and fun, but wanted to feature one today that is simple and classic.  I actually had an inquiry from a student about where she could find a good, classic, simple linen apron and I thought I would share with all of you where my favorite is from.  I love this apron by Fog Linen, a company out of Massachusetts that sells a large variety of linens from clothing to bed sheets to bath towels, all in fabulous soft luxurious linen.  And this apron is no exception as it is made with a simple, clean natural linen.  It is machine washable and has two front pockets.  This is a great staple to have on hand for when you are hosting and this will be perfect for the holidays!  This apron is $58.  Check out their website where you can see all of their other beautiful products.
Environmental Working Group "Skin Deep" website

Environmental Working Group is a non-profit organization whose mission is to encourage people to live healthier lives in a healthier environment.  The EWG has conducted countless studies analyzing the different toxicity levels of ingredients in our food, beauty and home products in order to inform us which are safe and which are not.  I have been using this website for years to help me make decisions as to which products to buy from sunscreen to canned tuna, and have been really getting use out of their ancillary site "Skin Deep".  This site is dedicated solely to cosmetic products and you can search by product to see what the toxicity level is.  The website is super user-friendly as each product is rated with a score of 1-10, 1 being the least harmful and 10 being the most.  I also love how they are so transparent and also give you the rating of how much "data" they have on a specific product.  That scale is from "none-robust" so you know how much weight you should place on the rating of a product.  For example, if a certain sunscreen is rated a 10 with robust data, you prooooobably want to steer clear.  On the other hand if a product is rated a 3 with limited data you may not want to throw out the 6 month supply you just purchased.  Anyway you interpret these ratings, it is good to know you have a resource like this available and you have the power to make informed choices when it comes to the products we use on our bodies on the weekly basis!  Check out the website and let me know your thoughts!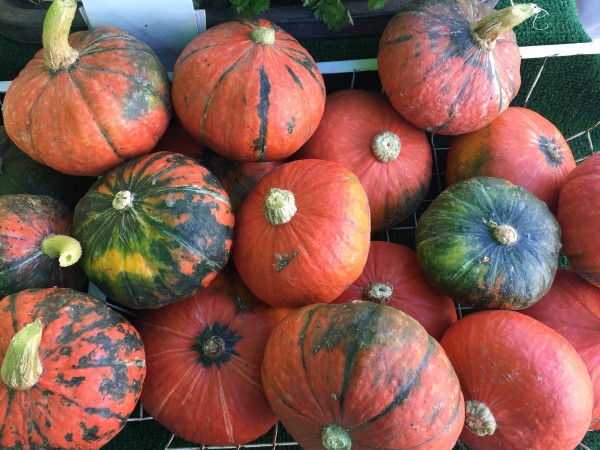 Seasonal Produce: Kabocha Squash
Sometimes I feel like a lot of the winter squashes get lost within each other.  Like apples or plums there are so many varieties and so many uses and yet for some reason butternut squash wins over and over again.  Kabocha squash, sometimes referred to as a Japanese pumpkin, is one of my favorite winter squashes.  I first tasted it when I was teaching in France a few years ago.  We borough it home from the farmers market and roasted wedges of it with olive oil, salt and pepper and I was hooked!  Kabocha has a unique,  sweet, almost nutty flavor.  I love using them in soups or just roasted with some coconut oil and sea salt.  It is kind of like a cross between a pumpkin and a sweet potato with more sweet than a pumpkin and less starchy than a potato.  They are on the smaller side of the winter squashes which is great if you just wanted to make a couple of servings with it and not have tons of leftover squash lying around.  And with its deep orange color it is loaded with nutrients, especially beta carotene, iron, Vitamin C and potassium.  When buying a kabocha squash look for ones that are heavy and have a firm, dull skin.  You can see some are green-skinned and some are orange.  Like most winter squashes they can be stored on your countertop for a month or so.  I linked to a few of my recipes where I think kabocha squash would be a great substititute for the squash used, plus I highlighted some recipes I thought looked good from around the web!
Butternut Squash and Chickpea Stew
Rustic Butternut Squash Soup with Fennel and Wild Rice
Kabocha Squash Lentil Curry from Pinch of Yum
Quinoa-Stuffed Kabocha Squash from Goop
Kabocha, Fennel and Ginger Soup from Dolly and Oatmeal
This is the last Five Friday Favorites for a little while because beginning this coming Thursday, my blog will be in THANKSGIVING mode!  Can you believe it?  I know!  Don't fret.  You know I am going to get you Thanksgiving-ready!  Just get in the zone with me and this will be a breeze.  xoxo