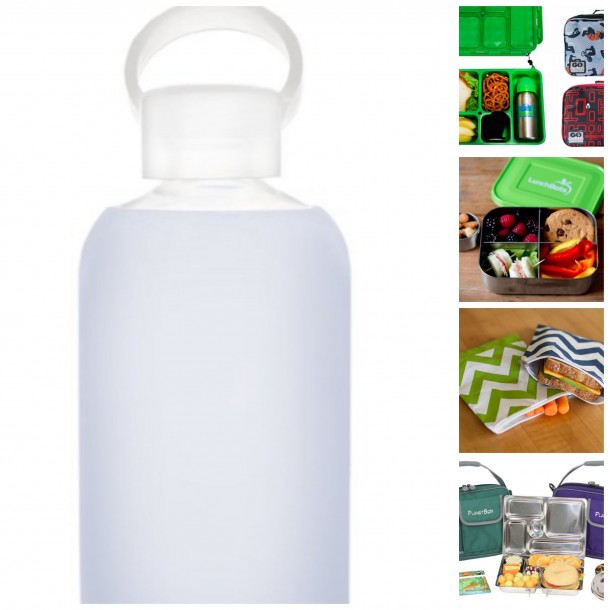 It pains me a little to write a post about getting geared up for back-to-school, but it's upon us.  In fact, I know there are some schools that are already in session!  I'm taking my daughter back to college next weekend and my other two begin just before Labor Day, so I have a little time before I have to start making lunches again.  I think having the right lunch equipment is part of the battle, so I thought I would devote today's post to my favorite lunch accessories.  With three kids and about 16 years of lunch-making under my belt, I have definitely gone through my share of good and not-so-good lunch boxes.  One thing I did learn though, is that you get what you pay for.
PlanetBox
PlanetBox has been accompanying my youngest child to school for years now, and I couldn't be happier with the quality of this stainless steel lunch box and carry bag.  PlanetBox comes in three different styles depending on how many compartments that you want in each box. For my son, I have found the "Rover" style to be most useful as it provides multiple smaller compartments, which allows him to have more food options. The other styles are great if you normally pack just a salad and sandwich, or fruit and veggies.
PlanetBox does not work well with foods that might leak, but I have successfully used the "dipper" containers which come with the Rover for things like BBQ sauce, Ranch dressing and yogurt.  I do not recommend PlanetBox for older kids (middle school and above) because the box doesn't accommodate a large amount of food.  So this might be my last year with PlanetBox.  🙁
These boxes can seem a bit expensive at $60 a pop, but trust me when I say they're worth it- I have had my son's PlanetBox for years and it is still going strong—I have replaced the outer carrying shell once, but the inner stainless steel compartment is going on its 4th year.   You can buy PlanetBox from the company's website or limited styles on amazon.
GoGreen Lunch Boxes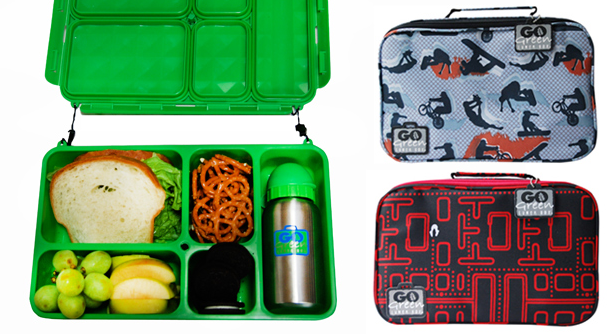 My kids used GoGreen lunch boxes a few years ago and loved them.  Each box comes with a stainless steel water bottle that fits into its own compartment, plus four other compartments.  The compartments are deeper than PlanetBox which is good if PlanetBox seems to not hold enough food for your child.   The boxes are BPA- and phthalate-free and also come with a stylish carrying bag that comes in a variety of colors and cute prints.  And there is even an erasable white board on the inside flap for your special messages.  These boxes have a turn 'n lock technology that secures each compartments with silicon bands when closed, ensuring that the compartments will not leak into the one other.  I never had an issue with leaking.  The case is also dishwasher-safe.  You can purchase GoGreen Lunchboxes from gogreenlunchboxes.com or you can check the site for retailers near you.
LunchBots

LunchBot containers are my go-to containers for school lunches and travel. They are made of stainless steel, which allows them to be super durable, lightweight, and non-leaching. I often use these if my son is taking a thermos to school for his lunch and doesn't need a full-size lunch box full of food, but rather just a smaller container with a few snacks. I also use these to pack snacks for traveling- the size is perfect for fitting right into my bag and they are not heavy or bulky. LunchBots come in a variety of compartment options- 1, 2, 3, or 4 compartments for the standard size box and there is also an "adult size" box with 5 compartments if you are looking for something bigger. I have had these containers for years and they really hold up well. One thing to note however is that these are not guaranteed leak-proof between compartments, so you do not want to use these for anything runny or liquid. They do have options for leak-proof round containers if you need those for liquids.
Lunchbots are available from lunchbots.com and amazon.
Thermoses
Believe me when I say I understand how challenging making school lunches can be. Figuring out a nutritious meal that can be eaten at room temp, is filling and satisfying, and can travel well is not exactly the easiest of tasks, especially when the "customer" is a little picky. Using Thermoses for school lunches has really been a game-changer for me. They allow me to pack hot foods for my kids, which has expanded the meal possibilities for us. I can pack them things like soups, stews, taco and burrito fillings, lentils and basically last night's leftovers. The method that I use to keep hot foods hot until lunchtime is to first fill an empty thermos with boiling hot water. Let it sit in there while I reheat the meal.  Discard the hot water and then pack the thermos with the hot meal.  Preheating the thermos helps to keep the food warmer for longer. And of course, by the same token, thermoses are great for keeping cold foods cold.  I always use thermoses that are stainless steel on the inside.  You never want to store hot foods in plastic since that causes the plastic to leach.
I like the 10-ounce size, but a 7-ounce size may be just right for toddlers.  Thermoses are available in so many stores, including the camping section at Target, or online on amazon.
Unbleached parchment bags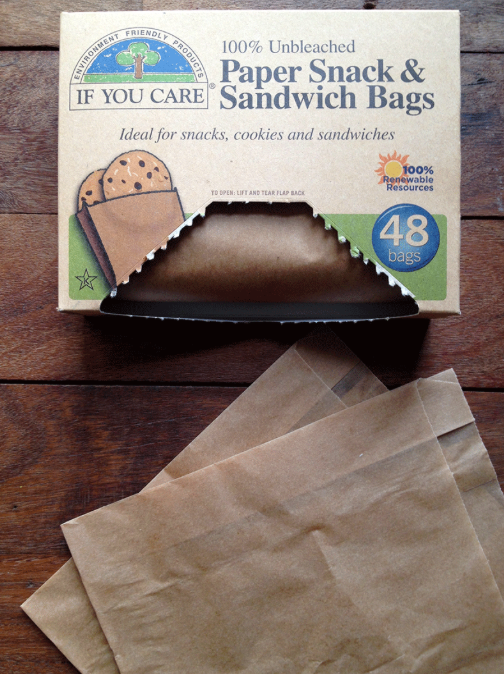 Even though the schools in my area encourage "trash-free" lunches, sometimes the kids need a disposable lunch for field trips and the like.  As you know, I am not a huge fan of plastic.  Sometimes it's unavoidable, but I have a great substitute for ziploc bags in lunch boxes — unbleached parchment paper bags.   They are biodegradable and because they are unbleached they will not leach anything into your food. They are made from a natural, renewable source and compostable.   Obviously not 100% leak-proof, but the bags also have a natural barrier that prevents any grease or oil from soaking through.  Available at Whole Foods and ThriveMarket.com, among other places.
Lunch Skins Reusable Bags

My friend Nicole gave me a few Lunchskins reusable bags a several years ago and I went crazy for them.  If you're trying to limit plastic and trash, these are fab.  They are made from food-safe fabric and are washable (by hand or dishwasher.)  Lunchskins are certified lead-, BPA- and phthalate-free and they come in a few sizes and patterns.  Most of the styles close with a velcro tab, but there is one size which closes with a zipper.   The bags can stain though, so I wouldn't put anything in there that bleeds.  You can find these all over, like at The Container Store, Bed Bath & Beyond, reuseit.com, drugstore.com and many other places.
Reusable Water Bottles:  Klean Kanteen, Clean Bottle and BKR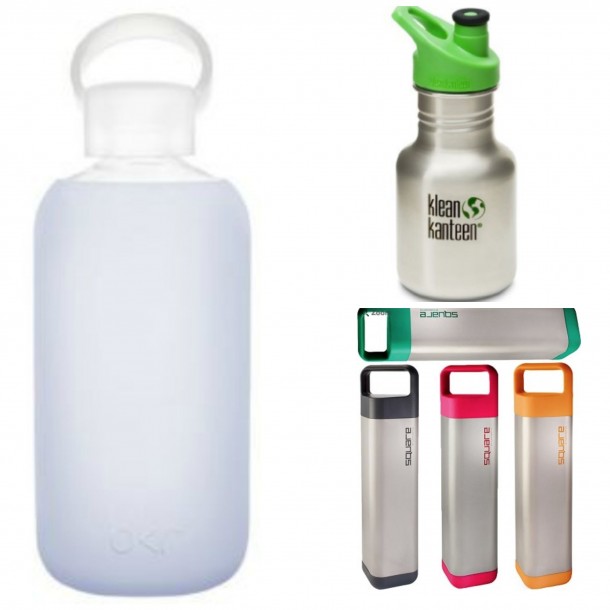 I know I'm starting to sound like a broken record, but I always opt for glass or stainless steel over plastic, even if it's BPA-free plastic.  Our favorite reusable water bottles are by Klean Kanteen for my son, Clean Bottle for my husband and BKR for my girls and me.
Klean Kanteen is stainless steel, so durable and comes in so many sizes and colors.  My son has several which he uses for school and sports.  They have held up beautifully for years, despite being thrown around a lot.
My husband likes Clean Bottle the Square, which is has a stainless steel body and BPA-free lid and base.  I comes apart and is very easy to clean.
My girls and I like BRK, which is a glass bottle wrapped in a silicone sheath.  Very cute colors and even one style with a heart!  I like the 500 ml size for lunches, but there is also a 1 liter size which is good for bringing to the gym.
Ice Packs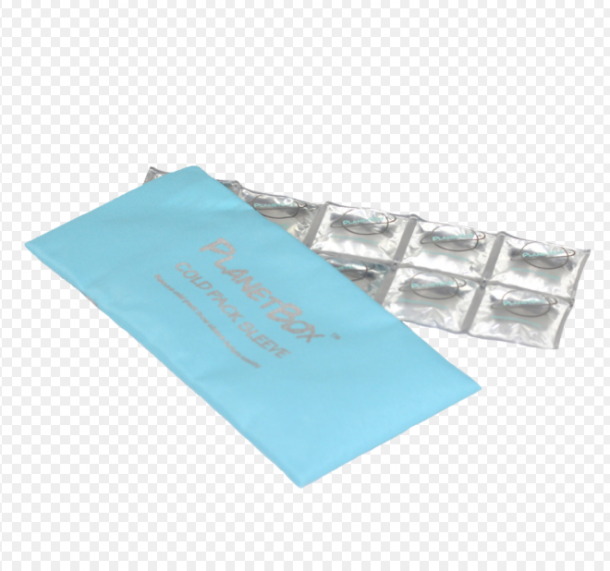 I use ice packs regularly to keep food at a safe temperature.  The packs from Planetbox are nice and flat and don't leak.
If you have some summer left, do enjoy.  But to make back-to-school a smooth transition, you'll never regret getting prepared now.  For some school lunch inspiration, I wrote a post two years ago here, and all the suggestions are still relevant today.  Check it out!
Have a great weekend!