Hi y'all!!  Greetings from Dallas!  I am still here moving the girls in.  One down, one to go, and eating lots of good stuff in between.   Check out Instagram or Facebook to follow along.  I have some goodies I wanted to share with you today in my latest Five Friday Favorites!
Bare Snacks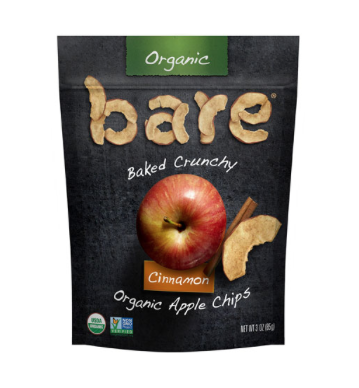 My new snack obsession are these crunchy, guilt-free fruit chips made by a company called Bare Snacks. I have both the banana and apple chips which are baked until crispy and have absolutely nothing added. As you know I always read my labels, so when I see "Ingredients: apples" or "Ingredients: banana, cinnamon," I am a happy camper. The chips are perfectly sweet with the most satisfying crunch and are so delicious straight-out of hand, dipped in nut butter, sprinkled on top of oatmeal or smoothie bowls, or even added into granola or trail mix. They also have a line of coconut chips that are to die for, that are lightly seasoned with cane sugar and sea salt. Obviously the coconut chips are more of a treat, but they are certainly a better option than a potato chip or anything else fried in oil for that matter.  But you have to watch out because these are seriously addictive. And as an added bonus, they have organic and non-organic versions of all 3 different types of chips.
These are great for travel and for lunch boxes.  Check out where they are sold in stores near you, or order online from Vitacost!
KitchenAid Proline Blender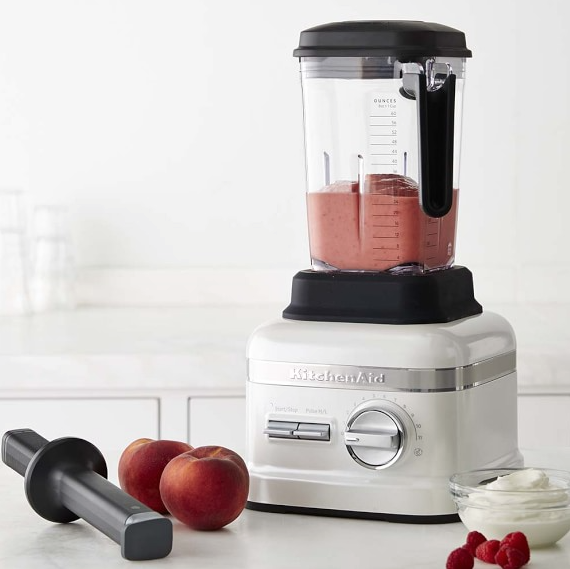 What did we do before high-powered blenders and food processors?  What I didn't do was churn out thick smoothies, creamy dressings, and silky cashew cream. I consider a blender to be a standard piece of equipment in most home kitchens. Although I own a Vitamix, almost all of the recipes on my blog that call for a blender can easily be made in any standard blender or even food processor. There are, however, certain recipes that really need a high-speed blender to get the best results, and owning a machine like this can really up your cooking game.
The new KitchenAid Proline Blender is brand new to hit the market and though a bit cheaper than the pricy Vitamix, the powerful motor is comparable. If you have been on the fence about getting a Vitamix and haven't taken the jump, this blender can soften the blow a bit with it's lower price, but still be completely efficient as a high-speed blender. It has a nice slope on the bottom of the pitcher, which prevents foods from getting stuck on the side, and newly designed "asymmetric" blades that are designed to suck foods into a whirlpool more efficiently. It also has an updated tamper that has an edge on it that helps to scrape those stingy little areas you normally can't get to with the regular straight tamper that come with the Vitamix. Right now this particular blender is being sold exclusively through Williams Sonoma.
Dormify Website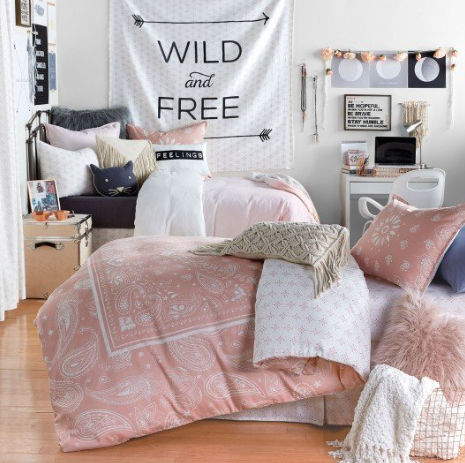 With two out of my three kids officially in college, I am becoming quite the dorm room and apartment expert. However, shopping for and decorating my girls' new spaces has not been easy or cheap! There are not a ton of options for dorm room essentials, decor and bedding, and I know how important it is for most kids to have a comfy space that feels like it is theirs and is representative of their personality.  If you don't want to decorate exclusively from Bed Bath & Beyond, Dormify is a website that offers fun, hip and unique dorm room décor at affordable prices. It is a genius concept started by a mother-daughter duo who ran into similar problems when first shopping for dorm room gear. The website offers tons of adorable and stylish products from desk accessories and closet storage to fun pillows, wall hangings and picture frames. The website also acts as a the ultimate dorm room guide, giving you tips on how to maximize space as well as design plans and layouts using their products as well as a blog with tons of inspiration. Check out the website here!
Smeg Kettle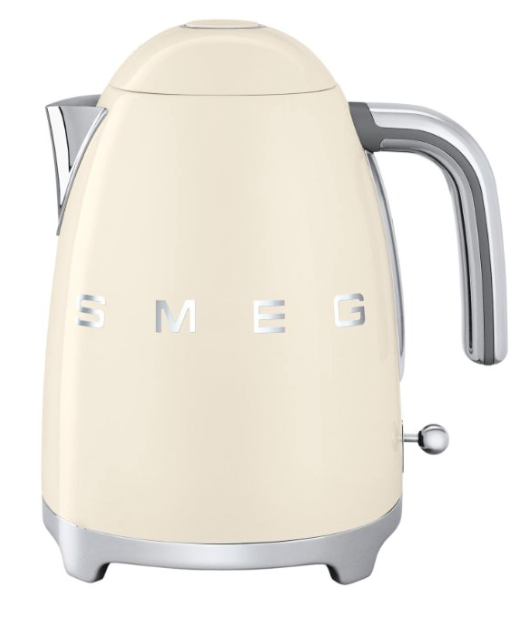 My husband absolutely loves all things mid-century modern and I love hot water and tea.  In fact, I drink plain hot water every day unless it's very warm out.  He bought me this Smeg electric kettle to use in my cooking classes so my students cold have easy access to hot water for tea and such. I've gotten so much compliments and inquiries about it, that I wanted to share it as a Friday Favorite.
Smeg is an Italian brand that has recently become popular in mainstream stores such as Crate and Barrel and West Elm. They make kitchen appliances using advanced technology but they are designed to have a retro-look. The kettle is easy to use as you just fill it with water, flip a switch and the kettle will automatically shut off when the water reaches boiling temp (which happens very quickly.) It is made of durable stainless steel with a removable stainless steel filter, which is a big bonus in my book. It comes in fun colors like pastel pink, blue and green, and Smeg makes matching toasters, stand mixers, and even refrigerators!  It is available at most kitchen store such as Crate and Barrel and Williams Sonoma, and even on Amazon with free prime shipping!
Seasonal Produce: Zucchini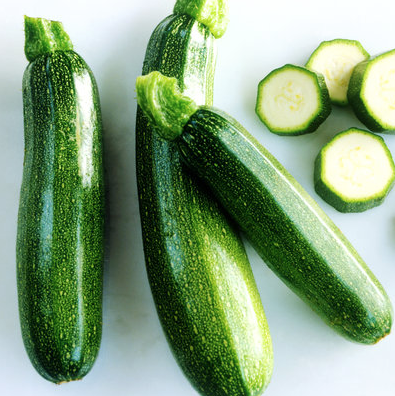 Summer is the perfect time of year to be enjoying delicious juicy zucchini while it is at its peak. Although if you have a garden, you might be inundated with it right now. While there are many varieties of summer squash, zucchini are by far the most popular due to their mild taste, texture and versatility. Zucchini are always harvested when the seeds and skin are still soft and immature, making it possible to eat the entire vegetable, no peeling or seeding needed. Zucchini are also extremely abundant and are easy to grow (maybe too easy!) Because of their mild flavor zucchini can be used baked into cakes and brownies, used as "pasta" also known as "zoodles," and even eaten shaved raw.  Something trendy right now is zucchini cooked into oatmeal, called "zoats."
But don't think this is just a vegetable to be disguised- zucchini are so delicious in their simplest form, sautéed with a little bit of olive oil and salt and pepper or charred on the grill to bring out their natural sweetness. Zucchini are extremely low in calories, which is great for weight loss, plus they are full of nutrients such as potassium that helps lower blood pressure, vitamin C which is a powerful healer and anti-oxidant, and vitamin A, which helps with vision, among other benefits. Zucchini can also help support the adrenal glands.  Check out some of my favorite zucchini recipes from my blog, as well as some others from around the web!
Grain-free Chocolate Zucchini Cake
Zucchini Parmesan from NYT Cooking
Thai Zucchini Soup from 101 Cookbooks
Zucchini with Basil, Mint and Honey from Food52