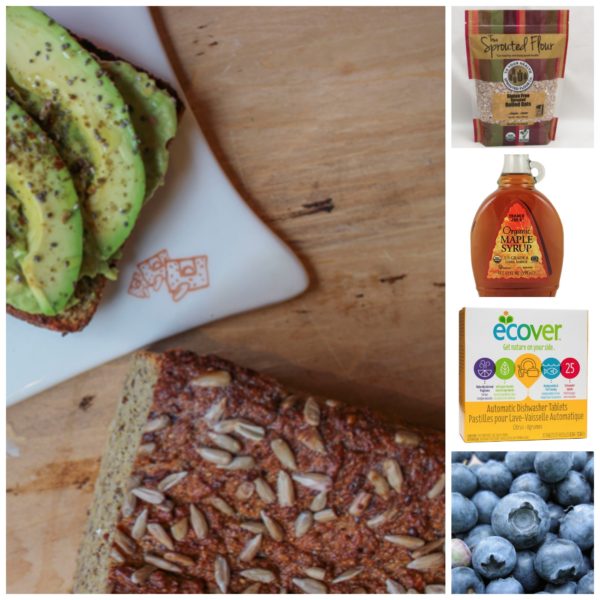 Happy Friday, friends!  And happy June!  I just started teaching a new menu this month and it is fab!  I traditionally teach a breakfast menu in June and it has become one of my most popular classes.  I will definitely be posting one or two of those recipes before Father's Day, so look out for them.  In other news, I joined Snap Chat.  I don't know what it is either, but I am playing around.  I think I brought up the average snap chat user age when I joined, but it's never too late to try something new.  Even if you don't know what it is you're trying.  Here are some of my favorite things we've been talking about in class this week.
Have a great weekend!
Ecover Dishwasher Tablets

With all of the cooking that goes on in my house, the dishwasher can be a lifesaver when it is just too much to hand wash all of those dishes.  Believe it or not, running a full dishwasher is more environmentally-friendly than washing them all by hand because you'll end up using less water. I am also mindful of the types of cleaning products that I use and they impact on the environment.  Common dishwasher detergent brands such as Finish and Cascade actually score an "F" on the EWG website. These contain chemicals and irritants with which I don't want to be using to clean my coffee mugs and utensils nor do I feel good about putting those harmful compounds into the environment.   Once they do their job they are then flushed out of the house and back into the water system and these toxins can't be broken down.
The only problem with the safer, more natural cleaners is that they don't always work as well as the ones loaded with chemicals. However, the dishwasher tabs made by Ecover are a different story. They truly work — my dishes are always clean– and I have been using them with great results for years. They are rated as a "B" on EWG, which I'll take over an "F" any day. Sure there are several out there that rank as an A, but I have tried a few of those and they just aren't as effective. Ecover really leaves your dishes perfectly clean without any residue. You can get 25 tabs at Thrive Market for $5.25, or from Amazon for $5.49 with Prime Pantry.  Ecover also makes a powder, but since my kids are often the ones loading the dishwasher with detergent, the tablets ensure that just the right amount is dispensed every single time.
Le Pain Quotidien Gluten-Free Superseed Bread

Le Pain Quotidien is one of my favorite cafes and I am lucky enough to have one just down the street from where I live. They have many locations worldwide and they continue to expand.  The name of the restaurant translates to "Daily Bread" in English, so as I'm sure you can imagine they have all kinds of fresh baked breads and pastries available every day. They do offer several other healthful options such a chia puddings, vegan soups and fabulous salads, but it is nice to indulge every once in a while in a great tartine or just piece of fresh bread with a little salted butter. However, for me and what seems to be the rest of the population, gluten is not something on the top of my list to be consuming, so you can imagine my excitement when Le Pain started carrying a gluten-free, superseed bread. It is made with a combination of buckwheat, oat and corn flour, it is vegan, and has extra added nutrition and protein from the superseed blend that consists of chia, flax, sesame and sunflower seeds. Not only can you sub this bread for menu items when dining in the café, but also I have loved bringing a loaf home for avocado toasts and tartines.
This one of the only gluten-free breads that I have tried that actually feels substantial and not like I'm eating air.  So many gluten-free breads use heavily processed flours and starches, leaving a bread with very little nutrition.   This one uses very hearty whole grain flours as well as high-protein seeds.  It also tastes delicious which I can't say about all gluten-free breads. The downside is that it doesn't stay fresh for long at room temperature.  I don't leave it out for more than a day.  I slice it and freeze it and then toast it from a frozen state.  They don't ship this bread, so unfortunately you can only buy it in their restaurants.
 Seasonal Produce:  Blueberries

Berries have and always will be such a staple in my house. As soon as the first local blueberries are available at the market, they are constantly stocked in my fridge until late fall rolls around. I especially love blueberries, not only for their subtle sweetness and deep, rich flavor but because they do not need to be peeled, hulled, seeded or sliced. Just a rinse and a pat dry and we are good to go. Blueberries are also a bit sturdier than raspberries and blackberries, so blueberries can be a bit more versatile to use in cookies, bars, and pancakes. Not only are blueberries a tasty treat, but they are also extremely nutritious as well.
We all know that blueberries have tons of antioxidants, which help fight free radicals (which can damage cell structures and DNA), but did you know that eating blueberries raw and buying specifically organic increases the antioxidant level in the blueberries?  Totally worth it to spend a little extra for added benefits!  Blueberries also contain very specific phytonutrients due to their vibrant, unique color.  These phytonutrients are the ones responsible for blueberries being beneficial to heart, brain and eye health.  Also, it is great news to know that frozen blueberries are a fantastic option as well; studies have shown that the freezing process does not decrease the nutritional value or antioxidant level.  Another reason blueberries are tops on my list is that they are a relatively low-glycemic fruit, which means they don't raise your blood sugar as much as some other fruits.
While I have several recipes using blueberries that are baked, here are some of my favorite ways to eat raw or frozen blueberries: On top of a smoothie bowl, as a topping for oatmeal, on toast with almond butter, mixed with other berries and tossed with sliced fresh mint, as a great addition to a green salad.  And if you can find wild blueberries, as opposed to cultivated, they're even higher in antioxidants.  At the end of the school year with final exams looming, blueberries are a great brain boost!
Trader Joe's Organic Maple Syrup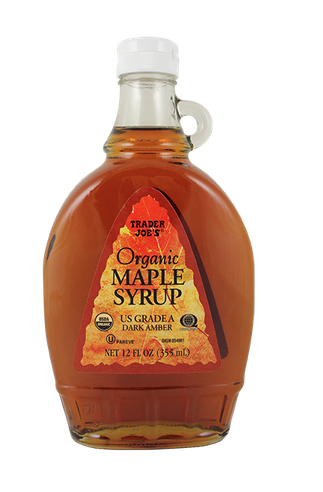 If you have been around here for a while, you know that I use maple syrup as my sweetener of choice more often than not.  I will always choose a minimally-processed, unrefined sweetener over a heavily processed one as long as it works in the recipe.  Maple syrup not only has a delicious, rich flavor, but it still contains minerals and hasn't been through any chemical bleaching or stripping like some other sweeteners.
First things first. Make sure that what you are getting is pure maple syrup, not maple-flavored corn syrup (eh-hem, Aunt Jemima and Log Cabin). The only way to know for sure is by reading ingredients labels. Next step is determining which grade you want- and contrary to popular belief, the grade is actually not indicative of quality, but rather when it was pressed in the season and its richness of color and flavor. Grade A is the earliest press, and therefore has a lighter, more subtle flavor and color, both of which get more intense as you move to Grade B and then Grade C. There is definitely a time and a place for the latter two, but I find Grade A to be really versatile. Yes, Grade B will have more minerals, but you're not trying to get your daily allowance of minerals through maple syrup.  The flavor is great for pancakes and waffles but also subtle enough to sweeten cookies, cakes and quick breads. I have tried different brands throughout the years and have landed on this one from Trader Joe's that I think is terrific. It is has a nice, light flavor, is organic (read about the benefits of organic maple syrup here), and comes in a glass jar, which I always prefer over plastic. And most importantly, you get all of those aspects for a great price, at $7.99 for a 12-ounce bottle. I always stock up with a few bottles when I go and keep them in my pantry.  I do refrigerate maple syrup after opening since it can grow mold at room temp.
To Your Health Sprouted Organic Gluten-free Oats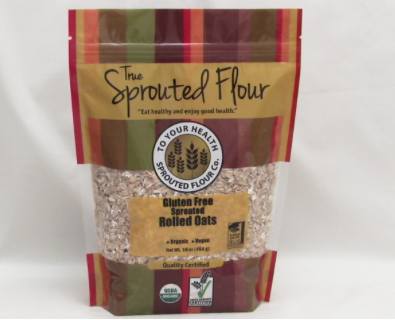 Many of my gluten-free students can find organic oats that are not gluten-free, and gluten-free oats that are not organic.  These sprouted oats by To Your Health Sprouted Flour Company are both AND they're sprouted!  Sprouting takes soaking one step further by actually bringing the food back to life.  Sprouted grains, legumes, nuts and seeds are much more digestible than non-sprouted and have more available nutrients.  According to the company's website, when grains are sprouted they are converted into a living food with more vital nutrients which are more readily absorbed by the body. Complex sugars (starch) are broken down and as a result, painful intestinal gases and potent carcinogens and enzyme inhibitors are neutralized (digests like a tomato, not a potato). This is especially beneficial for people with sensitivities to wheat as they often discover that they can digest sprouted grains without any problem.  Sprouting also increases many vitamins present in that food, as well as aids in the absorption of calcium, magnesium, iron, copper and zinc.
I do soak many of my grains (read my post here about how to do that,) but sprouting is a whole other thing to which I have yet to commit.  If I were going to sprout rolled oats, I would also have to dehydrate them to use them in cookies or granola.  That's just too much work for me.  I am so grateful to have been introduced to this product by my friend.  In my area, Whole Foods sells several products by this brand.  If you can't find it in your area, you can always buy it on amazon, but the company sells their whole line on their website.