I hope you all had a nice week!  I was in Palm Springs last weekend with my family, following my husband around for Modernism Week and then we flew over to Park City, Utah with some friends for a few days to ski in the most unbelievably warm weather.  The snow on the mountain was surprisingly good for skiing, although there wasn't much snow anywhere else.  Maybe my family and friends in Boston can send some over!  Another month and it will be Spring (supposedly!)
I always have lots of things to share with you no matter what the weather.  Enjoy the weekend!
REI Wide Brim Floppy Felt Hat

Whenever people ask me what me secret weapon is for my skin, I tell them over and over again: Sunscreen!   Although I apply sunscreen multiple times a day, sometimes I still feel like that doesn't cut it.  Living in sunny So Cal, we have exposure to the sun almost everyday, and I need a little extra something when I am sitting outside at my son's soccer games, perusing the farmer's market, or taking walks on the beach.  I have many linen and woven hats for the summer, but those never look right when I'm dressed for winter.  I found this perfect felt wide-brimmed floppy hat from REI for a hiking trip this past fall and I have been wearing it constantly since.  The dark brown wool felt fabric is soft, breathable and durable, and I feel like this is just stylish enough that I can wear it pretty much anywhere.  And it is on sale right now for ½ off!  Check it out here!
Aroy-D Coconut Milk in TETRA-PAKS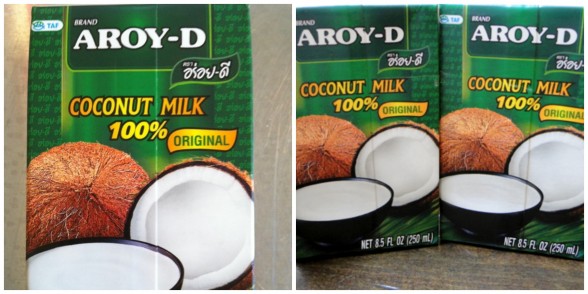 Coconut milk is a wonderful alternative for those with dairy intolerance- it adds such a rich, creamy, sweet  flavor and makes a great sub for cream and half and half.  I use it in smoothies, Thai recipes, coffee cakes and so much more.  I already shared my opinion regarding aluminum cans in last week's post, so it should be no surprise that one of my new favorites are these tetra paks of coconut milk by Aroy-D (which means "delicious" in Thai!)  Until I find coconut milk in glass jars (or I start making it myself), tetra-paks are my only chance of getting aluminum and BPA out of my kitchen.   I use coconut milk a lot and no only do I love that packaging of Aroy-D, but the flavor is great and the texture is perfectly smooth and creamy, not oily.  Another bonus with this brand is that there are no additives, preservative, or gums, which can be the case with some of the other coconut milks on the market.  The yield for these is slightly different from your standard can size (8.5 oz compared to the standard 13.5 oz), but the great thing about coconut milk is that it can be easily frozen for later use if you have extra.  Amazon is the only place I have found this coconut milk.  You can buy a 12-pack for $28 or a 6-pack for $14.  Amazon also sells Aroy-D coconut cream if you wanted to try making coconut milk whipped "cream."
Breville Immersion Blender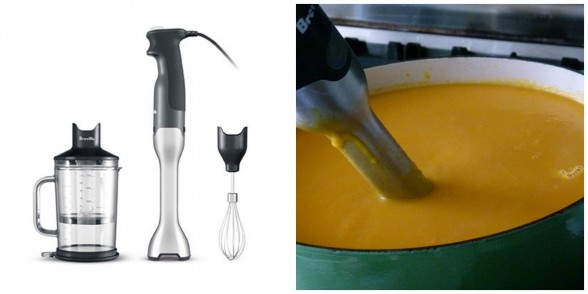 I remember the days when, in order to puree soups, I had pour small amounts of soup into a blender batch by batch.  Then transfer the blended soup into another pot and repeat with the remaining soup.  What a pain!  Luckily somebody, somewhere came up with the genius idea to make an immersion blender that can actually be inserted into the pot to puree.  I bought my Breville immersion blender over 6 years ago and I love it.  I have tried many other immersion blenders in other people's kitchens, and this is the best one, in my opinion.  My family loves pureed soups such as creamy cauliflower, sweet potato coconut, and butternut squash, so I use this a ton.  I have also used my immersion blender in my cauliflower mashed potato recipe and homemade marinara sauce.  I love that it has a non-scratch guard on the bottom so that I don't have to worry about scraping against the bottom of my stainless steel pots.  I wash it by hand (no dishwasher.)  It is available for $99 at most kitchen stores (Bed Bath & Beyond, Williams-Sonoma, Sur La Table), as well as Amazon.
Seasonal Produce:  Meyer Lemons

Meyer lemons are like the beauty queens of the lemon family.  They are plump, round, smooth and thin-skinned, and have a beautiful deep yellow color.  What sets these lemons apart from the standard Eureka or Lisbon lemon?  Meyer lemons are actually a cross between those standard lemons and a mandarin orange.  This marrying of citruses leaves us with a lemon that has a yellow-orange tint and a sweeter, floral taste.  Once only grown in California backyards, this fruit has created a demand for commercial production and has been popping up more in markets across the country.  Whereas I used to only be able to get Meyer lemons at the farmers market, I now have seen them available at my local Whole Foods.  Meyer lemons are great to add to lemon flavor to things without the mouth puckering acidity of a regular lemon.  And because they are so thin-skinned, they don't contain as much of the bitter white pith, so the peel can actually be eaten!  I have been vocal in the past about the benefits of lemons to our health- they are detoxifying and have antioxidant and antibiotic affects.  Check out these great recipes using Meyer lemons below or try using Meyer lemons with champagne vinegar in a salad vinaigrette!
Slow Roasted Salmon with Meyer Lemon Relish from Yummy Supper
Sprouted Kitchen's Lentil Meatballs in Lemon Pesto
The Delicious Life's Meyer Lemon, Thyme, and Olive Oil Cake
Superfood Spotlight:  Chia Seeds
Way before the ch-ch-ch-chia pet was ever around these little seeds were a staple in the diets of the ancient Aztecs and Mayans.  They have been making waves in the modern American diet, being referred to as a super food and a weight loss miracle seed.  But what is so special about Chia seeds?  Chia seeds provide a huge amount of nutrition per serving with minimum calories.  They contain omega-3 fatty acids like their counterpart flax seeds- but you don't have to grind them to get the benefits- they can be eaten whole.  Chia seeds also contain calcium, protein, antioxidants and tons of fiber.  Chia is a very absorbent food that makes it very versatile for making alternative puddings and porridges, and that absorbent nature also allows you to feel full after eating it- which is why it is said to aid with weight loss.  Chia seeds are great in baked good such as cookies and breads, and I also love sprinkling chia seeds on my morning oats and smoothies bowls, or even on my salad at dinner.  Check out my favorite recipes from my site using chia seeds!
Chocolate Banana Chia Seed Muffins with Chia Seeds