Happy Friday! I hope you will be able to enjoy a long weekend. My son is off from school on Monday, so we are scooting off to the desert for a few days to partake in Modernism Week with my husband, who is fairly obsessed with everything mid-century modern.  He has organized tickets for lectures, home tours, shindigs, etc.  I have put in my requests for restaurants, of course.  Should be swanky!
A quick note to remind about my Friday Favorites, since someone recently asked me, I have not received any of these products for free, nor have I received any compensation for mentioning these products.  If I were sponsored, it would be mentioned and if I received product for free in exchange for a review, that would be mentioned as well.  Believe me, I welcome sponsorships and free product if any company wants to send some my way!! 😉  With respect to the products mentioned in this post, I bought them all for full retail price and have no connection with these companies.
Lakanto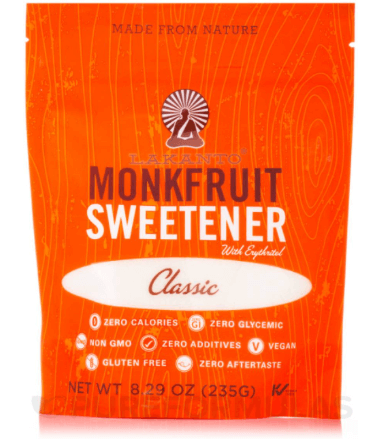 I am always skeptical of concentrated sweeteners, both natural and unnatural.  They raise your blood sugar, cause insulin to flood our system, are pro-inflammatory and acid-forming to our cells.  They also feed yeast and fungus and possibly a host of other ills.  Some sweeteners are better than others because they still have their nutrients in tact and do not contain chemicals, etc.  But sweeteners, no matter how "natural," should really be consumed in moderation.
Not everyone reacts the same way to every sweetener.  There are people, such as diabetics, who have to be much more careful with their consumption of simple carbohydrates, especially sugars.  And there are those who like to be mindful of keeping a low glycemic diet.  I found a sweetener called Lakanto many years ago through Donna Gates' website (she founded the Body Ecology Diet.)  Lakanto is a blend of erythritol, a sugar alcohol, and luo han guo, also known as Monk Fruit.  You can read much more extensively here about how lakanto is made and how it is a no-calorie, no-carbohydrate, natural sweetener.  I have to admit, Lakanto is pretty amazing.  It does not have a weird aftertaste and it really resembles sugar.  The manufacturer says you can bake with it one-for-one in place of sugar, but it's too expensive for me to use it in that way.  I typically add it to a smoothie or tea if I want a little sweet boost without the added simple carbs.  I have been reluctant to mention Lakanto in classes or on the blog because of the price, but after speaking with a few of my students about it, they all thought it was definitely worth sharing.  I buy it on Thrive Market, but you can find it on the Body Ecology website, as well as amazon.
Avocado Oil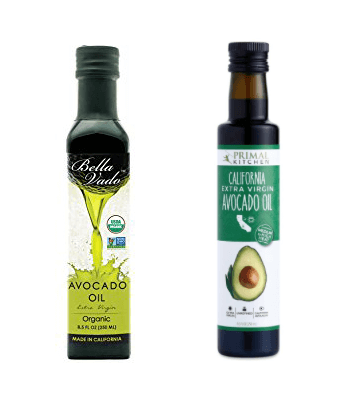 Avocado oil is the new kid on the block. I was hesitant to jump on board the avocado oil train because I was perfectly happy with my trio of olive oil, coconut oil and ghee. But I do love trying new products, especially when I can find clean ones.  I started to use avocado oil in sautes, stir-fries, baking and roasting vegetables.  What I found was that avocado oil has a more neutral flavor than olive oil and can withstand a pretty high temperature.
From a fat standpoint, avocado oil gives you a nutritional profile similar to olive oil. According to Mark's Daily Apple, Almost 70% of avocado oil is oleic acid, a monounsaturated omega-9 fatty acid. Aside from the significant monounsaturated content, avocado oil is about 16% saturated fatty acids and 14% polyunsaturated. The omega-6 to omega-3 ratio is about 13:1. While it's not an outstanding ratio, the PUFA content itself is small enough (14%) that we're only talking about a small portion of the total oil. In the grand scheme, it's as solid as olive oil, with arguably a better taste profile. To boot, the other benefits of avocado oil definitely compensate.
The fats aren't only healthy in and of themselves but make other nutrients, particularly carotenoids, in the avocado much more bioavailable. Research has shown that avocado or avocado oil increased the absorption of carotenoids in a meal anywhere from 2.6 times to 15.3 times depending on carotenoid.
Speaking of micronutrients, an avocado itself has an impressive nutritional breakdown. A mere half of your average Hass avocado offers goodies such as 345 mg of potassium (that's more than a banana), 185 ?g of lutein/zeaxanthin per one-half fruit, 19.5 mg magnesium, 60 ?g folate, 10 mg choline, 19 mg of glutathione, and 57 mg phytosterols including the potent lipid influencer beta-sitosterol.
With their high levels of multiple antioxidants (e.g. polyphenols, proanthocyanidins, tocopherols, and carotenoids), avocados deserve accolades far beyond their usual attention, and research shows that avocado oil confer their nutritional health benefits. Several studies conclude that avocado consumption (again, which is mostly fat/oil) can support everything from good cardiovascular function to healthy aging, better eye health (likely because of enhanced lutein/carotenoid absorption) to easier weight loss (due to satiety), healthier lipid profiles (by lowering LDL and triglycerides) to lower risk for certain cancers (a potential result of glutathione and carotenoid benefits). Avocado oil has also shown benefit for the control of metabolic disorder and liver function.
And free radicals – they meet their match apparently when up against avocado oil. While antioxidants from plenty of other fruits and vegetables are known to neutralize free radicals, research suggests avocado oil's power might have an extra potent benefit in (unlike most other antioxidant sources) being able to enter mitochondria, our seats of energy productionand key factors in aging trajectory.
I have enjoyed everything I have made with avocado oil and from what research I've done it seems to be a really great addition to my "oil repertoire." I always make sure I purchase unrefined  oil.  Primal Kitchen and Bella Vado are both available in stores local to me and both have unrefined versions. There is another brand called Chosen Foods which I have not tried and they claim their avocado oil is "naturally refined," which I assume means they don't use heat or chemicals to refine it.  I need to look into that further.
There is a catch with avocado oil, though (you knew that was coming, right?)… it is a little pricey. I have seen both of the brands of avocado oil I mentioned about at Whole Foods, and Primal Kitchen can also be purchased at Thrive Market.  For all oils, I prefer dark glass bottles, and I always store oils in the pantry where it is cool. (Note, I store flax, hemp, walnut and sesame oils in the refrigerator.)
Real Salt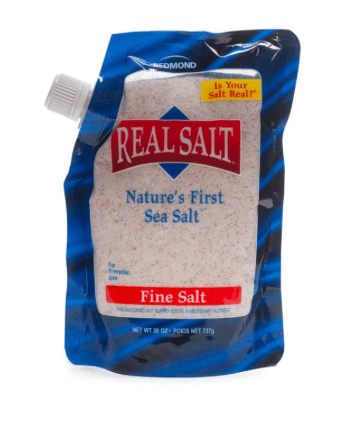 I think one of the easiest swaps to make when trying to eat a more healthful diet is to make sure you are using a high quality salt in your cooking. Salt is used in practically everything we make at home and you do not want to be using a salt that has been heavily processed and bleached or one that has additives, like aluminum or dextrose, for example. Sea salt is widely available and not only does it avoid all of the nastiness previously mentioned, but it also has trace vitamins and minerals and a much cleaner flavor, in my opinion. One of my favorite sea salts that I have been using for years is called Real Salt. I love the fine grain version, which is perfect for almost everything from soups to roasted veggies to baked goods. This versatile salt also has a really nice, clean flavor, is completely unrefined with no additives, and is a great price. It is becoming more widely available as of late- it is available at a lot of Whole Foods locations, and also on Thrive Market! You can check out the Real Salt website to see if it is sold in a store near you.
Simple Mills Almond Flour Crackers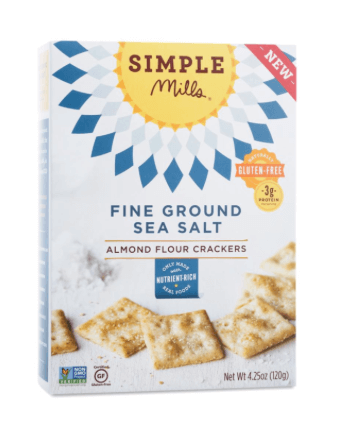 You know I love a good cheese board when I have friends over!  Ironically, I don't really eat much cheese, but I love putting out lots of fresh crudités, olives, dips and crackers. Although I am not gluten-intolerant, my older daughter is, as are many of my friends. I discovered these Simple Mills grain-free almond flour crackers and they quickly became my new favorite.
You would never know these are grain-free since the texture and flavor are phenomenal.  They are really delicious and perfectly crispy and salty and my son said they remind him of saltines.  They come in delicious flavors such as rosemary & sea salt and tomato & basil.  I get these crackers at Thrive Market but have also seen them for sale at my local Whole Foods.
Seasonal Produce: Pomelo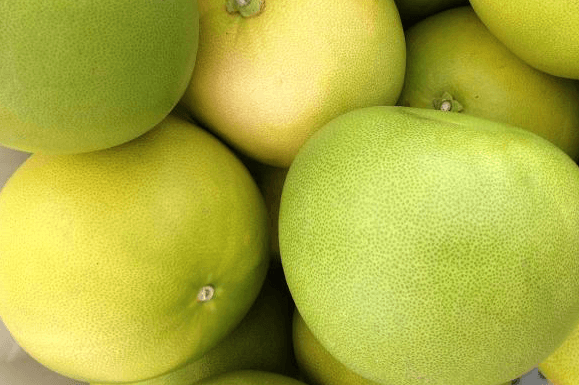 Since we are knee-deep in citrus season right now, I thought I would share a not-so-common citrus that I actually happen to love and think is totally underrated! I know this time of year we can all get a little antsy, dreaming of the days soon to come when berries and peaches and plums fill the bins in the produce section. But have no fear, there are plenty of delicious and satisfying fruits available right now, too, like the pomelo! The pomelo is a citrus most closely related to the grapefruit, except it is much larger and green in color. Pomelos can be a bit intimidating to buy because of their large size but there is a lot of yummy sweetness underneath all of that rind. The flesh inside ranges in color from yellow to light pink with a thick pith. Pomelos are actually sweeter than grapefruit without that bitter punch. Like all citrus fruit, pomelos are very high in Vitamin C (think it is any coincidence citrus season coincides with flu season?), as well as folate, Vitamin B, and tons of fiber which promotes healthy digestion.  Once you have segmented the flesh from the pith, it makes a delicious snack or is perfect in salads or on top of oats or anywhere else you would normally use citrus. Check out some recipes containing pomelos from around the web that I thought you would enjoy!
Pomelo Salad with Chile, Lime, Peanuts, and Coconut from Bon Appetit
Pomelo Noodle Salad from 101 Cookbooks
Jicama and Pomelo Salad with Spicy Thai Dressing from Serious Eats
Pomelo Sorbet from Williams Sonoma
Roasted Brussels Sprouts with Pomelo and Star Anise from Ottolenghi's Plenty More Cookbook
If you are interested in learning more about Thrive Market, click this link.  If you become a member, this blog would receive a referral fee.