Happy Friday, my fair readers.  Another Friday, another weather update.  It is still heat-waving here in Southern California and we are even more over it than when we said we were so over it 4 weeks ago!  So yes, my husband broke down and bought air conditioning last week.  The company came to install it on Friday and apparently the crane that arrived to hoist the unit onto the roof of our house was not tall enough and a bigger crane was not available until Monday of this week.  So during the hottest weekend of the longest heatwave in the history of the world (or in Manhattan Beach in the 9 years I have live here), my brand new air conditioning unit sat on my front lawn.  I kid you not.  All's well that end's well, I suppose.  It was successfully installed Monday, just in time for my cooking class on Tuesday morning when some very relieved students arrived to a cool kitchen.  "It's like walking into the mall!" one delighted lady shrieked.  And we ate hot soup and didn't even break a sweat.
I thought the real joke would be if on Tuesday the temperatures plummeted to 70 degrees.  But no such luck, friends.  It's 90 for as far as my iPhone weather predictor can see.  Life must go on and so shall my Friday Favorites!
Unreal Candy

As we get closer to the end of the month, people are getting ready for the spookiest holiday of all by stocking up on bags of candy.  I love Halloween, fall and seeing my kids in costume year after year, but there is something that I makes me a little crazy about Halloween.  Yep, you guessed it.  The candy is just a disaster.  We work so hard all year long, making food from scratch, buying the right products and using all of the right methods, only to watch the kids (and some adults) devour high-fructose corn syrup, GMOs, processed sugar, additives, preservatives, and so-on until the pillow sack of candy runs out.  Such a bummer.
Now I am the first person to say that even high quality candy is still candy and candy is basically sugar, which is never good for you even if it's organic.  But I still always wondered why there wasn't better candy, i.e. non-GMO, organic, etc.  Well, a boy in Boston was apparently on my wavelength, and with his older brother and dad set out to create a line of candy that was less offensive and inflammatory to our bodies. The candy is absolutely delicious, and the company, which has now grown, is committed to using sustainable sources for their products, and making candy that is free of GMOs, gluten, soy, corn, excess sugar, artificial flavors, dyes, and preservatives. They have a variety of peanut butter cups (including a coconut and crispy quinoa variety) and candy-coated milk chocolates that are made with natural dyes like beet and carrot rather than artificial ones.  And they taste scrumptious.   It's called Unreal Candy and I have seen it at my local Ralph's supermarket and you can see where they are located in your area here! You can also purchase the candy from their website. It looks like they added a couple of fun Halloween products, just in time for the holiday.
Oaktown Spice Shop Pumpkin Pie Spice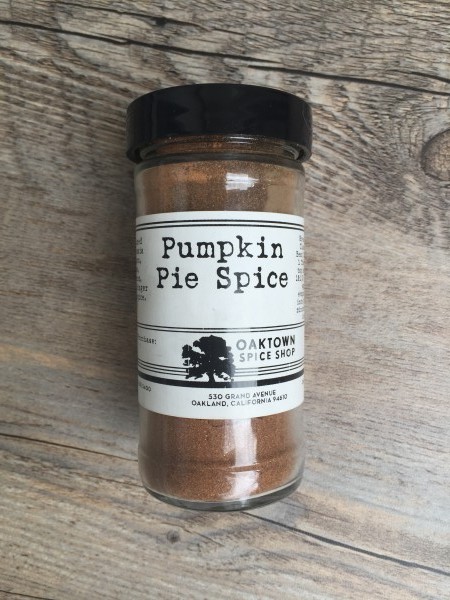 Ok people, now that we all have our pumpkin tetra-paks from my post last week, this will be the perfect accompainment to all your fall pumpkin-infused cooking!  Pumpkin can be a bit bland on its own, and is definitely taken to another level with the proper spices.  What better to pair this winter squash with than a blend of spices that complement it perfectly.  I have always made my own combo of ground cinnamon, nutmeg, ginger and cloves, and never opting for a pre-made "pumpkin pie spice."    As you all probably all know, not all spice blends are created equal.  Some are heavy on one particular spice and lacking in others, etc.  And some are just not fresh.
I received this pumpkin pie spice mix from Oaktown Spice Shop, as a gift from my sister-in-law, and let me tell you it is to. die. for.  It is the perfect blend of those classic pumpkin pie spices but also has a little hint of cardamom and allspice which I think makes it unique and really rich and deep in flavor.  And the spices are FRESH.  I have been doing all sorts of cooking with this blend ever since the leaves started changing colors (on the East Coast, that is.  Not here where it's still a billion degrees.)  I have been adding it to smoothies, sprinkling it on winter squash and fall fruits, and using it in my pumpkin pancake batter and oatmeal.  And I have actually developed a recipe using pumpkin pie spice for my Thanksgiving class menu next month so that I can continue to work with it!  It is available on their website for purchase.  The only downside is the flat rate $8 shipping charge, so maybe go in on a few jars with your friends and you can all split the fee.  There are other spices and blends that I am definitely going to try though.  I have my eye on the "Better Than Everything Bagel" blend.  The company was kind enough to offer my readers a 10% off discount code, SALZMAN that can be used on any order on their website.  (The code is only valid for 30 days and it will expire 11/15/15.)
USA Pans Doughnut Pan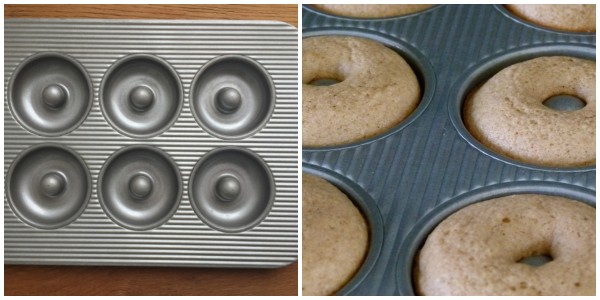 I know what you're thinking here.  Usually I try and feature products that are promoting a healthy lifestyle.  Where do doughnuts fit into that?  Well, I think there is definitely a time and place for special treats and if you are going to indulge in something like doughnuts you may as well make them at home so you can control the ingredients.  I posted this baked doughnut recipe last spring which I think is perfectly delicious and doesn't leave you feeling like you just ate 5 pounds of sugar or GMO soybean oil.  Not only have we had homemade doughnuts for special occasion breakfasts, but I have even done these doughnuts as a dessert for dinners with friends, and jazzed them up (the doughnuts, not my friends) with fun glazes or fruit sauce drizzled as a topping.  Lately I've seen some fun apple cider and pumpkin doughnut recipes floating around Pinterest and I'd like to give one of them a try soon.
The only way to really make doughnuts at home, however, is with a doughnut pan.  I wanted to share this pan with you because I think it is perfect for making homemade doughnuts.  It has a non-stick ceramic coating which allows the doughnut to slide right out of the cavity when it is done baking.  But more importantly the ceramic coating does not leach any toxic PTFE's and PFOA's.  It is really heavy duty and will last you for years and years.  I bought 2 pans since one only makes 6 doughnuts and if you are going to take the time to make doughnuts you might as well make a dozen of them, right??:)  I got my pan on Amazon where it is a great price and has free shipping with prime.
Rancho Gordo Beans

Beans are a food that come into heavy rotation in my house, especially during the fall and winter months, when I make all kinds of soups, stews, and chillis.  I am a huge, huge fan of beans in general for several reasons.  First, they are so nutritious; beans are full of fiber and protein, antioxidants, iron, folate, zinc and more.  Second, they are an inexpensive source of very high quality, low fat protein, and lastly, they are so versatile!  I could honestly go on and on about my love for beans but I will spare you here and get straight to my point: I always try and cook my beans from scratch if possible (avoid aluminum and BPA, save money, control soaking time, less sodium) and I have enough experience that I can tell you that not all beans are created equal.
This month in my classes we have been using beans by a company called Rancho Gordo, a specialty food company out of Napa that sells the most amazing beans of all varieties. I have quite honestly never bought better dried beans.   They are so hearty, fresh and delicious.  We have been using an heirloom cranberry bean for my classes this month but they have every type of bean under the sun, including many more heirloom varieties.  They guarantee all of their beans to be less than 2 years old, 95% of them being less then a year old.  This means that not only will the beans taste better and more fresh, but they will take much less time to cook.  I made this soup on different occasions with Rancho Gordo cranberry beans and cranberry beans from the bulk bins at Whole Foods and there was no comparison.  Rancho Gordo beans were so much better, creamier and cooked faster.
Rancho Gordo beans are sold in a lot of smaller specialty shops, like GROW in Manhattan Beach and Farm Shop in Brentwood for my local LA peeps.  Check out their website for a location near you or to purchase on-line!
Baby Kale

I am well aware of the fact that kale has been a trendy food and really been in the spotlight over the last couple of years.  We have all had our fun with it, making kale salads, kale chips, and kale smoothies.  I know there are still several people out there that did not jump on the kale bandwagon, however.  I get it.  Kale can be extremely tough if the center rib is not removed and can also be quite bitter if not prepared properly.  But today I want to share my discovery of baby kale, which I lovingly refer to as "kale lite!"
Similar to baby spinach or baby arugula, baby kale is just a smaller, more tender and less bitter version of the larger leaves.  There is no stem to remove and no slicing involve.  And even better, it usually comes in a bag pre-washed and ready to go!  And because baby kale is pretty tender, I don't even bother to massage the leaves for a kale salad the way I do with large kale leaves.  It doesn't get much easier than that for you to be able to consume one of the healthiest foods on the planet!  To remind, a serving of kale has more Vitamin C than an orange, 133% of our daily Vitamin A requirement, more calcium than a glass of milk, and contains brain-boosting ALAs, chlorophyll and on and on.
Baby kale can be used like any other bagged lettuce for a quick and simple salad, is perfect to add to smoothies and soups, and great to sauté as well.  I have seen organic bagged baby kale at Trader Joes and Whole Foods!
Here are some good looking recipes that use baby kale:
Baby Kale Salad with Lemon, Parmesan and Crispy Chickpeas from Once Upon a Chef
Baby Kale, Mozzarella and Egg Bake from Kayln's Kitchen
Baby Kale and Roasted Salmon Salad from Self Magazine
Baby Kale and Farro Salad with Creamy Balsamic from The Garlic Diaries