Hello, Friday and hello, October!  It sure does NOT feel like fall around here, except for the overflowing stacks of pumpkins and winter squashes at the market lately.  I decided to get with the spirit and make pumpkin pancakes for breakfast this week.  Delicious, but I would have felt cooler with a smoothie bowl.  Except for one class coming up on Monday, I just finished a great menu in my classes this month.  But it's time to move onto a new menu and a new season.  Follow me on Instagram and Facebook to get a glimpse of what I'm teaching in my classes and what I'm making for my family at home.
Here's what we've been talking about this week:
Vital Choice Seafood

Did you know that wild fish has a season?  Yes, that's right- just like peaches, tomatoes and pomegranates, truly wild, fresh fish is only available during a certain time of the year.  And sadly friends, for many wild specimens, that time is coming to a close soon as we get into October.  But do not fret, because I am here to share with you my most reliable source for wild fish when I am not able to get it fresh locally.  Vital Choice is an on-line seafood company that is committed to providing superior quality fish (as well as a variety of other products as well!).   All of their fish is caught by sustainable methods which results in fish that are of higher quality and higher in Omega-3s.  The fish is flash frozen within hours of being caught which that means once you defrost it in your home it is a really nutritious, yummy, fresh piece of fish.  One of the greatest aspects of Vital Choice is that they test all of their fish for heavy metals like mercury, and even fish that are typically high in mercury such as albacore and halibut are safe when ordered from Vital Choice.  This means a lot to me.
I have been talking about Vital Choice a lot in my classes lately because we were making halibut skewers last month, and it seems like no one really has a great source for seafood.   I will warn you, however, that you are definitely paying for the high quality– wild fish of this caliber is not cheap, and it shouldn't be, really.  My favorite items to order from the site are the 5 pound random weight Halibut (don't pay more for the "uniform in size" pieces- the random weight always look great and are very close in size!), and the canned wild salmon and tuna.  And what is great about these products is that you can have them on hand at all times, so if you needed a quick dinner you could defrost a couple of pieces of fish in the fridge in the morning or open up a can of tuna or salmon for a protein packed salad.  Any way you chose to enjoy it, I promise you will not be disappointed in this seafood!  You can order directly from their website here.
All-Clad Ceramic Slow Cooker

I swore I wasn't going to mention the weather again in this post, however it is kind of inevitable with this particular item.  Fall is making its way to some of us, which means it is time for soups and stews and all of that coziness as the cool breeze moves in and the leaves turn red and we crave warming, comforting foods.  This is also the time of year that I tend to break out one of my most favorite and useful kitchen appliances- my slow cooker!  I have had this slow-cooker by All-Clad for a few years and I am crazy about it.  The insert is ceramic, not non-stick which I avoid at all costs.
I think the 6.5 qt capacity is perfect for my family and while I like to use it for everyday tasks such as cooking beans from scratch or the occasional chicken stock, I love to throw in a yummy soup or stew in the morning and have a hot dinner ready for us when we come home.  Those of you with jam-packed after school schedules (is anyone not with me, here?) your lightbulbs should be going off as this is perfect when you have kids in and out of the kitchen at different times need to be fed dinner before practice or after this lesson or not until 8pm which is just way too late for me to still be in the kitchen.  Another way I love using my slow cooker is for making oatmeal, which in the same fashion, works beautifully for having a hot breakfast ready for a family with a staggered schedule, or if you just don't have the time to be boiling steel-cut oats.  (Check out my favorite slow-cooker oatmeal recipe here.)  And while I do love my All-Clad, there are several brands of slow-cookers on the market and really a lot of them are great.  I happen to love the programming features on my All-Clad; I can set the time and when it is finished cooking, it automatically switches to the "warm" setting.  I also love that I can have something that I have already cooked, such as stuffed peppers or sloppy joe mixture, and instead of having to refrigerate it and reheat it later that night, I can just throw it in the slow cooker on the "warm" setting and leave it for several hours.  I bought my slow cooker at Williams-Sonoma, but this particular one is available so many places, including Amazon with free shipping!
To-Go Boxes

Whenever I am hosting people in my home, whether it be for classes or for entertaining, I always love to have to-go containers for sending my guests home with leftovers.  I found these really great to-go boxes on Amazon and I love the size and the look.  They are made from renewable sources and are recyclable, which I don't think you can say the same for styrofoam!  They are unbleached and I think the brown paper kraft look is really cute.  They are leak and grease resistant   I also love to use these for picnics at the park or at the beach instead of plates.  That way everyone's food is protected and these will not tip or spill nearly as easily.  I think these would make a really cute gift box as well for things like cookies or muffins with a cute ribbon tied around them.  And I wouldn't dream of hosting Thanksgiving at my house without having these to give away all of the leftovers.  I will warn you though that you have to order these in large quantities.  I like the 7-3/4″ x 5-1/2″ x 2 1/2″ size which comes in a set of 200.  I just take a stack of them to keep in my pantry and then store the others in a back closet or garage.  Or split the order with a few friends.
Whole Foods 365 Beans in Tetra Paks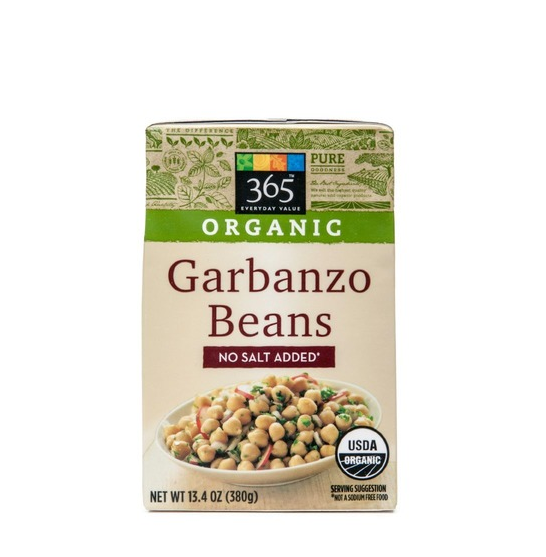 In case you haven't been hanging around here much lately, I think BPA-lined aluminum cans are so 2010.  There are many options these days for getting your favorite canned products in glass jars or tetra paks.  I have been able to switch to tomatoes in glass jars and coconut milk and pumpkin puree in a box, but beans have been tricky since there are not too many "non-canned" options.  Luckily, my local Whole Foods has started carrying a variety of cooked beans in tetra-paks and these have really been a life saver.  While I do love to cook my beans from scratch for several reasons (check out this post), believe me when I say there is no substitute for having cooked beans on hand for those times when you need to pull a quick dinner together or want to add some extra protein to your salad for lunch.  So for those times, I love keeping these boxes in the pantry.  Whole Foods carries garbanzo, black bean, red kidney bean, and Cannellini bean, which definitely covers the basics.  As a bonus, they are a little lighter and easier to stack in your pantry with their rectangle shape.  They are slightly more expensive then the canned beans but worth every penny to me to be cutting some aluminum and BPA out of my diet.
If someone knows anything about the polyethylene which lines these boxes, please share!  I haven't been able to find any good sources of information.
Seasonal Produce: Pears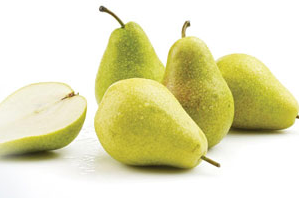 Can we talk about pears for a second?  I feel like no one ever wants to talk about pears.  They are like the forgotten fruit of the fall with apples getting all the glory.  But let me tell you friends when you can get your hands on a perfectly ripe, juicy, sweet pear once October rolls around, there is really nothing better.  I remember growing up we had a pear tree in the backyard and  although I can't recall the variety, they were my favorite fruit of the season.
There are so many different varieties of pears and things you can do with them, I think you should seriously consider buying them regularly during the fall season!  They are a natural on a cheeseboard, or thinly sliced on toast with cream cheese or ricotta or almond butter, raw or roasted in a salad and they are of course a natural in desserts.
One of the reasons I feel like pears really get a bad rap is because people don't know how to pick them.  If you bring home soft pears that give to the touch, you are going to end up with mushy, mealy overripe pears, and nobody wants that.  A ripe pear, unlike a lot of other fruits, is still ripe even if it is firm on the outside.  If you are looking to eat your pears within a day or two, chose ones that are slightly soft with a gentle right at the tip, where the stem meets the flesh.  If you want your pears to continue to ripen for a few days after you bring them home, choose pears that are firm all around without any soft spots or bruises on the skin.  Pears are best stored at room temperature and can be stored in the refrigerator for several days after they are ripe.  There are so many varieties of pears but my favorite is Bartlett.  It is very versatile since it is delicious both raw and roasted and I tend to gravitate towards this variety for most of my recipes.  Pears are super nutritious and contain both soluble and insoluble fibers, allowing them to be beneficial in fighting heart disease and diabetes.  The phytonutrients in pears have also been shown to lower cholesterol and this fruit is one of the highest with this capability, third to bananas and pineapple.  Here are my favorite recipes from my site below, as well as a few others from around the web!
Farro and Kale with Turkey Bacon and Roasted Pears
Roasted Cinnamon Pears with Dark Chocolate
Roasted Pear Salad with Endive, Pomegranate, Blue Cheese and Hazelnut Vinaigrette from Serious Eats
Pear and Buckwheat Pancakes from Sprouted Kitchen
Roasted Pear, Gorgonzola, and Honey Toasts from Naturally Ella
On another note, in case you were wondering, these are NOT sponsored posts.  Not that there's anything wrong with sponsored posts, but I have not been compensated in any way by any of these companies for highlighting them and providing my opinion.  If ever I were to receive free product or compensation for my opinion, I would tell you.  On the other hand, if there is a link to a product on amazon, I do receive a very small commission which is used to support the maintenance of this blog.