I love these Friday Favorites posts, because they allow me to reflect a little on my week, share what we've been talking about in cooking class, tell you what's new in my world.  Or maybe tell you what's not new.  Like the weather.  As in we are still having a heatwave.  I am too sapped of energy to even use exclamation points.  I think we need to re-examine global warming as a legitimate problem.  Or I need to invest in air conditioning.  I am a melty mess people, for what seems like the last month.  An absolute.  Melty.  Mess.
I read somewhere that one of the worst/most boring things one can write about in a blog is the weather.  Sorry.  Ok, onward to the best of this week:
Pyrex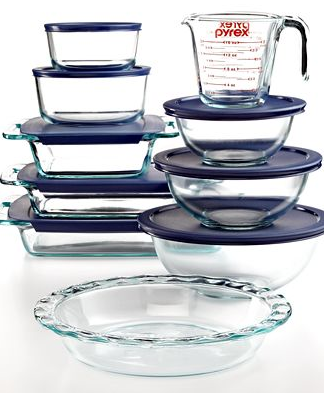 While this one may seem obvious, Pyrex is one of the things I could not live without in my kitchen. Pyrex has so many different products, all of which are made from glass, which is my material of choice when it comes to bakeware. It does not leach anything, doesn't hold onto odors, is easy to clean and is inexpensive compared to ceramic or stoneware. The Pyrex dishes I use the most often are the 9×13 and 8×8. I also have a few pie plates that I love and a loaf pan. And not to mention the countless liquid measuring cups that I find indispensable!  Most of my pieces I have had for years and they seem to last forever.
And they are not just for cakes and casseroles either.  Pyrex pans are very versatile. I love toasting nuts in the pie plate, marinating meat in the 8×8 and defrosting meat or fish overnight in the 9×13.  I always like to line my pyrex with parchment paper when I am baking breads and cakes for easy removal.  This way you aren't running your knife along the surface of the bottom and creating scratches in the glass.  Just a tip to keep your dishes lasting longer.  Pyrex is very easy to find.  Not only are they available at all kitchen stores like Williams-Sonoma and Sur La Table but you can also find them at stores like Target and Wal-Mart. Of course, Amazon has a wide selection as well, and both the 9×13 and 8×8 have free prime shipping!
Trader Joe's Brown Rice and Quinoa Pasta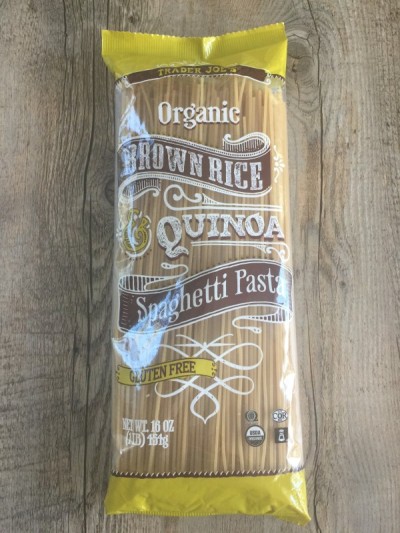 I have been trying to substitute rice and quinoa for wheat pasta for years now.  Although I am not gluten-free, I do try to limit my consumption of gluten, which is a pro-inflammatory protein.  I am love this  Trader Joe's organic brown rice and quinoa pasta.  It comes in both spaghetti and fusilli form and is literally just made with brown rice, quinoa, and water! That's it! Pretty amazing, and such a better alternative to a lot of the other gluten-free pasta options out there which may have soy or are just difficult to cook proprely. I find many of the usual gluten-free pastas difficult to work with, often times coming out gummy, but Trader Joes hit the nail on the head with this one and it cooks up just like regular pasta with a few tricks that I will share in an upcoming post, "How to Perfectly Cook Gluten-free Pasta."   It is also inexpensive, especially compared to what some of the other brands want to charge for whole grain based noodles.  Keeping a couple of bags of this pasta stocked in my pantry has really saved me when I am in need of a quick last minute dinner.  Throw this pasta in with some leftover veggies from the night before and you have a quick and nutritious meal.
Made in Nature Italian Espresso Toasted Coconut Chips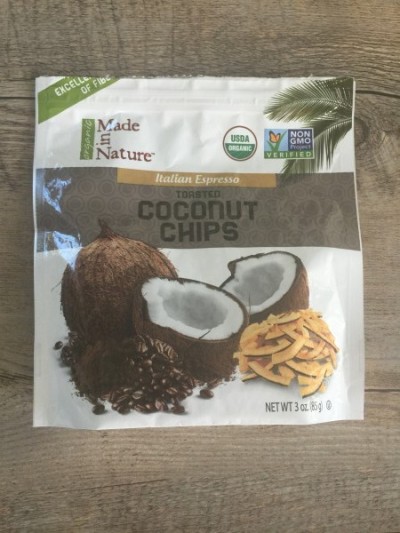 Coconut never ceases to amaze me these days. I feel like every time I turn around there is a new coconut product or new way to use coconut butter, oil or milk. Cut to this new crispy little snack I discovered, Italian espresso coconut chips! These toasted coconut chips by Made in Nature are absolutely delicious, satisfying and most importantly completely clean! They are small little pieces of coconut toasted with maple syrup, vanilla, sea salt and espresso and they have this nice deep caramelization that is to die for! The espresso flavor is so subtle and really just gives it that "I-don't-know-why-these-are-so-good" kick. I think these are perfect to grab a handful if you are craving a late night treat or if you need a little afternoon pick me up treat. I was also thinking these would be fun for entertaining on an after dinner fruit and cheese platter. They are actually more espresso-y and maple-y than coconut-y which is nice if you aren't crazy for coconut flavor. I have only tried the espresso flavor, which I think are so unique and decadent, but according to their website it looks like they have quite the variety:  Cinnamon Swirl, Madagascar Vanilla, Spiced Cacao, and Masala Chai. Um…yum!!  I will definitely have to try the other flavors- if you try any of these, please report back! They are available on Vitacost and you can also check out the Made in Nature website to see where they are available in your area!
Seasonal Produce: Spaghetti Squash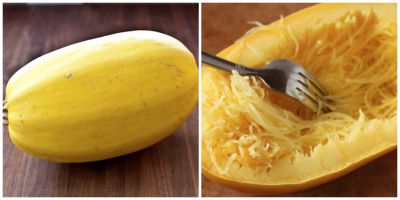 I have been teaching a spaghetti squash recipe in my classes this month and people have just been going nuts for it! If you have never had a spaghetti squash before, you are in for a treat because it is a very versatile, nutritious, and low-calorie winter squash.   It comes into season in the late summer and stays throughout the winter. Check out my post here where I show you my preferred method for cutting, roasting and "stranding" the squash, which is when you use a fork to pull the strands of spaghetti squash away from the skin so that it resembles, you guessed it- spaghetti.  Now I will warn you that although this is named after and strongly resembles our favorite pasta, this veg does not actually taste like spaghetti, so don't set yourself up for disappointment.  However, spaghetti squash has a very mild, almost bland taste that makes it very versatile and you could take the flavor profile in so many different directions.   In my classes this month we are doing a garlic, cherry tomato, and basil sauce. In the past I have done a spaghetti squash with lots of garlic, herbs, and pecorino that was delicious, and in my post I linked to above, I show you my favorite recipe with kale and chickpeas. But again, you could really go in any direction with this! And by using this squash instead of actual pasta you are not only cutting back on your calories and carbs drastically, but you are getting a ton of health benefits as well. It is high in Vitamin A and C, both of which combat free radicals, it is high in beta-carotene which is important for eye and skin health, high in potassium that helps regulate blood pressure, and high in folate which is very important for pregnant women.
Here are some other recipes which look good to me:
Spaghetti Squash Pad Thai from The Kitchn
Spaghetti Squash with Meat Ragu from Skinny Taste
Spaghetti Squash Casserole with Ricotta and Spinach from Real Simple
Southwestern Stuffed Spaghetti Squash from The Comfort of Cooking
Spoon Stand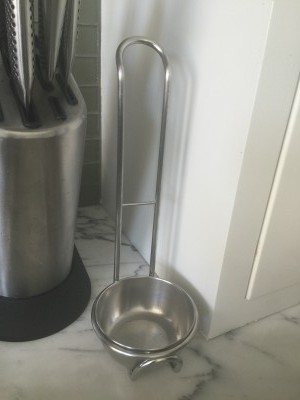 I spend a lot of time at my stove and am constantly going through wooden spoon and spatulas.  It is always such a pain to set down a sauce or oil covered spoon onto your clean countertop. Spoon rests are super handy and I know pretty common to have in your kitchen. I have this spoon rest that I bought years ago (from I can't remember where) and it has never left my stovetop's side since. What I love about the stand as opposed to the spoon rest is that it is taking up room vertically rather than horizontally on your counter. Also, a key feature is that it has a removable little bowl that you take out and can rinse or throw in the dishwasher, rather than having to clean the whole spoon rest after each use. This also accommodates extra tall spoons and spatulas. It is even a nice touch for a ladle or serving spoon for a serve-yourself buffet. There are a couple of nice ones I like on Amazon. This one with a white porcelain tray and this one with a stainless tray.
Have a great weekend!