TGIF except when the weekend forecast calls for …more hot weather!  🙁  Let's play the game called "You Know There's Still a Heatwave When…" and then we fill in the blanks.  I'll start!  When….your coconut oil looks like water all the time.  When…you take three showers a day.  When…your dog starts hogging the spot in front of the fan.  When…you start looking into cooking instructor positions in North Dakota.  When …you stop wearing eye makeup, because what's the point???!!!  Ok, I'm done.
If you weren't in my classes this week, here's what we chatted about (besides the weather):
Large Stainless Pancake Spatula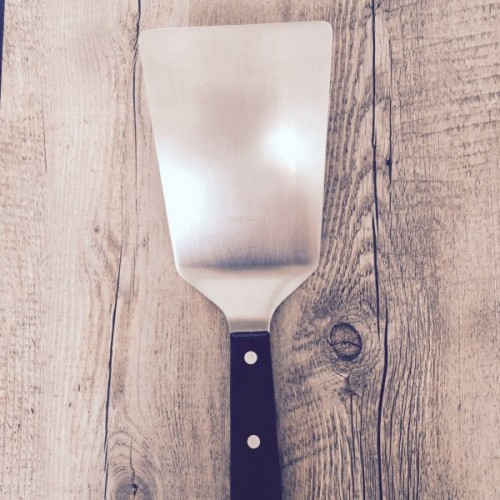 Pancakes are eaten for breakfast around here a lot!  They are my son's favorite breakfast food and I make them at least once a week, if not twice.  In order to make perfect pancakes, I need the right spatula to flip them.  I love this one from Williams-Sonoma.  First of all, I don't use any plastic utensils when I am cooking.  Heat and plastic are a BAD combo (plastics leach.)   So stainless is the way to go.  This spatula is also the perfect width for pancakes, i.e. wide, which is actually really important—too narrow and the pancake could fall over the sides, and too wide you will knock into the other pancakes. This has lasted me for MANY years and I love how thin the stainless steel head is and the angle makes it extremely easy for flipping.  Even though I use this spatula most often for pancake, I also use it for flipping burgers on the grill and French toast or crepes as well. Do note that this is ideal for using with a large space, such as a griddle, grill or large skillet or sauté pan. You will have some trouble using this with a small or medium sized pan!
Chiquilin Smoked Paprika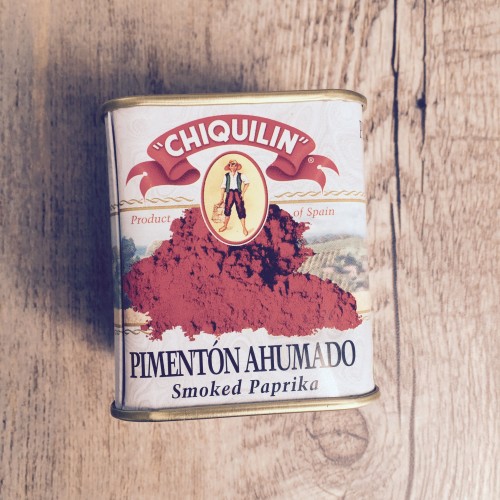 I keep my meat consumption to a minimum, so I am always trying to come up with ways to emulate the smoky, rich and savory flavor that meat often gives us, specially when grilled. One of my secret weapons is smoked paprika. This spice is so versatile and I have used it in everything from lentils to paella to shitake "bacon" (I'll post this another time.)  It always gives these vegetarian dishes a more hearty, smoky and satisfying flavor.
Something that I am always telling my students is that not all spices are created equal. You should smell your spices and compare between brands to find the perfect chili powder, curry or oregano that you love, for example.  The same goes for smoked paprika.  I found this one by Chiquilin on Amazon years ago and have used nothing else since.  It has the perfect depth of smokiness and has so much flavor compared to some of the other smoked paprikas I have used such as Spicely Organics.  Plus, it is very affordable (just around $5) and comes in this cute little tin that makes it look a little more gourmet and chic.  It is available on Amazon with free Prime shipping; the only other place I have seen it sold is in gourmet food shops such as The Cheese Store in Beverly Hills and Surfas in Culver City for the LA folks.  Keep in mind that "smoked" does not mean "hot"- which is great because you can still control the amount of heat you want in your dish but still get that rich smoky flavor.
Bob's Red Mill Whole Wheat Pastry Flour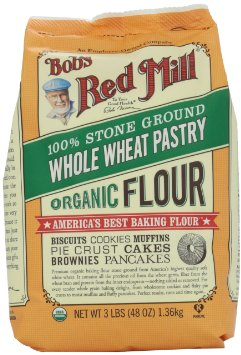 We are all well aware at this point that white flour is not one of the most nutritious things we can put into our bodies.  It is pro-inflammatory, high glycemic, processed, and reacts in our bodies similar to sugar. When I began trying to eliminate white flour from a lot of recipes, it was hard to use whole wheat flour for things like breads, cakes and cookies because the results were so heavy and coarse.  I could deal, but my family was not having it.  Who wants to eat a coarse cookie??
After experimenting with a few different flours I came across whole wheat pastry flour.  Whole wheat pastry flour is just flour that is made from a different type of wheat berry than regular whole wheat flour. The word "pastry" really means nothing other than to differentiate the two.  When I began substituting this whole wheat pastry flour for white flour, I was thrilled with the results and no one could really tell a difference between it and the white flour, in most recipes.  Fast forward to today, when I use whole wheat pastry flour almost exclusively in place of white flour or all-purpose flour, and get great result almost every time.  My favorite is Bob's Red Mill organic whole wheat pastry flour.  I have been using this brand for about 8 years and get perfect results every time.   Even whole wheat pastry flour is a higher glycemic food, but at least this one has 4 grams of fiber and 3 grams of protein per serving, which I think is pretty respectable!  If you have a favorite recipe—be it pancakes, cookies, quick breads, etc—try subbing this flour 1:1 and I can guarantee you won't be disappointed.  The only times I do not have as much success with this flour is with pastry (pie crust), white birthday cakes and breads like challah.  Bob's Red Mill whole wheat pastry flour is available at my local Whole Foods, and vitacost.com seems to be the best online source!
If You Care Muffin Liners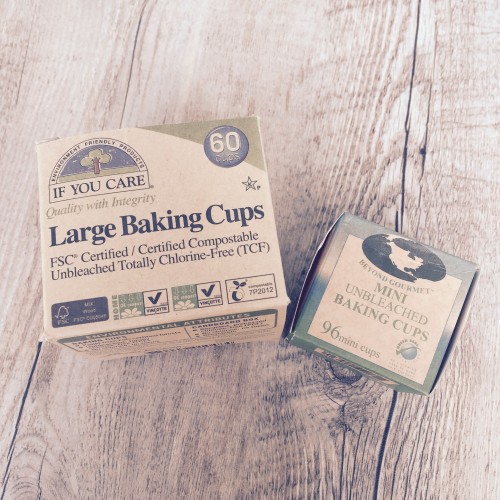 I've mentioned it on my site and in my classes before that we should make the switch to using unbleached parchment paper over aluminum foil and bleached parchment paper.  It's such an easy swap to make in your kitchen to eliminate some of the chemicals that may leach into your food from heating non-stick baking pans, untreated aluminum pans, foil and bleached parchment paper.  If you are already using parchment paper to line your baking sheets or baking dishes, you should also be using unbleached muffin tin liners as well.  This time of year is perfect for making batches of muffins and freezing them to be available for lunch boxes or a quick after school snack or breakfast over the next few months. I love these unbleached muffin tin liners by If You Care.  Not only are they unbleached but they are lined with silicone and they never stick to muffins—ever.  The remove cleanly every time, plus I love the natural look of the brown paper, which makes them perfect for gifts. They come in a large size, which fits a standard 12-muffin cup pan, and also are available in mini as well. They are available on Thrive Market for a great price, as well as Amazon, and they sell them at my local Whole Foods.
Seasonal Produce: Pink Lady Apples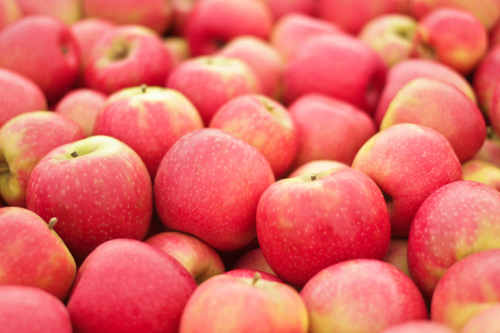 Nothing says fall to me like seeing all the fresh new crops of  local apples in the markets.  Before you know it, apples will be overflowing in the produce section of your grocery store with Gala, Fuji, Pink Lady, Honey Crisp, Braeburn and more.  Apples are one of the most versatile fruits.  They are so good in baked goods—I have used them in pancakes, quick breads, roasted in salads, to make applesauce and all kinds of desserts.  But above all, nothing beats a crisp, juicy raw apple, and for that I always choose my favorite: the Pink Lady. Pink lady apples, also called Cripps Pink sometimes, are so crunchy, slightly tart yet perfectly sweet, juicy and delicious. This is a perfect apple to slice up and place on a cheese board, smother with your favorite nut butter, or peel and bake into your favorite dessert.
An apple a day just might keep the doctor away, especially if it's a Pink Lady!  A recent scientific study conducted at the University of Western Australia, found that the Pink Lady variety had the highest level of antioxidant flavonoids.  How exciting is that?!  My favorite apple is also the most healthful!  Flavonoids are a general term for several different classes of plant-based, water soluble nutritional compounds. They have been studied primarily for their ability to scavenge free radicals within your body that can lead to serious health problems such as heart disease and hasten the visible signs of aging like wrinkles.
Essentially, a diet high in antioxidant flavonoids is believed to help prevent and even repair cellular damage and inflammation within your body. This can lead to a lower chance of developing cardiovascular disease, Alzheimer's, dementia, certain cancers and many other health issues.  Scientific studies on these individual antioxidants, don't really paint the whole picture.  It's almost certain that rather than one or two individual compounds being responsible for the health benefits of apples, it's the sum total of all the nutrients they contain working together that make them such a potent disease preventing and anti-aging fruit.
So apples are really good for you, but you need to eat the skin!  Recent research has shown that most of the phytonutrients in apples are located in and just under the skin.  Even more reason to always look for organic.  Pink Lady apples will be back in season any minute.  When choosing pink lady apples look for ones that are firm with no soft spots or bruises, and a rich red/pink color.  Store pink lady apples on your countertop for a few weeks and in the refrigerator for longer storage.   Here are some of my favorite apple recipes from my site, as well as a few others from around the web where I think pink lady apples would be delish!
Roasted Delicata Squash and Apple Salad 
Unsweetened Slow Cooker Applesauce
Grain-free Cinnamon Apple Cake
Heirloom Apple Salad from 101 Cookbooks
Apple Mosaic Tart with Salted Caramel from Smitten Kitchen
Beet, Apple, Quinoa and Sprout Salad from Green Kitchen Stories
Kale, Apple and Pancetta Salad from Once Upon a Chef
Have a healthy weekend!