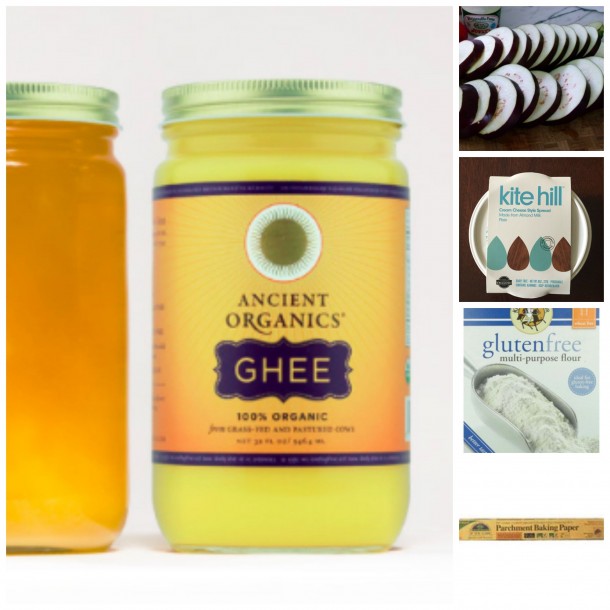 Despite the freak storm very early Monday morning that left us without power and phones (and wifi) for 36 hours, my visit with my family on Long Island has been divine!  With tons of kids running around, all you need is a pool and lots of grass and everyone is usually happy.  And a lot of fruit.  We have to go to the market every day, which is not my style at all.  But there's no way to store more than a day's worth of food given the quantities we're going through.  Of course I haven't had to buy a single vegetable with my dad's flourishing gardens in the backyard.  My idea of heaven.
Here are a couple of new faves and a few staples I've been talking about in class:
Kite Hill Dairy-free Almond Cream Cheese

I love trying new products, especially ones that can help people with dietary intolerances.  I have been testing out some dairy-free cheeses lately — some good, some not so good.  I gave Kite Hill soft cheese a chance last year and I was not in love.  But then my friend Alex told me to try their almond cream cheese product.  I was skeptical, but Alex has a great palate, so I bought it.  AMAZING.  I am loving it!  It is made with almond milk and some natural gums and tastes very much like cream cheese.  It is definitely not as thick as regular cream cheese, but I didn't mind that one bit.
Truthfully, Organic Valley makes a perfectly high quality organic cream cheese without preservatives.  But not everyone can tolerate pasteurized cow dairy and if I can avoid it or at least find a great substitute, I will.  I couldn't find this Kite Hill cream cheese at my local Whole Foods, but I did find it by my parents' house.  I will ask my Whole Foods to start carrying it as well as the chive flavor.
I have used it on toast and crackers, but I don't know if you can sub it for cream cheese in a cheesecake.
King Arthur Gluten-free Multi-purpose Flour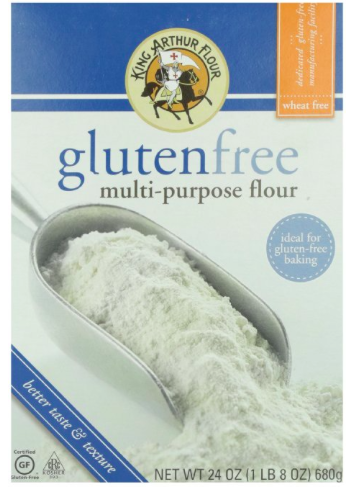 These posts are about my favorites and I very often have to make a gluten-free version of something in my classes to accommodate an intolerance, and this is my go-to GF flour.  I know I could make my own flour blend and I have many times, but sometimes I get busy and I just can't start measuring a dozen flours.  I have tried many gluten-free flour blends, but certainly not all that are on the market so I'd love to hear if you have a favorite.  This one by King Arthur gives me a great result every time.
I don't care for the flour blends that are bean-based because the flavor is just off in the finished product.  I cannot bring myself to buy Cup4Cup because the first ingredient is cornstarch (and it's not non-GMO/organic.)  King Arthur's blend includes brown rice flour, tapioca starch, and potato starch.  What you have to know is that many times you need to add a little xanthan gum to a gluten-free flour mix in order for it to be elastic and have structure.  Xanthan gum is easy to find at Whole Foods and health food stores.   I use the one by Bob's Red Mill.  Some gluten-free flour blends already contain xanthan gum, but in my experience it's not always enough.
I use King Arthur GF Multipurpose Flour one-for-one in place of wheat or spelt flour, plus xanthan gum according to the chart on the bag of xanthan gum.  You can find this flour on the King Arthur website, on amazon (more expensive, but free shipping with prime) and at health food stores like Whole Foods.  Be aware though that all of King Arthur's gluten-free packaging looks the same and if you're not careful you could end up picking up a box of gluten-free pancake mix instead.  (I'm sure you can guess why I would think to offer such advice.)
If You Care Unbleached Parchment Paper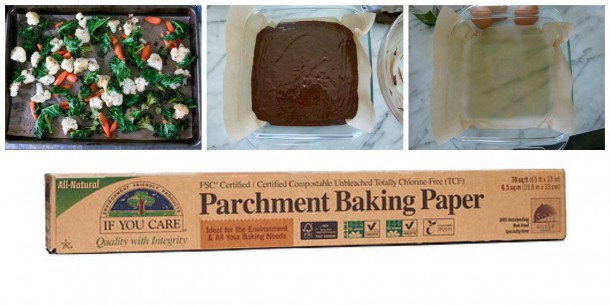 Here's the situation:  nonstick materials leach chemicals when heated.  Untreated aluminum leaches when heated.  99.9% of baking sheets are either non-stick or aluminum.  I need to provide a buffer between the food and the cooking surface so that my veggies don't absorb chemicals.  Yes, you can use a silicone mat, but oils that have been baked in can be tough to clean and you certainly wouldn't want to cook something on a silicone mat that was very strong smelling.  Just for the record, silicone mats are great, reusable, and totally safe.  I'll reference them in a future post.
My preference is unbleached parchment paper, which coincidentally is coated with silicone!  I don't buy bleached parchment paper because it likely contains dioxin, a serious toxin which occurs in the bleaching process.
Here's how I use unbleached parchment paper:
to line non-stick or aluminum baking sheets when baking or roasting;
to line pyrex and other baking dishes if I want to pull out the cake or baked good easily;
for baking fish in parchment;
to wrap sweet potatoes or individual beets or garlic, for example, and then wrapped in foil;
to make a faux baking sheet with parchment on top and aluminum underneath for cooking on the grill or reheating in the toaster oven.
If You Care unbleached parchment paper can be found in natural foods store and online.
Superfood Spotlight:  Ghee

I am a big proponent of including healthful fats in the diet.  High quality fat fuels the brain, lubricates the joints, helps us absorb fat soluble vitamins, A, D, E and K, nourishes the skin and can even keep blood cholesterol in check.
Ghee is a high quality fat that I love.  It is a type of clarified butter, where the milk solids, impurities and moisture have been removed leaving a rich, heat-stable fat.  Because the lactose and casein have been removed, ghee is often tolerated by many dairy-free individuals.  This fat contains both saturated and unsaturated fats as well as a whole range of short-, medium- and long-chain fatty acids.  High quality organic ghee also contains Conjugated Linoleic Acid (CLA), known for its fat-burning properties.
Ayurvedic tradition uses ghee to stimulate digestive functioning, build energy, enhance sexual vitality, nourish the skin and eyes, and feed the organs.  Ghee is known as a substance that gives longevity, its elemental qualities balance the aging characteristics by enriching the living body.  The purity of ghee allows it to be deep penetrating and nourishing as it passes through the lipid membranes of cells. For this reason, the vitamins and minerals from food cooked in ghee will be drawn deep into the body where they impart the most benefit.
In terms of cooking, one of the benefits of ghee is the higher smoke point (remember, no milk solids), so it is great to use in stir-fries, to cook eggs, in curries and roasting vegetables.  Ghee can also be used as a spread on toast or baked sweet potatoes, stirred into hot porridges, and blended into tea or coffee (think bullet-proof coffee.)  Ghee cannot be used one-for-one in place of butter in baking because the moisture content is different.  The flavor is also slightly different from butter in that it is much more intense and almost nutty.
I recommend purchasing only organic ghee.  Remember from this post that toxins are stored in our fat and animal fat, which is why non-organic butter contains such a high percentage of toxins.  Ghee is the same.  The mother of one of my students made me some ghee, which was the best I ever had.  It's actually pretty easy to make, but I'll admit I do buy it.  My favorite is Ancient Organics ghee which is made in small batches from the milk of grass-fed cows.  I also have used and love OMGhee and Purity Farms, both of which are organic and use milk from pastured cows.  All ghee is shelf stable due to the absence of water and milk solids so there's no need to refrigerate it.
Seasonal Produce: Eggplant

If you went to a standard supermarket, you might think there is only one variety of eggplant and that they are grown all year round.  Not so!  There are so many varieties, shapes and colors and eggplants are a summer vegetable with its peak from July to October.  If you are finding eggplant outside of the summer, they are imported, usually from Mexico.
In addition to containing many vitamins and minerals, eggplant is also rich in powerful phytonutrients, many of which have antioxidant activity. Phytonutrients contained in eggplant include phenolic compounds, such caffeic and chlorogenic acid, and flavonoids, such as nasunin, which is concentrated in the skin.
Eggplants belong to the Nightshade family of vegetables which includes potatoes, bell peppers, and tomatoes.  It is said that nightshades aggravate inflammation in people with conditions such as arthritis.  I think it's a good idea to be conscientious when eating nightshades and notice any reaction you may have.  Otherwise it is nothing to be concerned about.
Choose eggplants that are firm and heavy for their size. Their skin should be shiny, tight and smooth and the color should be bright. Scan the eggplant to make sure the skin is free of brown spots and indentations.   The stem should be bright green in color which indicates its freshness.
I can actually eat a dangerous amount of eggplant if it's cooked properly.  My favorite way is simply grilled or roasted, but I'll eat it any way it's made.  Just be careful when you use oil when cooking eggplant, because it is like a sponge and will absorb a ridiculous amount of oil.  When grilling eggplant I use a brush to coat the slices of eggplant instead of drizzling oil.  I almost never saute or fry eggplant since too much oil is absorbed.  For eggplant parmigiana, baking the breaded slices is the way to go.  Much less work, too.
Some people find eggplant bitter and although I've heard the larger ones are more bitter than the smaller, I haven't found that to be true 100% of the time.  One way to reduce the bitterness in eggplant is to slice it and sprinkle kosher salt on one side of each slice.  Arrange the slices in one layer and allow to sit for 20-30 minutes so that the salt will pull moisture (and bitterness) out of the eggplant.  Some people think that it also helps to soften the eggplant.  Rinse the eggplant and plat dry before using.
Here are some great recipes to help you enjoy eggplant this summer:
Grilled Eggplant and Lentil Salad
Stuffed Baby Eggplant with Lentils and Rice
Chopped Grilled Vegetable Salad
Eggplant Jam by David Lebovitz
Stir-fried Sesame Eggplant at Williams-Sonoma
Baba Ganoush by Yotam Ottolenghi
Enjoy these last bits of summer!