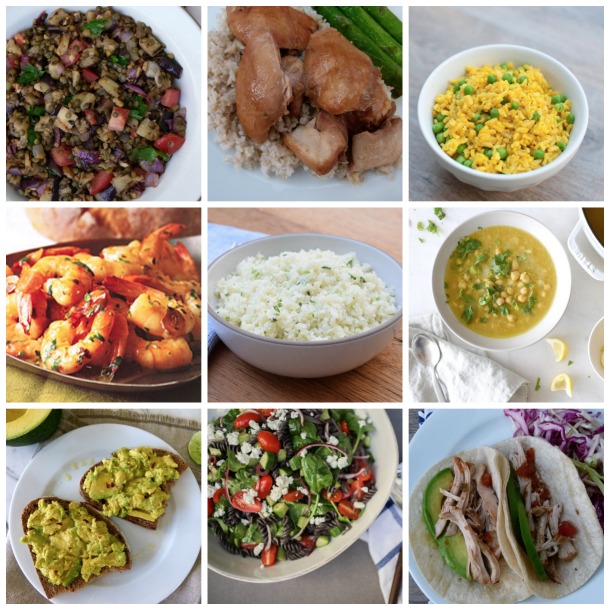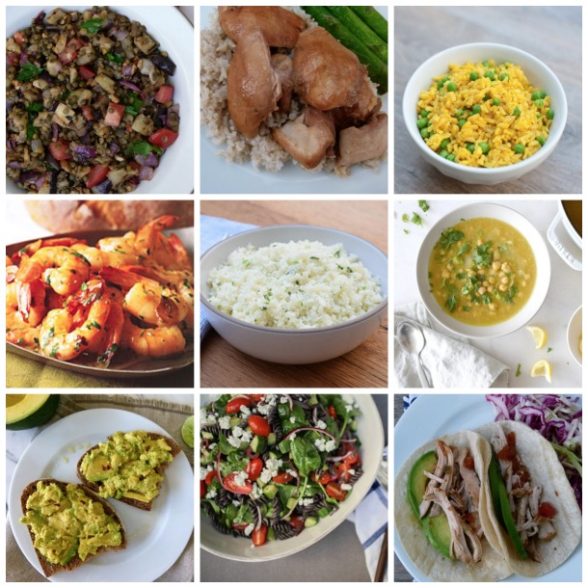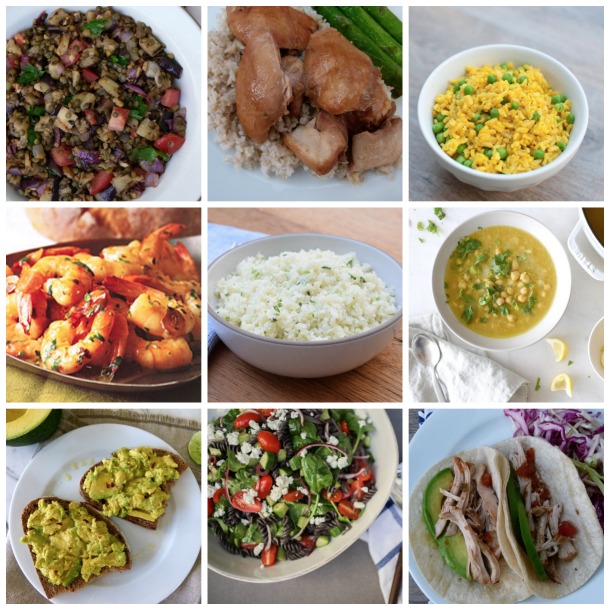 Football season has started which is very exciting!  And coincidentally so has soccer season and for some reason Mr. Picky's soccer games are often scheduled at the same time as the game I want to watch LOL!
Also, I have received a lot of emails from people in Florida who are still without power who want to sign up for the Clean Eating Batch Cooking online course I developed.  Week 1 started on September 11th and the cart was going to close this weekend, but Clean Eating will keep the cart open one more week through September 24!  Click here for the 7-week version and here for the 6-week Vegetarian Times version.  And, Week 1 will be available even if you have missed it.  Hoping all of you that have been affected by Hurricane Harvey or Irma are back on your feet as soon as possible!
Here's your dinner planner for the week:
Monday: Lentil and grilled eggplant salad
Tuesday: Chicken adobo, turmeric rice with peas, sautéed zucchini
Wednesday: Garlic shrimp from Food & Wine, cauliflower-rice, parmesan peppers
Thursday: Lemony chickpea soup, avocado or tomato toast
Friday: smoky braised lentils with turkey sausage, sautéed cabbage
Saturday lunch: Greek pasta salad
Sunday: Slow cooker chicken tacos with toppings
Here's what you can do ahead if you need:
Sunday
Cook the lentils ahead of time and re-heat before adding dressing
Make the dressing for the lentil salad
Rice your cauliflower
Wash herbs
Cook chickpeas from scratch if you don't want to use canned, see this post for how to cook beans from scratch
Make chicken or vegetable stock
Monday
Marinate the chicken in the evening
Prep zucchini
Prep peppers
Thursday
Prep cabbage
Make dressing for pasta salad, refrigerate
Here's a link to my previous dinner planners.
If you like my recipes, you'll LOVE my new cookbook!