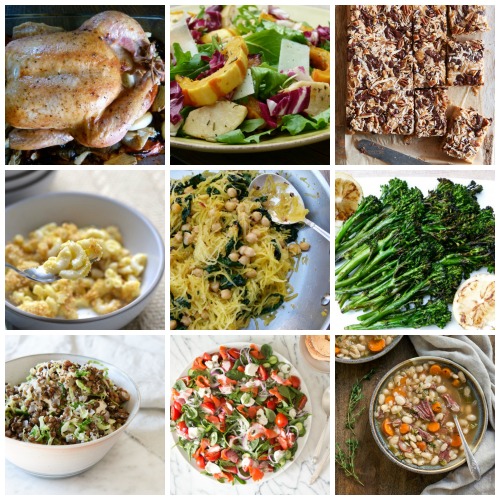 Friends, sometimes you have to admit that you can't do everything and be at peace with that.  I am still struggling with the sudden loss of my father and my uncle, as well as catching up with a ton of work.  I decided that I can't handle my traditional 30-person Rosh Hashana luncheon this year, so I'm downgrading to a small 9-person lunch for immediate family AND I'm letting my nephew bring dessert.  5 years ago I would have pushed through, not slept enough in the days preceding the holiday, told everyone "I'm totally fine and I can do it all!"  But I am still weary from all that has transpired and I am not "totally fine." I will not win the Rosh Hashana lunch award this year, but I will also remind myself that I've never won it because it doesn't exist.  In the meantime, for those of you hosting, I would love to help you enjoy the process, feed your loved ones healthy food, and start your new year off right.  If you do not celebrate the Jewish holidays, you still need to eat this week, right?  Here's your dinner planner for the week:
Rosh Hashana lunch: 3 whole roasted chickens with potatoes and fennel, delicata squash and apple salad, Marrakesh salad (from October 2016 classes), noodle kugels, seasonal fruit platter, bite size sweets like chocolate chip cookies, white bean tahini blondies from my book, grain-free apple cinnamon cake, apple crumb cake.  In past years I've made hummus, Fall/Winter Tabbouleh, quinoa with spinach, dill and feta, butternut squash salad with pomegranate and pumpkin seeds, Fattoush, falafel, poached salmon.
Tuesday: Depending on the leftovers from yesterday, I might turn them into a soup, chicken quesadillas, salad or grain bowls.
Wednesday: Vegan mac n cheese with steamed cauliflower added to mixture.
Thursday: Spaghetti squash with kale and chickpeas, roasted broccolini
Friday: Braised lentils with brussels sprouts and creamy dijon cashew drizzle from my book, served with baked fresh fish (I usually drizzle with olive oil, sprinkle with salt and pepper and roast at 400 for 8-10 minutes per inch of thickness.)
Saturday brunch: Deconstructed bagel and lox salad (awesome salad for Yom Kippur break fast)
Sunday: Slow cooker white bean and ham soup from Deliciously Organic (use chicken or turkey sausage if you don't eat ham), side of green salad
Here's what you can do ahead if you need to:
Sunday:
Season chickens with salt
Wash greens, herbs, and vegetables
Make desserts
Make salad dressings
Tuesday:
Roast spaghetti squash
Cook lentils
Cook chickpeas (or buy them cooked)
I have LOVED seeing all your creations of my recipes on Instagram. If you make any of my recipes, please tag me @pamelasalzman #pamelasalzman so I can check them out!
Click here to learn more about my online cooking classes! If you like my recipes, you'll LOVE my cookbook!  If you have 1 minute, would you mind leaving a review on amazon?  I would be so grateful, thank you!