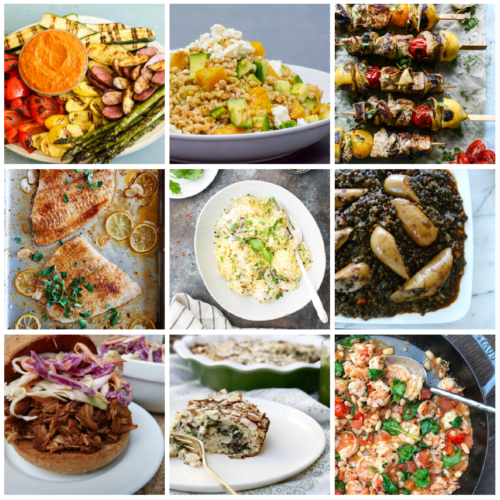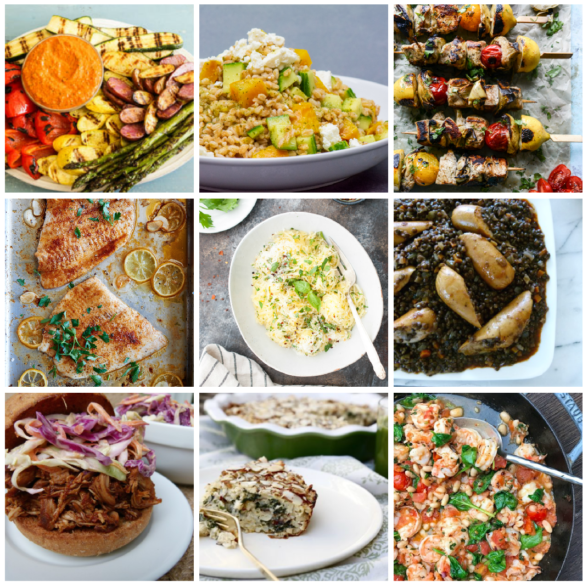 Happy Labor Day Weekend!  I hope this weekend will be an easy transition to fall.  I will be back to making early morning breakfasts, school lunches and trying to keep everyone's immune systems strong (we'll start popping Wellness Formula daily.)  I also get back to teaching regular classes next week.  My online classes are not interrupted during the summer.  I like to think of Labor Day almost like New Years Day – a time to start fresh, with a clean slate, and optimism for the year ahead.  Or at least until June when summer starts again 😉
Here's your dinner planner for the week:
Labor Day:  Charred corn salad with tomatoes and avocados, Farro with golden beets, cucumber and feta, Grilled vegetable platter with romesco or basil vinaigrette, + any protein you like such as Tasty Turkey Burgers, Grilled Shrimp from my book, Grilled Herbed Lemon Chicken with Mint Drizzle
Tuesday: Grilled chicken, tomato, and artichoke skewers from How Sweet Eats, Mediterranean quinoa salad
Wednesday: Broiled fillet of sole with lemon and white wine from my book, spaghetti squash with herbs and pecorino, green salad with everyday salad dressing #1
Thursday: Smoked braised lentils with or without turkey sausages, roasted broccolini – use this method
Friday: Slow cooker BBQ chicken sandwiches, coleslaw, and sweet potato fries
Saturday Lunch: Kale, mushroom and brown rice bake  (or use whatever leftover cooked vegetables you have)
Sunday: Shrimp with white beans and tomatoes, rice, and grilled zucchini
Here's what you can do ahead if you need to:
Sunday:
Wash vegetables and herbs
Cook farro and beets
Make salad dressings
Make romesco or basil vinaigrette
Monday:
Marinate chicken for skewers
I have LOVED seeing all your creations of my recipes on Instagram. If you make any of my recipes, please tag me @pamelasalzman #pamelasalzman so I can check them out!
Click here to learn more about my online cooking classes! If you like my recipes, you'll LOVE my cookbook!  If you have 1 minute, would you mind leaving a review on amazon?  I would be so grateful, thank you!