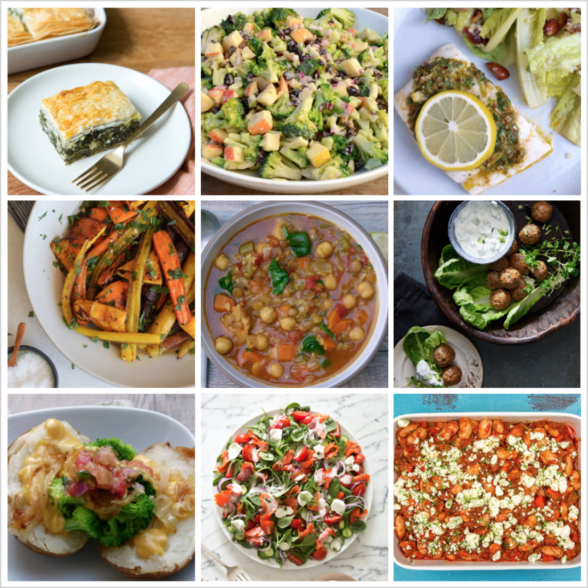 I have a few spots left in my Plant-Based Bootcamp which starts on TUESDAY!  I am repeating the course due to demand and honestly, I loved teaching it and I will otherwise have bootcamp withdrawl!  If you are even remotely curious about:
what plant-based means;
how to do it right;
how to figure out what the best version of plant-based looks like for you;
how to get the nutrients you need;
how to not gain weight eating plant-based;
how to make plants taste good; and all your other struggles and questions…
SIGN UP because I have no idea if and when I'll teach this course again and you will not regret it.  It's fun to watch live, but you don't have to.  Every participant receives the recording to watch as many times as he or she wants, so you'll never miss a class!  I am offering a discount code PB100 for $100 off.  Learn more here!
Here's your dinner planner for the week:
Yom Kippur Break Fast: Spanakopita, frittata, spinach and quinoa salad with feta, salads (like this Delicata Squash and Apple Salad, Kale Salad, broccoli crunch salad, tuna salad, chicken soup, noodle kugel (my mother-in-law's recipe – not healthy LOL)
Tuesday: Leftovers from the day before or roasted fish with chermoula and Moroccan roasted carrots (these would also be good for Kol Nidre.) However if you want to make something else you can make Baked Eggs and Greens. Serve with grilled bread drizzled with unrefined extra-virgin olive oil and sea salt.
Wednesday: Harira (I often leave out the chicken and swap in a pound of cooked chickpeas.)
Thursday: Greek turkey meatballs from Quicker Than Quick– so many ways to serve these!  Kids love them in pita with tzatziki or pasta/spaghetti squash with tomato sauce doctored up with dried oregano and fresh mint + feta; or in a bowl with rice (add some dill – yum!) or cauliflower rice and roasted veggies; or on a Greek salad bowl.
Friday: Baked potato night with a great topping bar (vegan mac and cheese sauce, broccoli, salsa, black beans, sauteed onions are my favorites)
Saturday brunch: Deconstructed bagel and lox salad (awesome salad for Yom Kippur break fast)
Sunday: Oven baked gigantes beans with tomato, dill, and feta, with either a nice piece of fish or go vegetarian with some simple cauliflower steaks
Here's what you can do ahead if you need to:
Sunday:
Assemble spanakopita
Make salad dressing
Make stock
Wednesday:
Make meatball mixture
Thursday:
Prep topping bar for baked potatoes
Friday:
Cook gigante beans
My new cookbook, Quicker Than Quick, is here!  I have LOVED seeing all your creations of my recipes on Instagram. If you make any of my recipes, please tag me @pamelasalzman #pamelasalzman so I can check them out!  If you have 1 minute, would you mind leaving a review on amazon?  I would be so grateful, thank you!
Take a peek at my first cookbook "Kitchen Matters"!