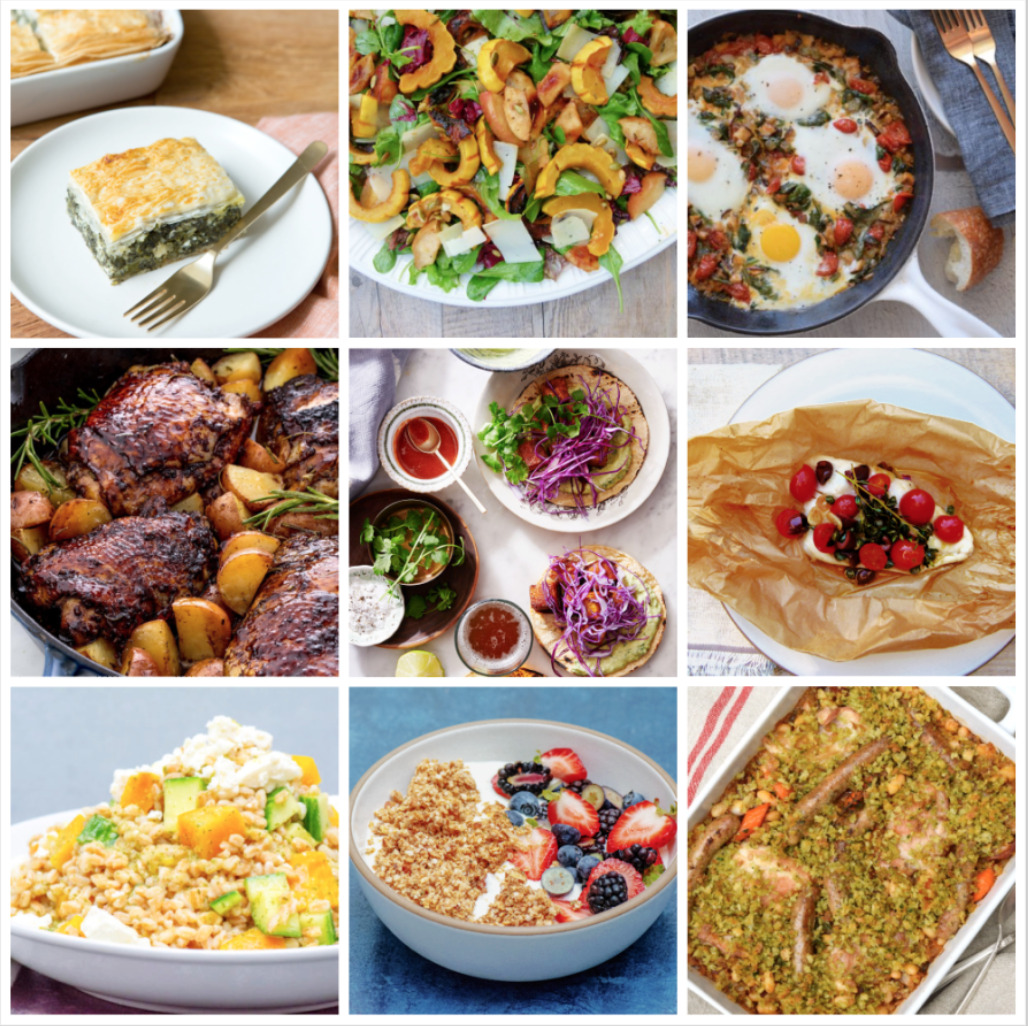 I have been churning out the homemade veggie and chicken stocks and freezing them because once football starts, I consider it soup season. I actually make more soup than my dinner planner indicates. I always make soup for Sunday lunch and at least once during the week. A tip I have for you is that many leftovers can be transformed into a soup. Casseroles, leftover cooked proteins and vegetables, baked potatoes and other starches. I chop up anything that might taste good together and put it in a saucepan and add enough stock that it looks like a soup. Reheat and enjoy! Here's your dinner planner for the week:
Monday (Yom Kippur Break fast): We do part deli (because it's traditional for Hubs's family) and part homemade (because I like to cook good stuff!) Spanakopita, frittata, spinach and quinoa salad with feta, salads (like this Delicata Squash and Apple Salad, Roasted Vegetable Salad, Mejadra, Farro with Roasted Tomato Dressing, tuna salad, chicken soup, noodle kugel (my mother-in-law's recipe – not healthy LOL). I am also doing a cream cheese board to go with bagels and lox. I make a fruit platter and I ask my guests to bring dessert.
Tuesday: Leftovers from the day before like a scramble with leftover veggies and lox. If I have nothing leftover, I'll plan on Baked Eggs and Greens. Serve with grilled bread drizzled with unrefined extra-virgin olive oil and sea salt.
Wednesday: Balsamic glazed chicken from delish served with potatoes and sautéed green beans
Thursday: chipotle tofu tacos from QTQ, roasted Brussels sprouts
Friday: Mediterranean fish in parchment, farro with golden beets and mint vinaigrette
Saturday brunch: Quinoa granola with yogurt and fresh fruit
Sunday: Cassoulet-style chicken and sausages, green salad with everyday salad dressing #1 or 2
Here's what you can do in advance if it helps you:
Sunday:
Make spanakopita filling. Assemble and bake on Monday
Assemble noodle kugel and bake on Monday
Make salad dressing
Tuesday:
Marinate chicken
Wednesday:
Cook farro
Make tofu marinade
Thursday:
Make mint vinaigrette
Roast golden beets or buy pre-cooked
Friday:
Make quinoa granola
I have LOVED seeing all your creations of my recipes on Instagram. If you make any of my recipes, please tag me @pamelasalzman #pamelasalzman so I can check them out! I have a free Monday newsletter with my thoughts, new recipes, and things I'm loving lately. Subscribe here!
Order my cookbook, Quicker Than Quick! If you have 1 minute, would you mind leaving a review on amazon? I would be so grateful, thank you! Take a peek at my first cookbook "Kitchen Matters"!