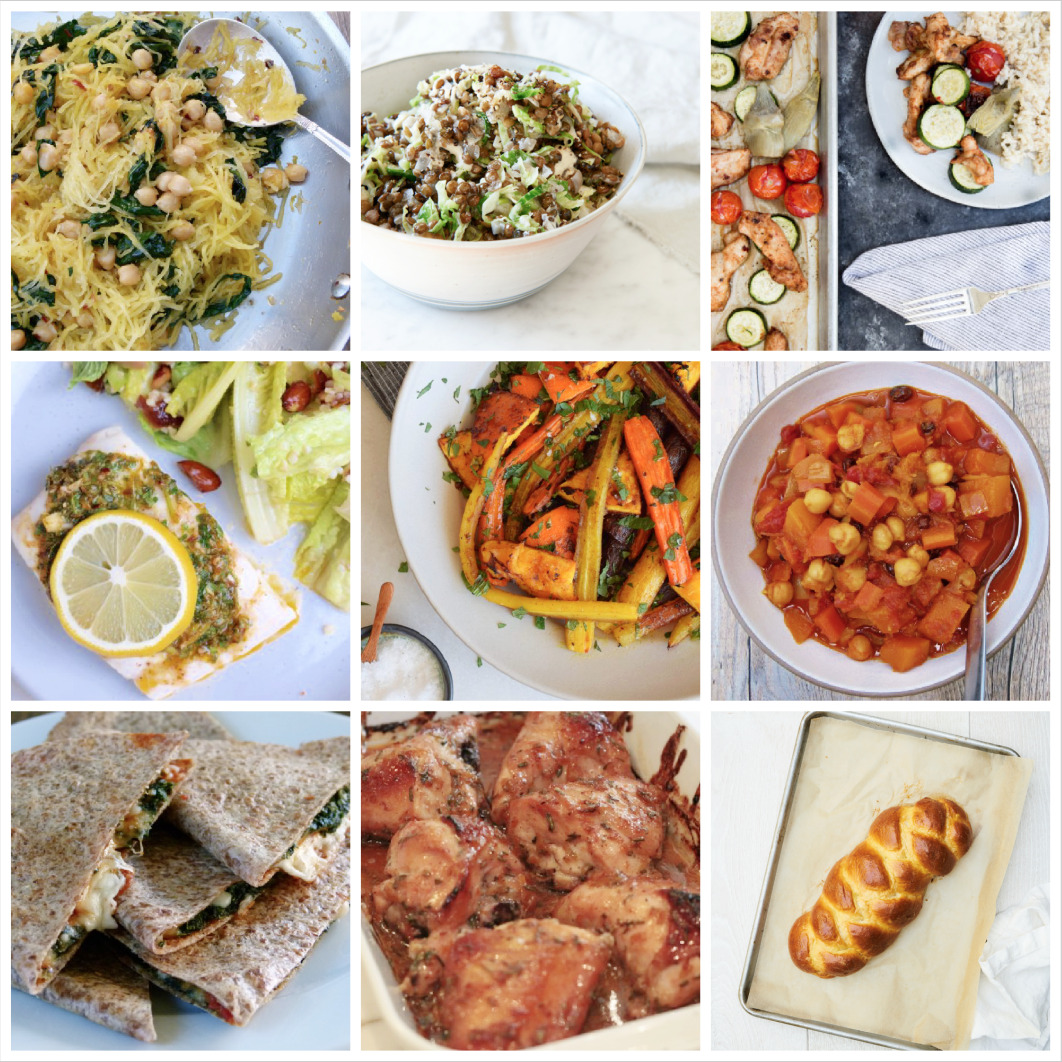 I haven't done a webinar since the early days of the lockdown, so I am long overdue for another one! I have been getting more and more questions about entertaining (something I love to do!) and with some of the grand slam holidays approaching, I thought a session could help you jump start the season with confidence and a plan. If you are already a pro and have nothing to learn, feel free to sit this one out! For those of you who have questions or just need a little support, sign up for my free entertaining webinar here. The date is September 28th at 5:00 pm PST and it will be recorded if you can't watch live. Here's your dinner planner for the week:
Meatless Monday: Spaghetti squash with kale and chickpeas, roasted broccolini
Tuesday: Braised lentils with Brussels sprouts and creamy dijon cashew drizzle p. 146 from Kitchen Matters, served with baked fresh fish (I usually drizzle with olive oil, sprinkle with salt and pepper and roast at 400 for 8-10 minutes per inch of thickness.)
Wednesday: Sheet pan chicken with artichokes, zucchini, and cherry tomatoes served with cauliflower rice
Thursday: roasted fish with chermoula and Moroccan roasted carrots (would be great for Rosh Hashana too)
Friday: Butternut squash and chickpea stew
Saturday brunch: pizza quesadillas
Sunday (1st night of Rosh Hashanah): My mother-in-law cooks this meal, but check out this Rosh Hashana round-up post for some ideas. My husband's family goes pretty traditional with matzoh ball soup, brisket and salmon, a green salad with apples, roasted vegetables, a potato kugel or a sweet noodle kugel (recipe at the bottom of the linked post.) She serves a fruit platter and I usually bring two round challahs, an apple cake (I have a few in the post) and possibly one more dessert like cookies. Nothing crazy or over the top!
Here's what you can do ahead of time if it helps you:
Sunday:
Roast spaghetti squash
Wash and strip kale
Cook chickpeas if making from scratch
Cook lentils
Make dijon cashew drizzle
Tuesday:
Season chicken for sheet pan
Wednesday:
Make chermoula
Saturday:
Things you can prep for Sunday dinner include: salad dressings, sauces, marinades, baked goods, wash greens.
I have LOVED seeing all your creations of my recipes on Instagram. If you make any of my recipes, please tag me @pamelasalzman #pamelasalzman so I can check them out!
My cookbook, Quicker Than Quick, is on sale for $14.99 on Amazon! If you have 1 minute, would you mind leaving a review on amazon? I would be so grateful, thank you! Take a peek at my first cookbook "Kitchen Matters"!