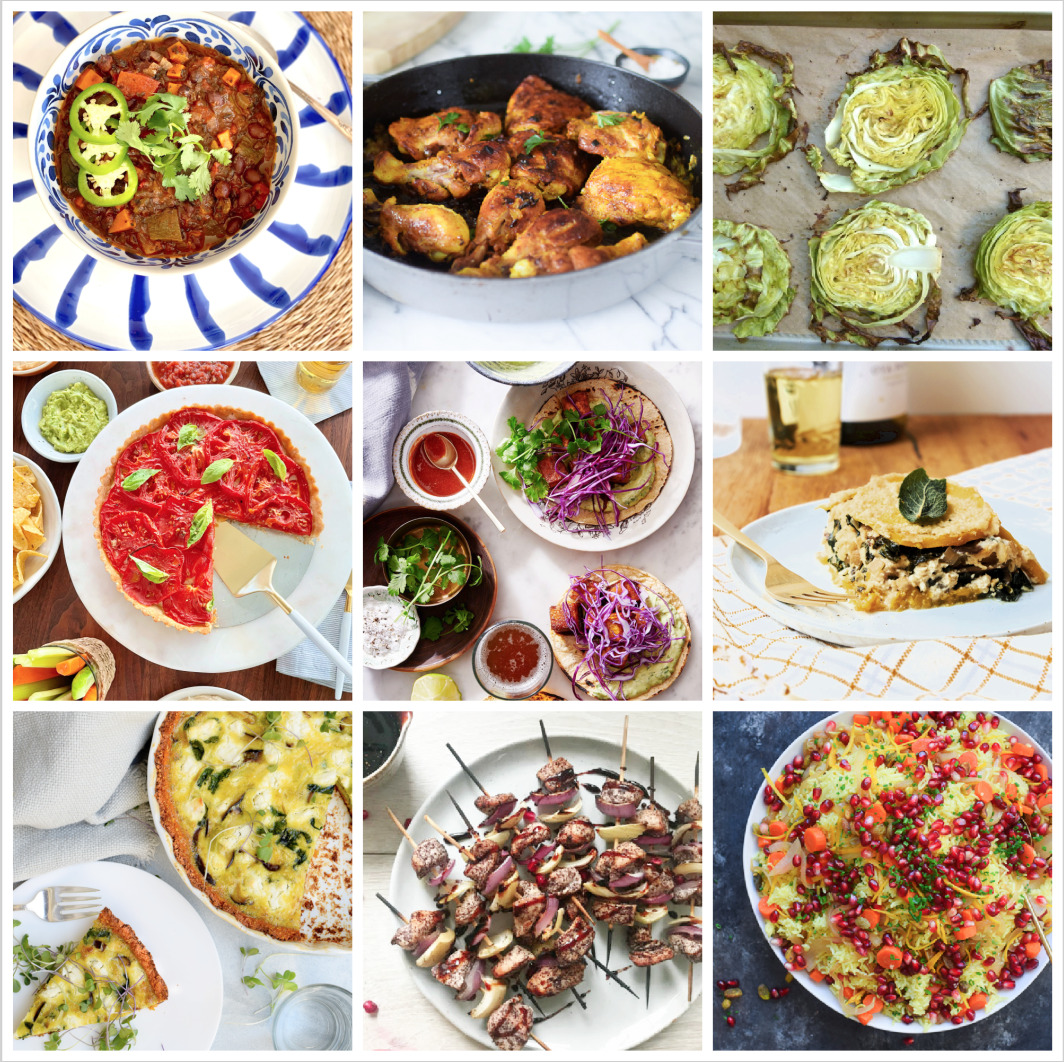 **This is your LAST chance to join my Thanksgiving bootcamp. I only offer this course once a year so you don't want to miss it!! There are two class dates to choose from with the option to watch on demand if you can't tune in live. You will have access to the class videos and digital guides forever. By the time the course ends you'll be super relaxed and prepared for Thanksgiving. Plus, I'm offering an amazing deal to my subscribers. Save $100 off with coupon code: TDAY100 and I have payment plans too. Can't wait to see you in class!! Here's your dinner planner for the week:
Meatless Monday: Mushroom veggie chili (we're good with just this for dinner, but here's a great recipe for cornbread if you need more)
Tuesday: Everyday turmeric chicken, sautéed or roasted cabbage, sweet and spicy sweet potato wedges (also works with carrots)
Wednesday: Tomato tart, mixed roasted vegetables like broccoli and cauliflower, but this broccoli shawarma is great too This might be perfect as is for a nice light dinner, but if we need more, I'll add in a piece of salmon or halibut brushed with olive oil, salt and pepper, and a squeeze of lemon and broiled until just done.
Thursday: Chipotle tofu tacos from QTQ, jicama slaw
Friday: butternut squash lasagne (this is truly a one-dish meal, but a simple green salad is a nice accompaniment if you need more)
Saturday brunch: mushroom and leek quiche with sweet potato crust
Sunday: Sumac spiced chicken, jeweled rice (there are some veggies in the rice, but if you have time, roast some cauliflower to go with) Ok, this rice is more involved than the typical side dish, but it's GORGEOUS and delicious!
Here's what you can do in advance if it helps you:
Sunday:
Make mushroom veggie chili
Season turmeric chicken
Monday:
Make tofu marinade
Break broccoli and cauliflower into florets
Slice cabbage
Tuesday:
Wednesday:
Press tofu and marinate
Make cauliflower ricotta for butternut squash lasagne
Thursday:
Slice butternut squash
Cook vegetable filling for lasagne
Friday:
Pre-cook sweet potato crust
I have LOVED seeing all your creations of my recipes on Instagram. If you make any of my recipes, please tag me @pamelasalzman #pamelasalzman so I can check them out! I have a free Monday newsletter with my thoughts, new recipes, and things I'm loving lately. Subscribe here!
Order my cookbook, Quicker Than Quick! If you have 1 minute, would you mind leaving a review on amazon? I would be so grateful, thank you! Take a peek at my first cookbook "Kitchen Matters"!