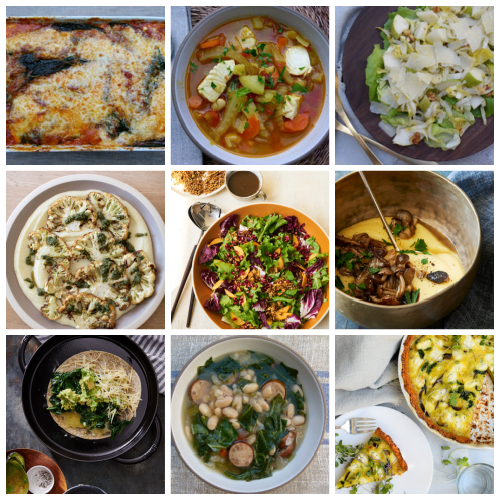 Thanksgiving is less than 3 weeks away and my family and I are super excited!  We needed something to be super excited about!!  It's going to be the smallest Thanksgiving we have ever had, but I am doing it up anyway – a whole turkey, all the fixings, 3 pies and homemade ice cream.  Yes, yes, yes!  My new, updated Thanksgiving ebook is finally available and will help you with every detail, every prep-ahead tip, ALL my Thanksgiving recipes in one place with color photos.  All for $10.  $10 to have a stress-free Thanksgiving!
In other news, I'll be doing a special Instagram live with one of my oldest and dearest friends, Dr. Henry Cloud, on Monday, November 9 at 5:00 pm PT.  We will be discussing the missing piece to the Thanksgiving puzzle – how to prepare for familial dysfunction!  Bring your questions or just come to listen to our discussion which I know will be super interesting!  Here's your dinner planner for the week:
Meatless Monday: Roasted vegetable lasagne
Tuesday: Mediterranean fish stew
Wednesday: Cauliflower steaks with cauliflower puree and mint pesto, endive and pear salad with walnuts and parmesan
Thursday: Whole roasted chicken, fall salad with savory granola
Friday: Soft polenta with mushroom ragout p. 144, and garlicky kale p. 113, both from Kitchen Matters
Saturday brunch: Green goddess quesadillas p. 127 from Quicker than Quick
Sunday: Slow cooker white bean soup with sausage and collard greens, mushroom and leek quiche with sweet potato crust
Here's what you can do ahead if it helps you:
Sunday:
Cook vegetables for lasagne
Make salad dressings
Wash greens
Make mint pesto
Make savory granola
Tuesday:
Cut cauliflower steaks
Thursday:
Wipe mushrooms clean
My new cookbook, Quicker Than Quick, is here!  I have LOVED seeing all your creations of my recipes on Instagram. If you make any of my recipes, please tag me @pamelasalzman #pamelasalzman so I can check them out!  If you have 1 minute, would you mind leaving a review on amazon?  I would be so grateful, thank you!
Take a peek at my first cookbook "Kitchen Matters"!