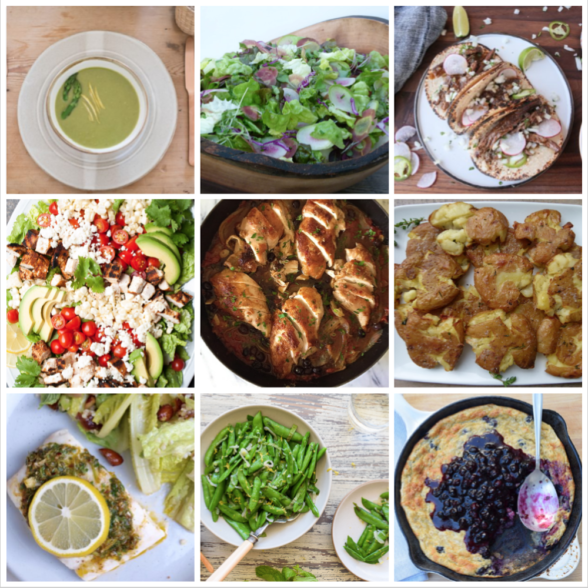 Well, we're still here, in quarantine and it's May.  Who would have thought? My son's school just announced today that they will continue with distance learning through the end of the school year.  I never would have predicted that back in early March.  Wow.
If you want something to look forward to, Cinco de Mayo is on Tuesday, Mother's Day is next Sunday, and it's hubs's birthday on Friday ;).  Maybe next Friday we should do a birthday IG live to keep things fun and upbeat?!  What do you think??
Here's your dinner planner for the week:
Meatless Monday: Creamy asparagus soup, the perfect spring salad
Tuesday is Cinco De Mayo! Here are just a few yummy ideas for a cinco do mayo dinner:
Tacos: Chipotle cauliflower tacos, Slow-cooker barbacoa-style beef tacos, slow-cooker chicken tacos, ground turkey tacos (use tempeh for vegetarian), grilled fish tacos, sweet potato and black bean tacos
Salads: Mexican cobb salad, Jicama slaw, Creamy cabbage slaw, Mexican chopped salad, cilantro-lime slaw, fiesta salad with salsa vinaigrette, avocado, jicama, and mango salad, deconstructed guacamole salad 
Enchiladas: Mexican lasagne, Chicken enchilada rojas (swap roasted veggies and beans for the chicken to make vegetarian), roasted vegetable enchiladas verdes (swap the veggies and beans for already cooked, shredded chicken if you want this with animal protein)
Beans: Mexican black beans, drunken pinto beans
Rice: Restaurant-style Mexican rice, cilantro-lime cauliflower-rice, green rice (arroz verde)
Veggie Sides: Chipotle brussels sprouts, Mexican sautéed greens, grilled Mexican corn, chipotle sweet potato fries, homemade guacamole
Soup:  Tortilla soup, Caldo Tlalpeno Soup
Cocktail:  Spicy Tequila Cocktail
Some ideas from Kitchen Matters: migas (for breakfast!), pineapple agua fresca, Mexican vegetable soup with rice and beans, burrito grain bowl, Mexican chopped salad with spicy cilantro dressing, slow-cooker chicken tacos, chipotle shrimp tacos with pineapple slaw, Portobello and poblano tacos with charred corn, Mexican millet casserole
And from Quicker Than Quick:  Mexican Chopped Salad with Creamy Chipotle Dressing, Pinto Bean Tostadas, Instant Pot Chicken Tinga, Chipotle Tofu Tacos, Taco Salad, Chickpea Tacos, Mexi-Veggie Rice Stuffed Peppers, Salsa Rice
Wednesday:  Baked chicken with tomatoes, olives and capers, roasted smashed potatoes or if you have Cinco de Mayo leftovers, chop them up and cover them with chicken or veggie stock and make a Mexican soup!
Thursday: Roasted fish with chermoula, minted sugar snap peas
Friday: Pizza night! Watch my IG live from Friday 5/1 to see how we made grilled pizza!  Will post soon!
Saturday brunch: Swiss chard and potato gratin, strawberry-cucumber smoothie
Sunday (Mother's Day): Grilled pineapple salad with avocado and mojito dressing, served with your favorite protein, sparkling blackberry shrub
Here are some great options that would be perfect for breakfast-in-bed to all of those deserving moms!
Yogurt and Granola Parfait (try basic granola, dark chocolate granola, peanut butter granola or the grain-free granola from my cookbook)
Mushroom and leek quiche with sweet potato crust
Chia pudding: try vanilla, chocolate, matcha or lemon-ginger
Grain-free lemon poppyseed muffins
Pancakes: Grain-free sweet potato pancakes, fluffy whole grain lemon poppyseed ricotta pancakes, buttermilk pancakes, multigrain pancakes from my cookbook
Whole grain buttermilk waffles
Here's what you can do ahead if it helps you:
Sunday:
Make stock
Wash vegetables
Make salad dressing
Saturday:
Make chia pudding, muffins, souffle, scones, or quiche crust
My new cookbook, Quicker Than Quick, is now here!  I have LOVED seeing all your creations of my recipes on Instagram. If you make any of my recipes, please tag me @pamelasalzman #pamelasalzman so I can check them out!  If you have 1 minute, would you mind leaving a review on amazon?  I would be so grateful, thank you!
Click here to learn more about my online cooking classes! Through the end of quarantine, choose any cooking class in the library for $10 with the code SINGLE10 and a subscription for future classes for $17  (normally $27/mo.) with the code CLASSES17.
Take a peek at my first cookbook "Kitchen Matters"!