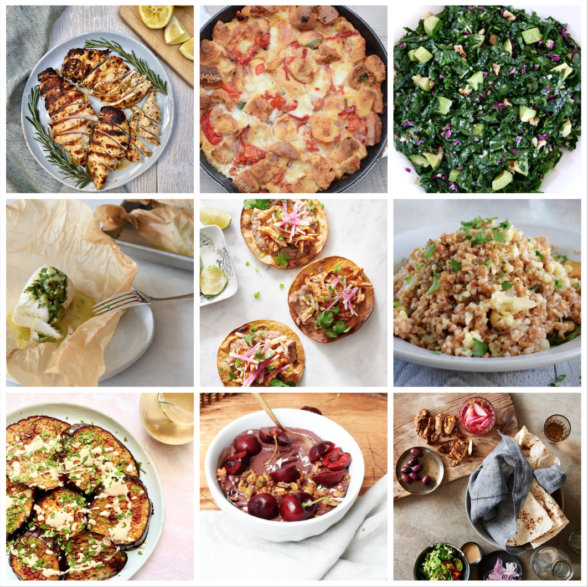 Memorial Day weekend always makes me feel so grateful to those who made the ultimate sacrifice serving our nation so that we can enjoy the freedoms we have today.  I also feel another type of freedom — we were in a different place in this pandemic a year ago and I am enjoying new freedoms that we weren't able to experience just a short time ago.
In other news, I would love you to experience one of the bootcamps I am teaching in June!!  Friends, I am not exaggerating when I say that all of my bootcamps have generated overwhelmingly rave reviews and positive feedback.  I even have dozens of people who have taken every single one of my (6) bootcamps!  It's time to get in and let me change the game for you.  No more struggles with dinner every night, wasting time and money, or eating food that doesn't make you feel your best.  If you need help and you want to have fun learning from me, sign up for my original Healthy Cooking Made Quick & Easy bootcamp.  Use the code EASY100 for $100 off!  Or, do you want to entertain at home but you just can't figure out how to do it without stress?  The timing is never right?  You waste too much time trying to accommodate different eating styles?  I'm not going to let you sweat another minute.  Join my Entertaining with Ease bootcamp and I will have you asking your friends over all the time and look forward to it!  Use the code EWE100 for $100 off!  I have payment plans too.  And you can watch live or watch the class on your own time.  You have access to the classes and live Q&A sessions FOREVER!!
Here's your dinner planner for the week:
Meatless Monday (Memorial Day): Lentil and grilled eggplant salad, Tasty Turkey Burgers, Wild Salmon Burgers, The Best Grilled Flank Steak, Grilled Vegetables with Lemon-Basil Dressing or Chopped Grilled Veg Salad, Sparkling Blackberry Shrub, Apricot-Cherry Almond Crisp, Grilled chicken with cherry tomato vinaigrette, Grilled lemon-mustard-rosemary chicken, Sweet and spicy carrots with pistachios and feta, Asada mushroom tacos, roasted strawberry bruschetta (or see this post for more ideas for your memorial day bbq)
Tuesday: (use those leftovers!) Tomato, Roasted pepper and Basil Strata (use leftover burger or hot dog buns, if you have them from the weekend), arugula salad with simple lemon/olive oil dressing (or leftover dressing from the salads yesterday, if you have any leftover grilled vegetables, mix those in as well)
Wednesday: raw kale salad with citrus dressing, parchment baked halibut with cilantro and ginger
Thursday: Instant pot chicken tinga p. 199 with pinto bean tostadas p. 277  from QTQ
Friday: one pot farro with cauliflower and golden raisins, miso roasted eggplant
Saturday brunch: cherry cacao açaí bowl
Sunday: Chicken Shawarma p. 188 from KM, with accompaniments (lavash or cauliflower rice, lettuce, tomato, cucumber, olives, tahini, yogurt). I have also used the spice mixture + 1 tsp garlic powder and 2 Tbs. olive oil on cauliflower florets and done a roasted cauliflower shawarma!
Heres's what you can do ahead if it helps you:
Sunday:
Since there are several options for Memorial day, you can make a marinade, dressing, assemble patties, wash and prep veggies. Make crisp topping or dessert.
Tuesday:
Wash and strip kale
Cook beans if making from scratch
Wednesday:
Make miso mixture and store in the fridge
Cut cauliflower into florets
Slice onion
You can make the entire farro dish ahead of time and reheat
Thursday:
Roast eggplant and reheat if you don't want to make the day of
Friday:
Make marinade for shawarma
Make tahini or yogurt sauce
I have LOVED seeing all your creations of my recipes on Instagram. If you make any of my recipes, please tag me @pamelasalzman #pamelasalzman so I can check them out!
My cookbook, Quicker Than Quick, is discounted for the first time on Amazon!  If you have 1 minute, would you mind leaving a review on amazon?  I would be so grateful, thank you!
Take a peek at my first cookbook "Kitchen Matters"!