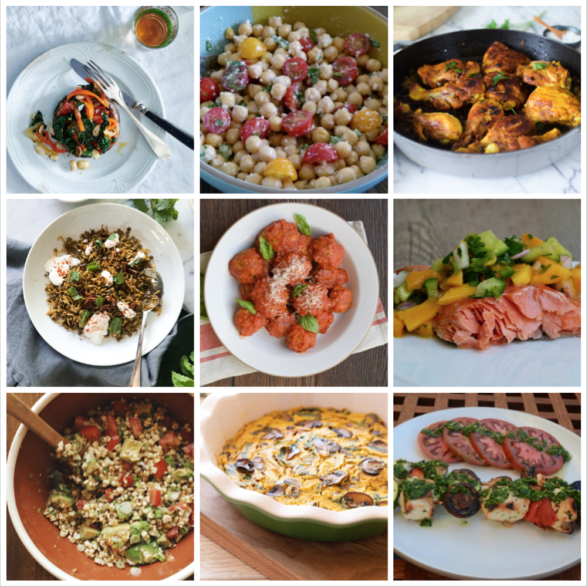 This week I recorded  IG Live Quarantine Cooking episode number 60.  60!! Oh people.  Even though our beaches and hiking trails have opened, the state of California has still recommended sheltering in place for the next three months.  Honestly, if everyone would wear a mask and gloves when s/he is out in public, I would be totally confident going out.  But this is not the case, so I have a feeling I'll be hanging in my kitchen for the forseeable future.  I have plenty to keep me busy with my online classes, cooking bootcamps, daily IG lives, this website and my social media channels!  Oh, and then there's my new book! I want to continue to help you find your rhythm in the kitchen and cook in a way that supports good health.  One of the best ways is planning your meals.  I am still doing that and I highly encourage this practice because most of us are grocery shopping once a week, so it is really helpful to plan, plan, plan!!  Here's your dinner planner for the week:
Meatless Monday: Veggie Stuffed Grilled Portobello Mushrooms p. 284 from Quicker than Quick, green salad with everyday salad dressing #1
Tuesday: Chickpea and Deconstructed Pesto Salad. Replace the tomatoes with artichoke hearts, either from a jar or frozen/defrosted and roasted at 400 degrees for 20 minutes with olive oil, salt and pepper. Serve with roasted fish.
Wednesday: Everyday turmeric chicken, Mejadra, favorite roasted vegetables
Thursday: Eggplant meatballs on roasted spaghetti squash (see this recipe for how to roast spaghetti squash)
Friday: slow roasted Copper River Salmon (if you see this salmon, splurge!  It's only in season for a very short time and it's amazing!), grilled asparagus, and charred corn salad with tomatoes and avocado
Saturday brunch: Egg-less spring vegetable frittata
Sunday: Chicken kabobs with chimichurri, roasted potatoes and red onions (400 degrees with ghee or olive oil about 30 minutes or until golden brown)
Here's what you can do ahead if you need to:
Sunday:
Make salad dressing
Wash greens and vegetables
Wednesday:
Roast spaghetti squash
Make meatball mixture
Saturday:
Prep vegetables for kabobs
Make chimichurri
My new cookbook, Quicker Than Quick, is here!  I have LOVED seeing all your creations of my recipes on Instagram. If you make any of my recipes, please tag me @pamelasalzman #pamelasalzman so I can check them out!  If you have 1 minute, would you mind leaving a review on amazon?  I would be so grateful, thank you!
Click here to learn more about my online cooking classes! Through the end of quarantine, choose any cooking class in the library for $10 with the code SINGLE10 and a subscription for future classes for $17  (normally $27/mo.) with the code CLASSES17.
Take a peek at my first cookbook "Kitchen Matters"!