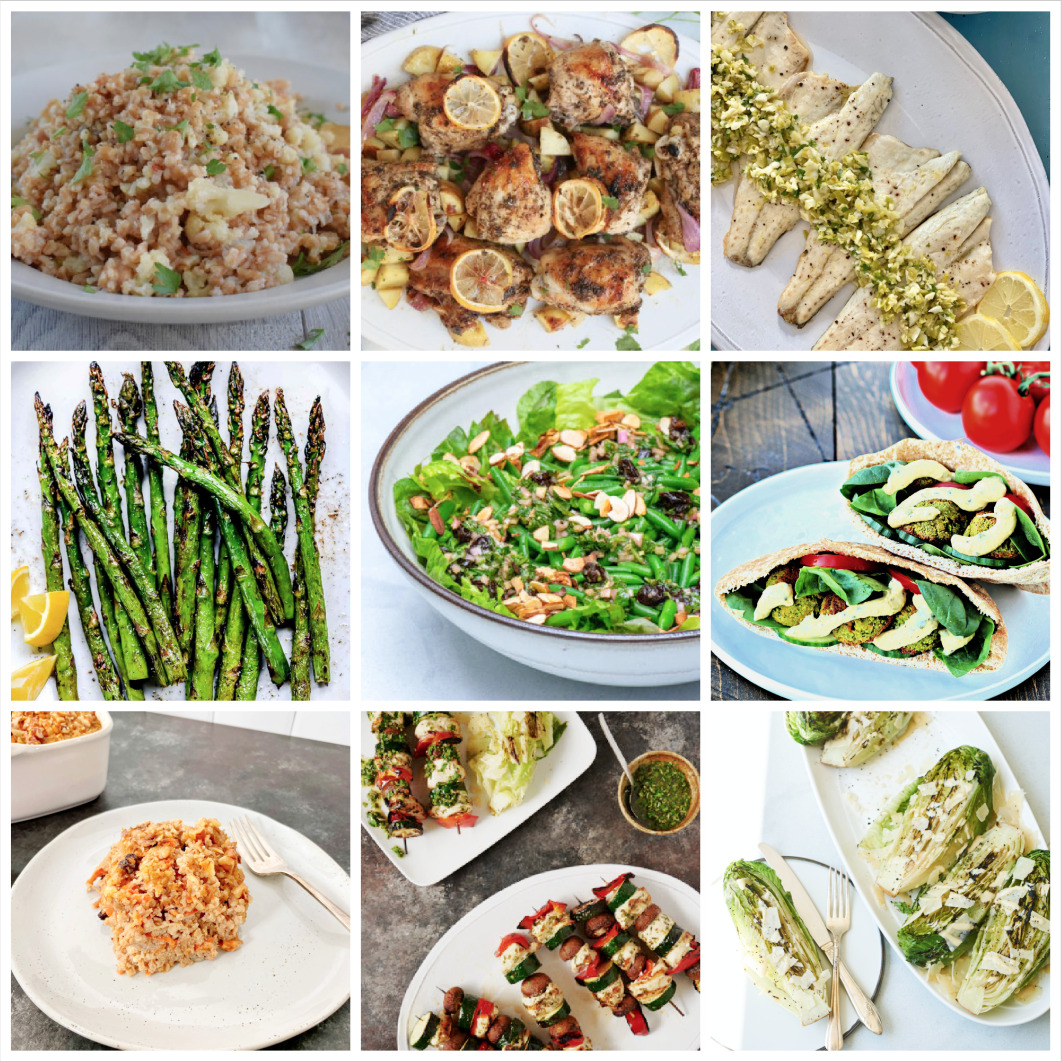 Happy Mother's Day to everyone! If you are missing your mom this weekend, I am holding space in my heart for you. When a parent leaves us, it is a void that is impossible to fill. If you need to nudge your loved ones to make you something special, check out last week's dinner planner for some lovely and healthy-ish brunch ideas. Also, don't be afraid to tell your partner and/or children how you want to spend your day. Not everyone can read minds, if you know what I mean. For my monthly online cooking class students, your May class was uploaded last week. It is a breakfast/brunch theme! If you want to join my fabulous cooking class community, we'd love to have you and I would love to help you be a better and healthier cook!
For my local LA friends, come join Catherine McCord and me on Monday, May 15th at Zibby's Bookshop in Santa Monica at 6:00 pm! Here's your dinner planner for the week:
Meatless Monday: one pot farro with cauliflower and golden raisins. I like this with shaved parmesan cheese and a simple green salad on the side. But you can also add a fried egg on top.
Tuesday: Greek sheet pan chicken, roasted asparagus (400 degrees for 8-12 min depending on thickness of the asparagus)
Wednesday: Branzino with green olive and fennel tapenade, sauteed onions with cooked lentils (saute sliced onions in olive oil with salt and pepper until lightly golden. Add in pre-cooked lentils and warm through. Taste for seasoning. Add a pinch of turmeric or garlic and chili flakes or plain. It will be great with the fish and tapenade.)
Thursday: Mixed greens with green beans and cherry vinaigrette, grilled steak or chicken or poached chicken, or vegetarians can add cooked quinoa to the salad
Friday: edamame falafel sandwiches from the foodie physician, carrot salad
Saturday brunch: baked morning glory millet porridge
Sunday: Chicken kabobs with chimichurri and garlic rice, pita, or grilled caesar-ish romaine salads
Here's what you can do ahead if it helps you:
Sunday:
Wash salad greens
Cook the one pot farro and reheat the next day
Monday:
Marinate chicken for sheet pan
Tuesday:
Make olive and fennel tapenade
Wednesday:
Blanch green beans and cool in an ice water bath. Drain and pat dry before storing in fridge
Make cherry vinaigrette
Thursday:
Make falafel mixture
Friday:
Cook millet and assemble millet porridge
Make chimichurri
I have LOVED seeing all your creations of my recipes on Instagram. If you make any of my recipes, please tag me @pamelasalzman #pamelasalzman so I can check them out! I have a free Monday newsletter with my thoughts, new recipes, and things I'm loving lately. Subscribe here!
Order my cookbook, Quicker Than Quick! If you have 1 minute, would you mind leaving a review on amazon? I would be so grateful, thank you! Take a peek at my first cookbook "Kitchen Matters"!