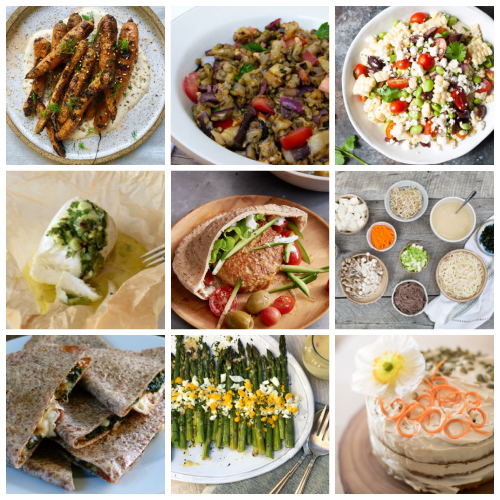 I love this time of year.  Spring is Mother Nature's New Year, and I really feel as though we have a fresh start.  I am looking forward to celebrating the Easter holidays with my family and taking a little break from work.  This week I finished the Healthy Cooking Made Quick & Easy bootcamp as well as my intro Plant Based 1.0 bootcamp.  I had two absolutely fabulous groups and we really enjoyed zooming together!  If you are curious about my upcoming bootcamps, I am in the process of recording my newest course, Meal Planning/Meal Prep/Batch Cooking.  I have LOADS to teach you, so I'd love to see you in class.  Email sign-ups go out on Monday and class starts the week of April 5th!  If you would like to be on that email list, just subscribe to my website (it's free!)
Here's your dinner planner for the week:
Meatless Monday:Grilled carrots with tahini sauce served with my Lentil and Grilled Eggplant Salad
Tuesday: South American Roast Chicken with Green Sauce from my book, (my favorite chicken recipe ever and the best sauce ever) Solterito (peruvian chopped salad)
Wednesday: Parchment baked halibut with cilantro and ginger, broccoli sautéd in garlic (blanch in salted boiling water for 3 minutes, drain, pat dry and saute in olive oil, lots of chopped garlic and a pinch of crushed red pepper.) Add cooked rice if you need more.
Thursday: Chicken shawarma burgers from Quicker than Quick, arugula salad with pine nuts, radishes, cucumber and everyday salad dressing #1
Friday: Miso Soup Bar and veggie potstickers from Trader Joe's to make things EASY 😉
Saturday brunch: Spinach Pizza Quesadillas with a fresh side salad using your favorite organic greens or Greek nachos (p. 65) from my cookbook (use matzoh crackers to make these passover compliant
Easter Sunday: See this post for how to cook hard-boiled eggs and this post for what to do with all the leftover eggs after Easter. Here are some lovely recipes for Easter:
Asparagus salad with walnuts and mint
Baked chicken with artichokes and capers
Creamy, dairy-free asparagus soup
Three pea sauté with turkey bacon
Spring salad with avocado, radishes and pumpkin-seed brittle
Spring green pasta with asparagus and peas
Roasted sweet potatoes with leeks and roasted garlic dressing
Cauliflower steaks with cauliflower puree and mint pesto
Pea and mushroom sauté with mint
Grilled artichokes with lemon-caper dipping sauce
Coconut almond tart with strawberries
Dairy-free strawberry cashew cheesecake
Grain-free balsamic roasted strawberry tart
Grain-free carrot cake with cream cheese frosting
Here's what you can do ahead if it helps you:
Sunday:
Make tahini sauce
Cook lentils
Make salad dressings
Marinate chicken
Make green sauce
Tuesday:
Blanch broccoli
Make cilantro and ginger mixture for fish
Wednesday:
Assemble shawarma burgers
Thursday:
Prep veggies for soup bar
Friday:
Make carrot cake
My cookbook, Quicker Than Quick, is discounted for the first time on Amazon!  I have LOVED seeing all your creations of my recipes on Instagram. If you make any of my recipes, please tag me @pamelasalzman #pamelasalzman so I can check them out!  If you have 1 minute, would you mind leaving a review on amazon?  I would be so grateful, thank you!
Take a peek at my first cookbook "Kitchen Matters"!