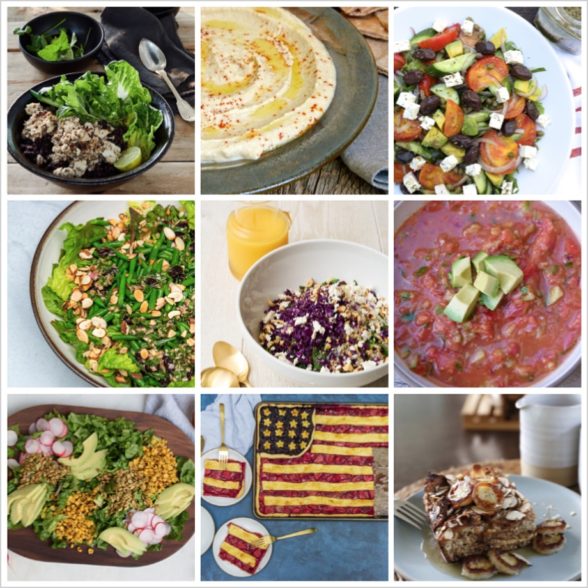 While I was watching the news this week about cases spiking across the country, specifically in California, make that Los Angeles County, I heard one pundit say that the combination of gatherings for Memorial Day weekend, graduations, and protests have led us to this place.  Darn.  So no big plans for us on July 4th weekend.  We'll probably bring a picnic lunch to the beach and call it a day.  I am happy being with my family and hope for a sunny beach day and that's all!  Here's your dinner planner for the week:
Meatless Monday: Vegetarian larb from QTQ, served with lettuce leaves or black rice or both!
Tuesday: I love this- spread hummus on the bottom of a platter or shallow bowl.  Top with California Greek salad with or without grilled or sautéed shrimp.  The dressing mixes with the hummus and gets creamy and crazy good.  You will freak out.
Wednesday: Mixed greens with green beans and cherry vinaigrette, grilled steak or chicken or poached chicken, or white beans for vegetarians
Thursday: Farro chopped salad with orange juice vinaigrette, pan-seared halibut
Friday: Gazpacho with avocado; tortilla "pizza" (place a tortilla on a baking sheet and top like a pizza with or without cheese or use vegan soft cheese, bake at 400 until warmed through.)  I like Siete Foods grain-free chickpea tortillas or Food For Life sprouted grain tortillas.
Saturday (4th of July): We are likely going to bring chopped grilled vegetable salad and farro with roasted tomato dressing to the beach + some melon and guacamole and chips.  But if you are doing something a little bigger, here are some July 4th menu ideas.   I also have the most fabulous American Flag pie – it is a must-make! Or S'mores Bars – BEYOND!
Sunday: Consider using leftover hamburger or hot dog buns in a baked French toast casserole or strata.  Many kinds of leftovers like grilled vegetables or crudites, work well in salads, pastas or frittatas.  Just know that vegetables should be cooked before adding to pasta or frittatas.
Here's what you can do ahead if you need to:
Sunday:
Wash greens
Make salad dressings
Make hummus
Blanch green beans
Wednesday:
Cook farro
Make gazpacho
My new cookbook, Quicker Than Quick, is here!  I have LOVED seeing all your creations of my recipes on Instagram. If you make any of my recipes, please tag me @pamelasalzman #pamelasalzman so I can check them out!  If you have 1 minute, would you mind leaving a review on amazon?  I would be so grateful, thank you!
Click here to learn more about my online cooking classes! Through the end of quarantine, choose any cooking class in the library for $10 with the code SINGLE10 and a subscription for future classes for $17  (normally $27/mo.) with the code CLASSES17.
Take a peek at my first cookbook "Kitchen Matters"!