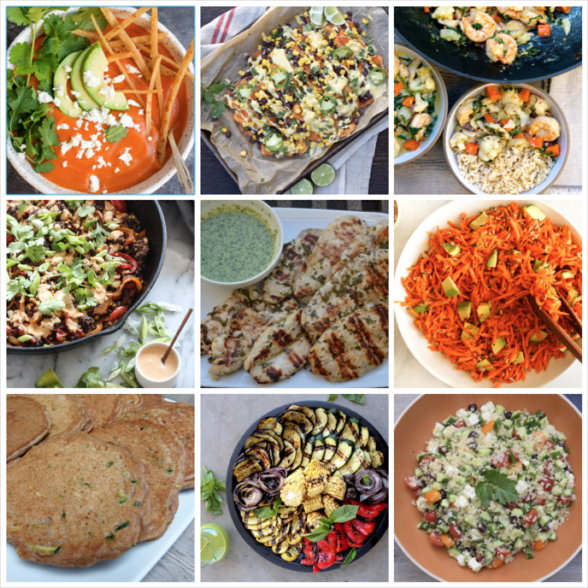 If you don't know what you're making for Father's Day, check out last week's dinner planner for some inspo and get on it!  My older daughter is coming home on Sunday for 10 days and I can't wait.  We will all be together again even if it's for a short bit.
This is an amazing time of year for produce.  I've had success with early heirloom tomatoes, watermelon, peaches, and zucchini.  If you have great ingredients, you can keep it really simple!  Here's your dinner planner for the week:
Meatless Monday: Tortilla soup, served with sweet potato nachos with vegan queso if you need more.
Tuesday: shrimp and mixed veggies with coconut-basil sauce, brown rice (I might use cauliflower, shiitakes, bok choy and carrots — you can also make this without shrimp and just add some seared, cubed tofu instead.)
Wednesday: Bell pepper and beef taco skillet from Feed me Phoebe (thinly slice your bell peppers if you don't have a spiralizer) black beans and cauli-rice
Thursday: Grilled lemon-herb chicken with mint drizzle, carrot salad with avocado
Friday: Sheet pan citrus-chili cod with fennel p. 248 from QTQ, add some roasted potatoes if you need more
Saturday brunch: zucchini bread pancakes
Sunday: Mediterranean quinoa salad served with grilled vegetables with lemon-basil dressing
Here's what you can do ahead if you need to:
Sunday:
Make stock
Make vegan queso
Make brown rice
Wash and cut vegetables for shrimp
Make chipotle cashew cream if using for the taco skillet. Or use leftover vegan queso
Make carrot salad dressing
Wednesday:
Make grilled chicken marinade and mint drizzle
Friday:
Make pancake mix
My new cookbook, Quicker Than Quick, is here!  I have LOVED seeing all your creations of my recipes on Instagram. If you make any of my recipes, please tag me @pamelasalzman #pamelasalzman so I can check them out!  If you have 1 minute, would you mind leaving a review on amazon?  I would be so grateful, thank you!
Click here to learn more about my online cooking classes! Through the end of quarantine, choose any cooking class in the library for $10 with the code SINGLE10 and a subscription for future classes for $17  (normally $27/mo.) with the code CLASSES17.
Take a peek at my first cookbook "Kitchen Matters"!