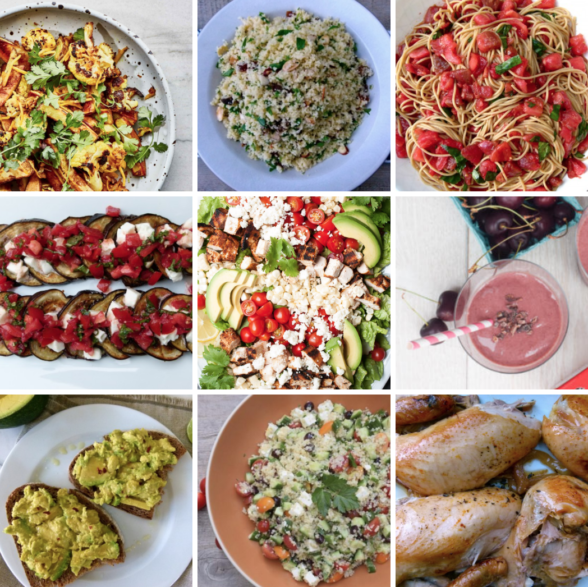 Happy Weekend and Happy (almost) Summer!  I just landed in Pittsburgh to visit my younger daughter who has an internship here for the summer.  I've only been to Pittsburgh twice before, and very briefly, so I'm excited to spend a few days alone with her in the city.  Because I am here for Father's Day, I totally blew it with last week's dinner planner and forgot all about it.  See last year's dinner planner for a few suggestions.
On Tuesday, I am heading over to the set of Home & Family where I will tape a cooking segment.  I love doing that show.  The hosts and crew have great energy and I always get a generous amount of time to talk and cook.  The episode will air on Wednesday on the Hallmark channel, so check your local listings for time.  I'll be making the one-pot farro from last month's cooking class.  It's a winner!
I've been slowly seeing more summer produce trickle into our markets.  I still cook dinner most nights when school is out, but the meals tend to be simpler and lighter.  We can be happy with a giant salad with or without animal protein.  Sometimes just a little avocado and or some hemp seeds or almonds on top do the trick.  Desserts lean towards seasonal fruits, especially berries and stone fruit.  I love grilling, roasting or broiling stone fruit – so delicious!
Here's your dinner planner for the week.  As always, almost any recipe can be adapted to suit your taste or eating style.  Let me know if I can offer suggestions in that regard.
Meatless Monday: Roasted Aloo Gobi Potatoes and Cauliflower  from Healthyish
Tuesday: Tandoori Chicken (I'll make this with breasts and drumsticks), apricot couscous (or plain steamed couscous), sautéed greens like spinach or chard
Wednesday: Pasta Alla Checca with Gluten-Free Pasta, grilled shrimp (squeeze a little lemon and drizzle with olive oil plus salt and pepper before grilling), roasted eggplant
Thursday: Greek Nachos from my cookbook (if you need animal protein, brown some ground beef or lamb and season with salt and pepper and add to the nachos
Friday: Mexican Cobb Salad, add in some quesadillas if you need more or sometimes I take refried beans from a (BPA-free) can and smear them on a tortilla with salsa and cook like a quesadilla (add some leftover cooked veggies if you have any)

Saturday Brunch: Cherry-Vanilla Yerba Mate Smoothie , avocado toasts
Sunday: Mediterranean quinoa salad, slow cooker whole roasted chicken

Here's what you can do ahead of time:
Sunday:
Make all dressings, sauces and sides
Wash and prep veggies
Thursday:
Pre-chop salad, keep ingredients separate
Friday or Saturday
Salt chicken
Here's a link to my previous dinner planners.
I have LOVED seeing all your creations of my recipes on Instagram. If you make any of my recipes, please tag me @pamelasalzman #pamelasalzman so I can check them out!
Click here to learn more about my online cooking classes! If you like my recipes, you'll LOVE my cookbook!  If you have 1 minute, would you mind leaving a review on amazon?  I would be so grateful, thank you!