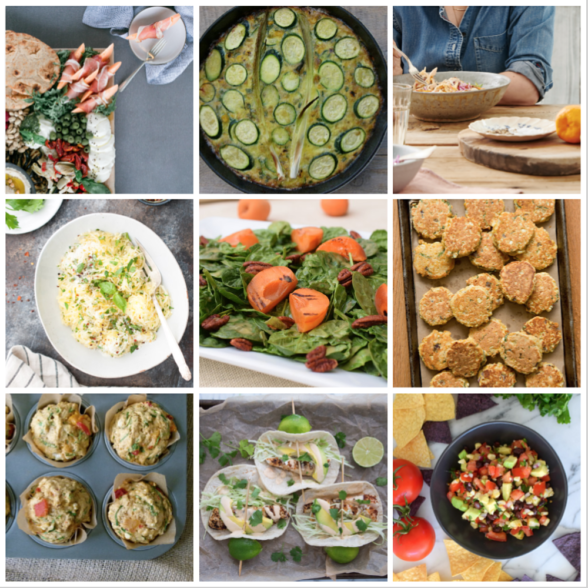 Mr. Picky finished school a few days ago, so we are officially in summer mode!  Normally I would be celebrating the fact that I don't have to make school lunches for the next 10 weeks and that I don't have to wake up at the crack of dawn Monday through Friday, but that's the mode we have been in for the last 10 weeks PLUS!  Even though there is still so much uncertainty and my business of teaching in-person classes has taken an unexpected detour, I see clearly that my students and online community still has the desire to learn and be inspired.  So I will continue bringing you new recipes, new online monthly classes, new 4-week courses, and Instagram lives (although I will not be doing those 6 days a week in the summer.). I have a lot of exciting stuff planned for you all!!   Here's your dinner planner for the week:
Meatless Monday: Try doing a summer snack/dinner board!  Take your biggest cutting board and arrange some delicious (but easy) bites like cheese (there are great vegan ones out there like Violife), sliced tomatoes, pesto, toasted bread, lettuce leaves, avocado, hummus, sliced raw veggies like carrots, cucumbers and sweet bell peppers.  Open a bottle of rosé.  Dinner's done!
Tuesday: Corn and zucchini frittata, green salad with everyday salad dressing #2
Wednesday: Chinese Chicken Salad P. 64 from Quicker than Quick
Thursday: Spaghetti squash (here's a recipe to show you how to cook spaghetti squash) with pesto and quick-sauteed tomatoes
Friday: spinach salad with apricots, corn cakes with grilled shrimp
Saturday brunch: savory muffins with feta
Sunday: Father's Day! Here are a few options (there are plenty more though) to make for the dads in your life:
Meat and Fish
Spiced halibut and lime skewers
Deconstructed Bagel and Lox Salad
Vegetarian
Banana French Toast Casserole from my cookbook
Sides
Grilled corn and black bean salsa
Pea pesto and burrata crostini
Chopped grilled vegetable salad
Here's what you can do ahead if you need to:
Make pesto
Make hummus
Wash all salad greens
Make all dressings and sauces
My new cookbook, Quicker Than Quick, is here!  I have LOVED seeing all your creations of my recipes on Instagram. If you make any of my recipes, please tag me @pamelasalzman #pamelasalzman so I can check them out!  If you have 1 minute, would you mind leaving a review on amazon?  I would be so grateful, thank you!
Click here to learn more about my online cooking classes! Through the end of quarantine, choose any cooking class in the library for $10 with the code SINGLE10 and a subscription for future classes for $17  (normally $27/mo.) with the code CLASSES17.
Take a peek at my first cookbook "Kitchen Matters"!