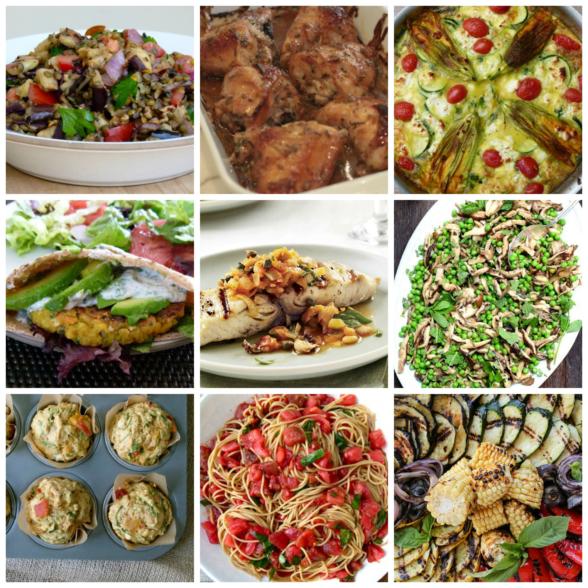 Goodbye, Portugal.  We'll be back!  My older daughter was able to join us for our last full day in Portugal and now we're making our way over to Spain to pick up my son (aka Mr. Picky) who has been there for almost 5 weeks.  We are so excited to see him! I have eaten a little too much fish (2-3 times a day!) and not enough vegetables and I am not sure that's going to change in Spain.  My husband introduced fish into his diet a few months ago and is doing well with that.
After Spain, I head to Long Island on Thursday for 8 days with my family.  I love summer!  I will be uploading a post very soon about the Wellness Retreat I am teaching at September 26-29 at the magical Greenhorn Ranch in the Sierras.  If you want information ASAP, you can call 530.283.0930.
Here's your dinner planner for the week:
Meatless Monday: Lentil and grilled eggplant salad (this is filling enough for us, but you can add a green salad or sauteed green beans if you need more)
Tuesday: Orange and rosemary glazed chicken, steamed rice, grilled asparagus
Wednesday: Arugula salad with nectarines, tomatoes and fresh mozzarella from my book, Summer garden frittata, grilled bread for fun
Thursday: Chickpea burgers, green salad with everyday salad dressing
Friday: Grilled Fish with Artichoke Caponata from Food and Wine, Pea and mushroom sauté
Saturday brunch: Savory muffins with spinach, roasted peppers and feta 
Sunday: Pasta Alla Checca , add optional mozzarella or a crumbled vegan soft cheese, served with a grilled vegetable platter (method here) 
Here's what you can do ahead if you need to:
Sunday
Make all salad dressings, marinades and sauces
Wash and dry herbs
Grill eggplant and onions
Marinate chicken
Wednesday
Make chickpea patties
Clean mushrooms
Roast red peppers (unless buying already roasted)
Friday
Prep veggies to be grilled
I have LOVED seeing all your creations of my recipes on Instagram. If you make any of my recipes, please tag me @pamelasalzman #pamelasalzman so I can check them out!
Click here to learn more about my online cooking classes! If you like my recipes, you'll LOVE my cookbook!  If you have 1 minute, would you mind leaving a review on amazon?  I would be so grateful, thank you!