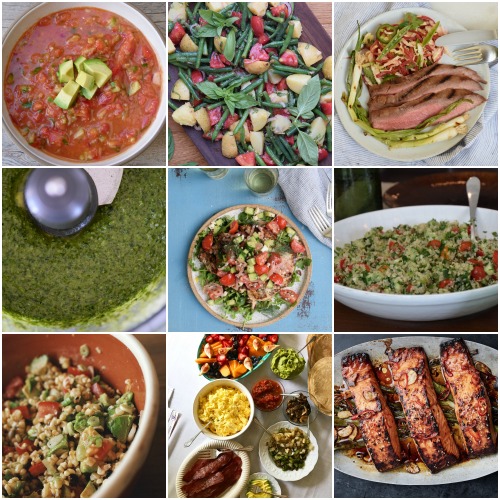 I was working on a another post for this week until I received an email from my editor with my manuscript attached.  She passed the baton to me, so to speak, and now it's my turn to edit.  I need to work on edits pretty hard core in the short term because I am going away for July 4th weekend and then I am going on a big trip mid-July that I am super excited about.  Hubs and I are both celebrating big birthdays this year, so we are going to Portugal and Spain by ourselves for a little vacay and then two of our kids will join us at different points.  How great is that??  We haven't been on a fun trip like this in a while.  Can't wait.
In the meantime, I will be taping the July online class on Monday, so all my cooking class participants will be getting that one right after July 4th.  I have been recipe-testing like crazy and shooting food in preparation of being away for a few weeks.  I also shot a few more recipes to add to the Thanksgiving e-book I did last year.  I am going to update that one with some more recipes and tips.  Last year, I had some requests to have the ebook out in time for Canadian Thanksgiving which is in earlier October.  I will do my best!
Here's your dinner planner for the week.  Happy 4th!!
Meatless Monday: Gazpacho with avocado and grilled shrimp; tortilla "pizza" (place a tortilla on a baking sheet and top like a pizza with or without cheese or use vegan soft cheese, bake at 400 until warmed through.)  I like Siete Foods grain-free chickpea tortillas or Food For Life sprouted grain tortillas.
Tuesday: Italian Potato Salad, Balsamic Flank Steak from my cookbook
Wednesday: Pasta or a pasta alternative with pesto, Greek-style grilled chicken paillard
July 4th!:  Here are my July 4th menu ideas.  I will also be posting the most fabulous American Flag pie on Monday – it is a must-make!
Friday: Consider using leftover hamburger or hot dog buns in a baked French toast casserole or strata.  Many kinds of leftovers like grilled vegetables or crudites (just saute them first) work well in salads, pastas or frittatas.
Saturday Brunch: breakfast burrito bar:  scrambled eggs or scrambled tofu, tortillas, salsa, avocado or guacamole, refried beans, turkey bacon, sautéed onions or mushrooms.  Let everyone make their own!
Sunday: Broiled Salmon with Scallions and Sesame,  serve over rice or cauliflower rice, quick sautéed zucchini
Here's what you can do ahead of time:
Sunday
make gazpacho
make all salad dressings, marinades and sauces
make pesto
I have LOVED seeing all your creations of my recipes on Instagram. If you make any of my recipes, please tag me @pamelasalzman #pamelasalzman so I can check them out!
Click here to learn more about my online cooking classes! If you like my recipes, you'll LOVE my cookbook!  If you have 1 minute, would you mind leaving a review on amazon?  I would be so grateful, thank you!