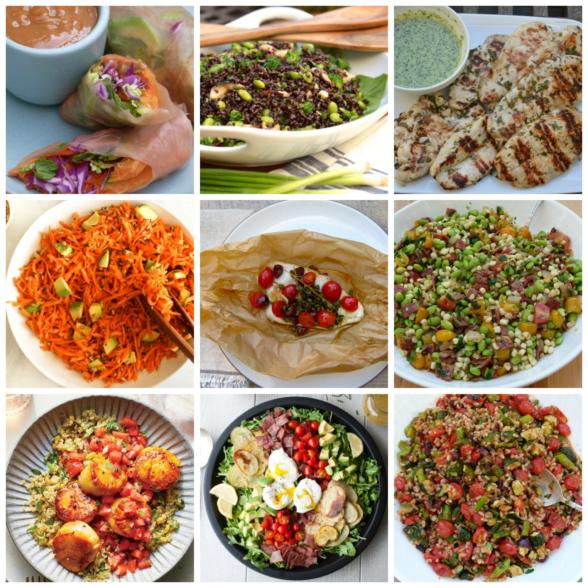 Hello from Portugal!  Hubs and I are taking a little vacay to celebrate this year's big birthday (his was in May, mine is in October.)  We are already having the best time!  My older daughter will join us next week and then a few days after she meets us, we will go pick up Mr. Picky who has been studying in Spain for the last month.  🙂
In the meantime, I have a wonderful retreat to give you a little preview about.  I'll send an email with more information to everyone on my subscriber list in a few days.  I will be one of the hosts of a wellness retreat September 26-29th, 2019 at Greenhorn Ranch in the Sierra Mountains.  It's an all-inclusive weekend offering the space and serenity to reconnect, visit health goals, learn more about mindfulness, and cultivate a better sense of balance.  Go to www.greenhornranch.com or call 530.283.0930 with any questions.  Mention my name when you register and let me know if I'll be seeing you there!
Here's your dinner planner for the week:
Meatless Monday: Summer rolls with whatever you have in the fridge/pantry.  The rice wrappers are bland so that you can add whatever you want.  Set up a DIY bar for the family!  Add black rice salad if you need more.
Tuesday: Grilled Lemon-Herb Chicken with Mint Drizzle, carrot salad with avocado, add some grilled vegetables if you need more
Wednesday: Mediterranean fish in parchment, Corn and edamame succotash
Thursday: Spicy scallops with watermelon salsa from Cooking Light, southwestern quinoa
Friday: DIY pizza night – buy dough from the market or your local pizzeria or if you're feeling adventurous, try either of these recipes from Jovial Foods.  Some toppings I like are marinara sauce and/or fresh cherry tomatoes; pesto; cheese, dairy and/or vegan, like Miyoko's, Violife, or Kite Hill; grilled, sautéed, or roasted veggies like bell peppers, onions, spinach, zucchini, broccolini, mushrooms.  Sometimes I'll add something fun like sliced peaches or roasted garlic.  We don't usually put meat on our pizzas, but you do you!
Saturday: Breakfast salad with potatoes, bacon and eggs
Sunday: Farro with roasted vegetables and roasted tomato dressing, Italian White Bean and Tuna Salad with Capers from my book (this recipe is one of the only ones without a photo, but trust me – AMAZING.  If you're serving it as an entree, it likely only serves 3-4.)
Here's what you can do ahead if you need to:
Sunday
Make all sauces, marinades and dressings.
Grate carrots
Wednesday
Make marinara sauce
Make dough, if preparing from scratch
Prep veggies for pizza night
Cook quinoa
Make beans for quinoa, if preparing from scratch
Saturday
Wash greens
Prep veggies for farro
Cook farro
I have LOVED seeing all your creations of my recipes on Instagram. If you make any of my recipes, please tag me @pamelasalzman #pamelasalzman so I can check them out!
Click here to learn more about my online cooking classes! If you like my recipes, you'll LOVE my cookbook!  If you have 1 minute, would you mind leaving a review on amazon?  I would be so grateful, thank you!