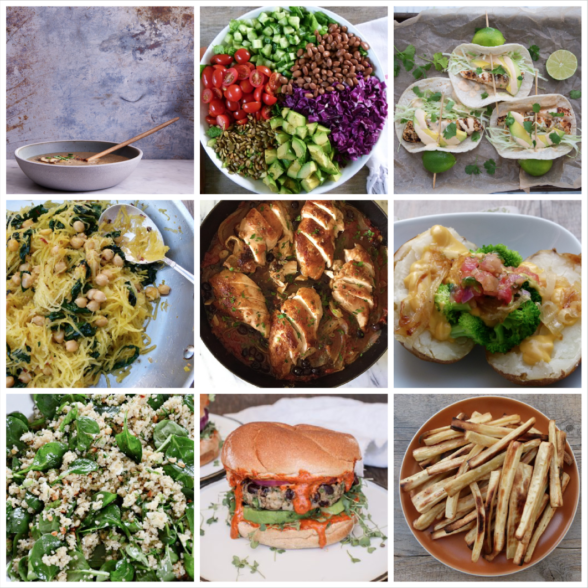 This pandemic!  Oy!  It seems as though we are all having very different experiences, and much of that has to do with where we live.  Let me tell you, LA is no fun.  No fun at all. I don't blame my older daughter for going back to Dallas.  And if I didn't have to film classes and such in my kitchen, I might have stayed on Long Island past New Years.  Le sigh.
So, it's Netflix, books, and sports right about now.  Hubs and I are up to date on "Your Honor" on Showtime. So good, but so nerve-wracking!  I just started the second season of Broadchurch (just loved the first season.) I am about to start Tiny Habits.  And we love football, so the playoffs are about the most exciting thing happening around here.
Actually, not true!!  I am about to film the sequel to my Plant Based Bootcamp.  I'm calling it Plant Based 2.0!  If you took the first one, you'll receive an email mid-week to sign up for the next one.  I am BEYOND excited for this – it's going to be GREAT! If you are at all interested, do not hesitate to sign up because I will limit spots since the Q&A is live.  Can't wait!  Here's your dinner planner for the week:
Meatless Monday: Creamless mushroom soup p. 92 from Quicker than Quick
Tuesday: Fish tacos, chopped salad with Mexican dressing (lettuce, radishes, red cabbage, toasted pepitas) Broil the fish if you can't grill.
Wednesday: Spaghetti squash with kale and chickpeas, sautéed mushrooms
Thursday: Braised chicken with tomatoes, olives and capers (video here), polenta or pasta, sautéed garlic broccoli
Friday: Baked potato bar. I like to put out things like the vegan "cheese" sauce from vegan mac and cheese, just cook it a couple minutes after bending, steamed broccoli, sautéed onions, and salsa.
Saturday brunch: quinoa with spinach, feta, pine nuts
Sunday: Black bean burgers with smoky red pepper sauce, baked carrot "fries" (use this recipe as a guide if needed for the fries.  I am going to use coconut oil for roasting.)
Here's what you can do in advance if it helps you:
Sunday:
Wipe mushrooms clean or buy pre-sliced
Make vegetable stock, unless using mushroom stock
Make salad dressing
Wash lettuce
Roast spaghetti squash
Wednesday:
Make cheese sauce for topping bar
Cook quinoa
Thursday:
Bake potatoes
Saturday:
Cook beans if making from scratch
Make smoky red pepper sauce
My new-ish cookbook, Quicker Than Quick, is here!  I have LOVED seeing all your creations of my recipes on Instagram. If you make any of my recipes, please tag me @pamelasalzman #pamelasalzman so I can check them out!  If you have 1 minute, would you mind leaving a review on amazon?  I would be so grateful, thank you!
Take a peek at my first cookbook "Kitchen Matters"!