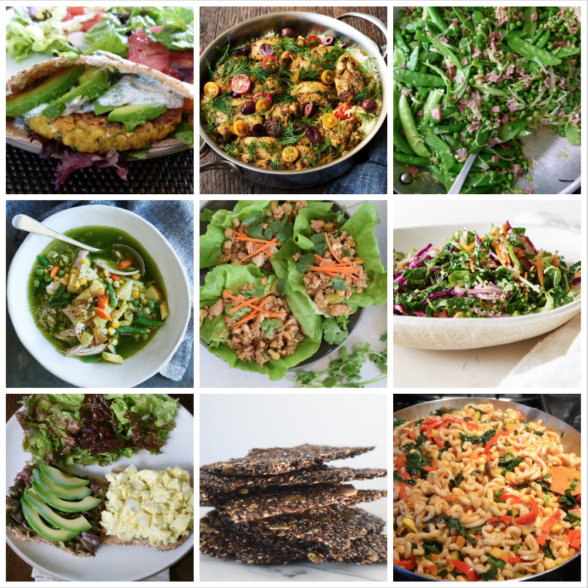 Hello, Friends!  I hope you are all doing well.  I may be losing it.  Today I tried to have a conversation with my Roomba, got strangely excited about new cleaning gloves, and considered getting into my pajamas at 5:00 pm.  What a world!  But I did have two amazing sessions with my new bootcampers this week and I am looking forward to my FB live with my monthly cooking class subscribers Saturday, January 16th at 9:30 am PT!  If you are interested in learning more from me, consider joining my monthly online cooking classes!  All new recipes every month with every substitution you need; recipes stay exclusive for a year or longer; you can watch the class forever and ever; and you can be a part of a great group of people I have on a private Facebook page.  My in-person classes in LA used to be $150/person. These classes are $27/month!
Here's your dinner planner for the week:
Meatless Monday: Chickpea Burgers with pita, avocado and yogurt-tahini sauce and a green salad with everyday salad dressing #2
Tuesday: Mediterranean skillet chicken and rice, add a salad or a sauteed vegetable on the side, like sauteed cabbage or spinach.
Wednesday: Three pea saute with or without turkey bacon. You don't have to use three types of peas – use all frozen peas if you want. Plus wild salmon roasted on a sheet pan with carrots.  Start the carrots (tossed with a little evoo and salt and pepper) first at 400 degrees and try to guess about 8-10 minutes before they're done.  Then add the salmon, brushed with olive oil and sprinkled with salt and pepper.
Thursday: Peruvian Soup with Cilantro p. 87 from KM
Friday: Asian turkey lettuce cups, winter vegetable slaw with ginger and lime (p. 161),  from KM
Saturday brunch: egg salad with grain-free seed crackers
Sunday: Pantry pasta with fresh or frozen veggies you happen to have, add in some beans, lentils or peas for protein, or whatever leftover protein you have or toasted pine nuts or grated cheese.
Here's what you can make in advance if it helps you:
Sunday:
Wash greens
Make salad dressing
Cook chickpeas, if making from scratch
Assemble chickpea burgers
Make yogurt-tahini sauce
Measure spice mixture for skillet chicken and rice
Friday:
Boil eggs
Make seed crackers
My new-ish cookbook, Quicker Than Quick, is here!  I have LOVED seeing all your creations of my recipes on Instagram. If you make any of my recipes, please tag me @pamelasalzman #pamelasalzman so I can check them out!  If you have 1 minute, would you mind leaving a review on amazon?  I would be so grateful, thank you!
Take a peek at my first cookbook "Kitchen Matters"!