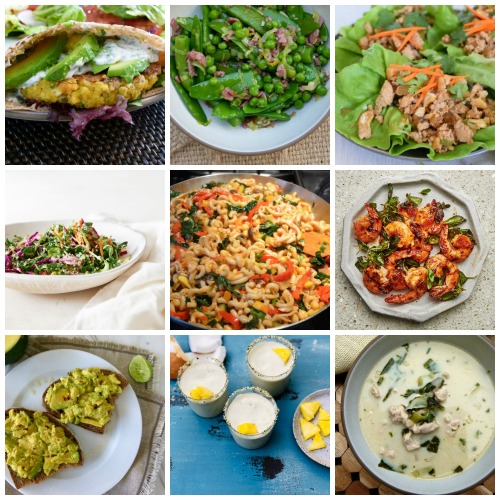 I am FINALLY feeling better. Not 100%, but going in the right direction and better each day.  I only have a lingering cough which shows up at 8:00 pm every night until I fall asleep.  I can't explain it.  Again, I improve a little every day.  Thank you for all your messages and words of encouragement!
I am doing a Facebook LIVE Saturday morning 1/11 at 9:30 am PT for all my online cooking class students!  I can't wait to get back to our regular chats.  Also, I will be on Hallmark's Home & Family this Tuesday, January 14th.  Check your local listings for details.
I am continuing to challenge myself to use what I have in the freezer and pantry and avoid grocery shopping, although I have no fresh fruit and very little fresh veg in the house so I will fill in this weekend with a little of that.  Here's your dinner planner for the week:
Meatless Monday: Chickpea Burgers with pita, avocado and yogurt-tahini sauce and a green salad with everyday salad dressing #2
Tuesday: Three pea saute with or without turkey bacon. You don't have to use three types of peas – use all frozen peas if you want. Plus wild salmon roasted on a sheet pan with carrots.  Start the carrots first at 400 degrees and try to guess about 10 minutes before they're done.  Then add the salmon, brushed with olive oil and sprinkled with salt and pepper.
Wednesday: Asian turkey lettuce cups, winter vegetable slaw with ginger and lime (p. 161),  from my cookbook
Thursday: Pantry pasta with fresh or frozen veggies you happen to have, add in some beans or peas for protein
Friday:  Shrimp and Basil Stir-Fry from Bon Appetit, roasted veggies, served with steamed white or brown rice or cooked farro
Saturday Brunch: Pina colada smoothie with avocado toast
Sunday:  Thai Coconut Chicken Soup
Here's what you can do ahead if you need to:
Sunday:
Wash and dry all vegetables, greens, and herbs
Assemble chickpea burgers, store covered in refrigerator
Make yogurt-tahini sauce
Make salad dressings
Thinly slice cabbage for vegetable slaw
Make stock for soup
I have LOVED seeing all your creations of my recipes on Instagram. If you make any of my recipes, please tag me @pamelasalzman #pamelasalzman so I can check them out!
Click here to learn more about my online cooking classes! If you like my recipes, you'll LOVE my cookbook!  If you have 1 minute, would you mind leaving a review on amazon?  I would be so grateful, thank you!