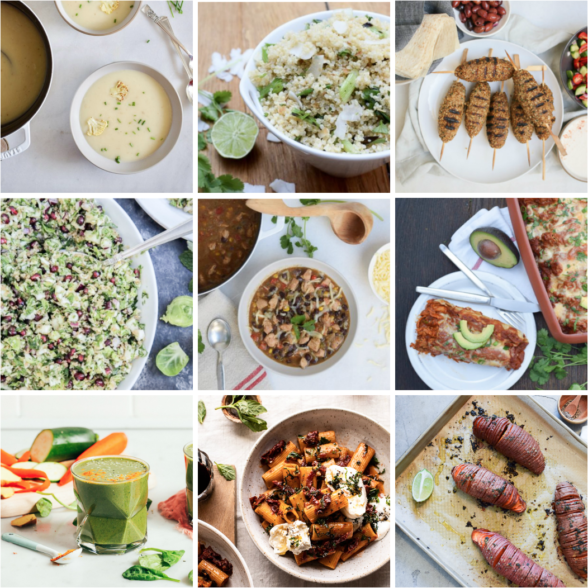 Someone commented on my Instagram feed the other day after I posted cauliflower in three different colors, that winter was her favorite season for produce.  Huh.  I've never thought that before, but there is so much bounty even in winter.  I don't buy summer goods in the winter because that would just disappoint me.  All the cruciferous veggies, winter squash and citrus are amazing right now.  
I added a local book event to my calendar for those of you who live in Orange County (or LA.)  I'll be doing a free cooking demo at Roger's Gardens in Corona del Mar on Sunday, March 17th at 10:00 am.  I'll also be signing books!  Come join me if you're in the neighborhood.  I hope you are staying warm and toasty!  Here's your dinner planner for the week:
Meatless Monday: Cauliflower and Roasted Garlic Soup served with a fresh green salad + lentils or white beans and tossed with my Everyday Salad Dressing.
Tuesday: simple slow roasted salmon, method here, Quinoa with Toasted Coconut and Lime served with mixed greens tossed with miso-ginger dressing,
Wednesday: Kibbeh Kebabs served with this Garlic Yogurt Sauce recipe and add mix in some fresh chopped mint, serve with Winter Tabbouleh
Thursday: It's National Chili Day! Deer Valley-Style Turkey and Black Bean Chili, Vegetable Chili, Slow Cooker Vegetarian Chili with Sweet Potatoes 
Friday: Chicken Enchiladas Rojas and Mexican Sautéed Greens
Saturday lunch: This Warming Winter Smoothie from The Minimalist Baker or if you're really hungry try this Quick Pantry Pasta with Sun-dried Tomatoes and Burrata from Half-Baked Harvest. 
Sunday: Hasselback Sweet Potatoes. While you're roasting the sweet potatoes throw in a sliced red onion, broccoli and kale, tossed in olive oil and sea salt, to roast as well. Let the veggies get crisp in the oven and when ready squeeze some lemon juice and drizzle tahini on top. I'll also make a slow cooker while chicken.
Here's what you can do ahead if it helps you:
Sunday:  
Make all dressings, marinades, sauces 
Make the cauliflower soup in its entirety or just roast the garlic 
Cook all grains
Wash salad greens
Wednesday: 
Make chili
Make enchilada sauce
Make chicken for enchiladas
Here's a link to my previous dinner planners.
I have LOVED seeing all your creations of my recipes on Instagram.  If you make any of my recipes, please tag me @pamelasalzman #pamelasalzman so I can check them out!
Click here to learn more about my online cooking classes!
If you like my recipes, you'll LOVE my cookbook!