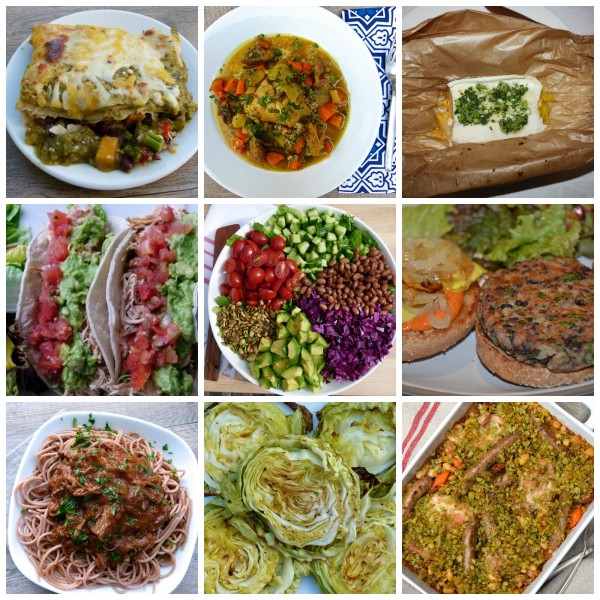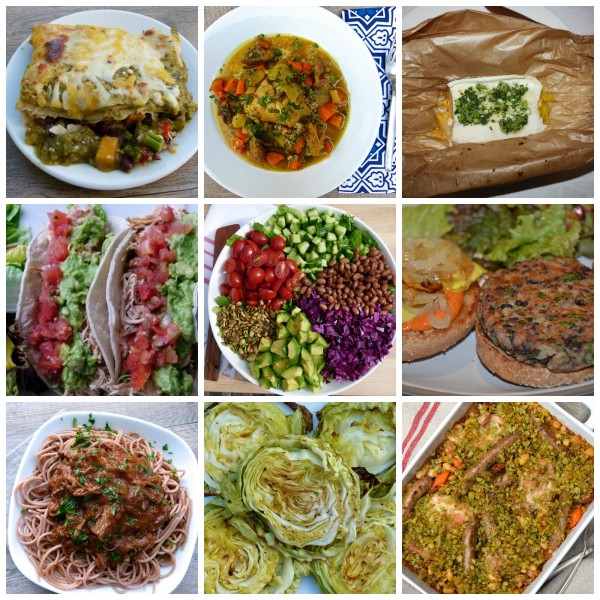 I am enjoying a three-day weekend in Palm Springs for the President's Day holiday!  It's lovely to spend some quality time with my family and take a break from the kitchen for a short bit.  But that doesn't mean I am not planning my meals for the week.  Since it is Lent, I will try to remember to plan for a non-meat or fish dinner on Fridays.  If I forget, just move things around on your own so that the meal plan works for you.
Here's my dinner planner for the week with some ideas for how to prep ahead:
Meatless Monday:  Roasted vegetables and black bean enchiladas verde (can do this traditionally or in casserole version to save time)
Tuesday:  Moroccan chicken with dates (can be done in slow cooker or stovetop), basic quinoa, and shredded raw beet salad (will use this recipe but possibly use all beets, no cheese)
Wednesday: Baked wild halibut in parchment with cilantro and ginger, stir-fried cauliflower and broccoli, rice if desired
Thursday:  Slow cooker chicken tacos, Mexican chopped salad (sub radishes for cucumbers), avocado or guacamole (I will offer the kids tortillas, but a lot of the time I eat the chicken in a lettuce leaf or put it on top of my salad.)
Friday:  Black bean burgers with smoky red pepper sauce, baked carrot "fries" (use this recipe as a guide if needed for the fries.  I am going to use coconut oil for roasting.)
Saturday:  Shredded grass-fed beef brisket with brown rice/quinoa pasta, roasted cabbage
Sunday: Cassoulet with turkey (or pork) sausages, green salad with Everyday Salad Dressing #1
How you can prep ahead (which doesn't mean you must, just some ways you can relieve some of the prep right before dinner):
Sunday:
Make stock for Moroccan chicken, shredded brisket and cassoulet.  Here's a recipe for veggie stock and for chicken stock.
Make beans for Mexican chopped salad (pinto), Burgers (black), and Cassoulet (Cannellini or Great Northern).  Freeze beans and defrost night before.
Make Mexican chopped salad dressing, dressing for beet salad and salad dressing for Sunday green salad
Juice lemons for Moroccan chicken on Tuesday
Make rice for Tuesday and Wednesday (I don't make my rice early, but it's helpful if you get home from work late and it's already done.  Just reheat with in a pot with a few tablespoons of water.)
Salt chicken for Tuesday (I like to do this.  Do not salt a kosher chicken, though.  Check out this post here.)
Make tomatillo sauce for Monday
Dice and roast veggies for Monday
Monday:
Make enchiladas or casserole version in the morning and refrigerate it for that night
Shred beets for salad on Tuesday
Tuesday:
Cut broccoli and cauliflower into florets for Wednesday
Wash and dry salad greens for Thursday and Sunday
Wednesday:
Toast pepitas for salad on Thursday
Chop cabbage for salad on Thursday
Make smokey red pepper sauce for Friday
Thursday:
Start slow cooker for chicken tacos in the morning
Cut carrots into "fries" for Friday
Make and form black bean burger patties, refrigerate
Friday:
Make brisket and sauce for Saturday
Sunday morning:
You can assemble the whole cassoulet and refrigerate it.  Can even be done the day before.
Previous Dinner Planners: