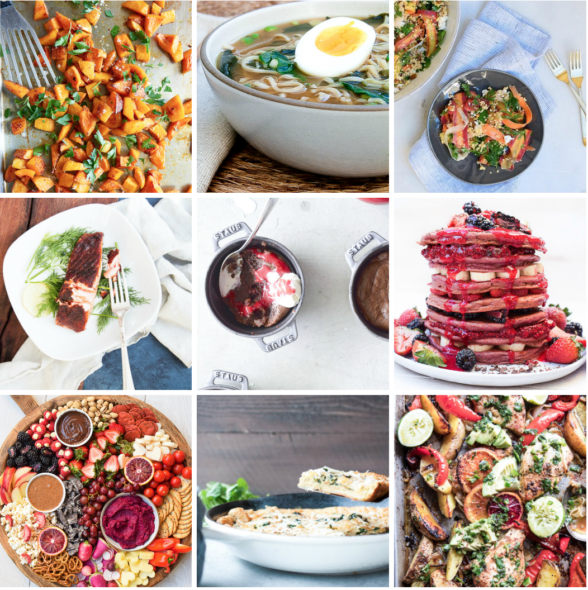 Coming off the most boring Super Bowl I can remember, the rest of the week seemed downright exciting.  I debuted a new menu in my cooking classes this week and filmed this class for my online class platform.  Speaking of which, I am going live on Facebook on Saturday at 9:30 am PST if you are a subscriber to my online classes.  I love this group so much!!!
Just a heads up that this Thursday is Valentine's Day.  Buy a card for your sweetie and think about how to spread some love around!  Here's your dinner planner for the week:
Monday: Buddha bowls with Moroccan Squash from my book served with sautéed kale, quinoa, toasted slivered almonds and lemon. You can drizzle tahini dressing on top, use this method. 
Tuesday: Ramen Noodle Soup with greens and an egg or cooked shredded chicken
Wednesday: Rainbow Carrot Salad with Millet, Feta, and Lemon Yogurt Dressing served along side your favorite protein if you're wanting a heartier meal. 
Valentine's Day:  I always make my Chicken Pot Pie (omit the chicken and sub extra veggies for a vegetarian version) with a simple fresh side salad and this year I'm making these Vegan Red Velvet Cupcakes for dessert! Other dinner options that I love for Valentines Day are Spaghetti Squash with Pecorino and Herbs (for a cozier version, you can cook it with sautéed mushrooms, herbs and doctored-up tomato sauce),  Spice-Rubbed Wild Salmon, Easy No-Fail Roast Chicken, and this Lemon and Cumin Scented Quinoa along with a lightly tossed green salad is a great side dish to go with these recipes. Another dessert option could be these Mini Flourless Chocolate Cakes with Raspberry Sauce or Chocolate Bundt Cake with Chocolate Ganache. Yum!
If you're making a Valentine's Day breakfast instead of dinner I love making these pink Pitaya Pancakes. Also, this Valentine's Day Snack Board is the perfect snack to leave out if you have kids coming home from school that day. 
Friday: Chicken pot pie soup (or leftovers soup) – take your leftovers and cut into bite size pieces, if necessary.  Put in a pot and add enough chicken or vegetable stock to create a soup consistency.  Heat and serve!
Saturday lunch: Savory Dutch Baby with Spinach and Gruyere. You can also toss a little olive oil, lemon and sea salt with some arugula and serve it on top of the dutch baby. 
Sunday:  Sheet Pan Cuban Chicken with Citrus Avocado Salsa from Half-Baked Harvest
Here's what you can do ahead if it helps you:
Sunday: 
Cook all grains 
Make all dressings, sauces and marinades
Make Grain-Free Seed Crackers 
Wednesday:  
Make pancake batter if you're choosing to make breakfast
Prep any snack board items if you're choosing to make the snack board
Make Thursday's dessert 
Here's a link to my previous dinner planners.
I have LOVED seeing all your creations of my recipes on Instagram.  If you make any of my recipes, please tag me @pamelasalzman #pamelasalzman so I can check them out!
Click here to learn more about my online cooking classes! 
If you like my recipes, you'll LOVE my cookbook!