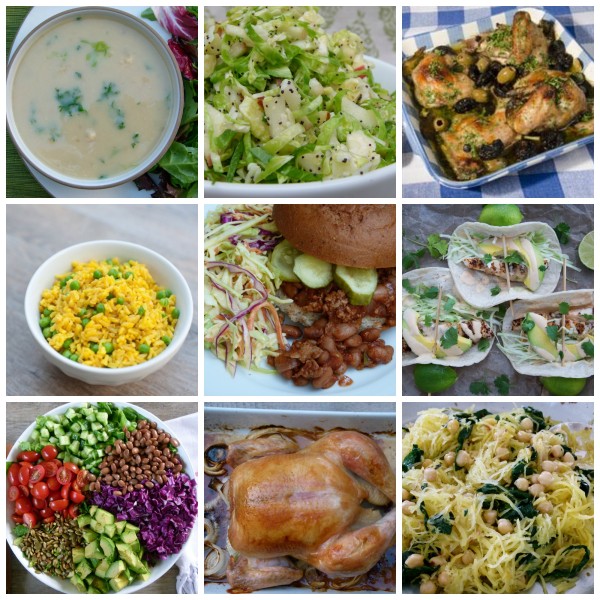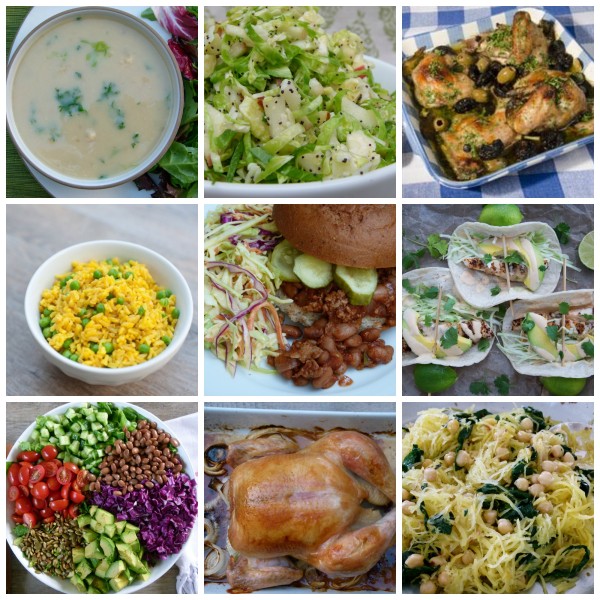 February already??!!  Indeed.  And lots happening this month, from Chinese New Year and the Super Bowl to Valentine's Day and President's Weekend.  So much to celebrate and eat!  I hope you have been finding the dinner planners helpful.  Many of my students have been talking about it in class, commenting that they are spending less money at the grocery store and wasting less.  Amen!  When you go to the store with a plan, you buy what you need.  And it is helping many of these ladies stick to their new year's resolutions of cooking more and eating better.  Yay!  That's the idea.
Here's your menu for this week:
Meatless Monday:  Potato and white bean soup, shredded brussels sprout salad
Tuesday:  Chicken Marbella*, turmeric rice (this recipe but I am going to omit the peas) or cauli-rice, broccoli (either steamed or roasted)
Wednesday:  Turkey sloppy joes, Coleslaw
Thursday:  Fish tacos, chopped salad with Mexican dressing (lettuce, radishes, red cabbage, toasted pepitas) Broil the fish if you can't grill.
Friday:  whole roasted chicken with potatoes, onions, fennel (try this slow cooker version if you can't roast a chicken in the oven) Save the chicken carcass for making homemade chicken stock.
Saturday:  Spaghetti squash with kale and chickpeas, sautéed mushrooms
SUPER BOWL SUNDAY!  We haven't figured out our plans yet, but in the past we have done several different easy, buffet options for a small group like:
turkey and black bean chili, vegetable chili, cornbread, baked potatoes and topping bar, Mexican chopped salad
meatball subs, homemade pizzas, vegetarian antipasto chopped salad
taco bar (ground beef and fish), refried beans, cilantro-lime slaw, arroz verde
I generally make guacamole and baked tortilla chips,  plus jicama cut into thin "chips," "vegan queso" with chips and baked sweet potato rounds, crudités with hummus.  I have also done sliders/mini burgers, mini chicken tostadas, broccoli and cheese potato bites, or warm spinach and artichoke dip.
*Chicken Marbella is a wonderful, classic recipe from The Silver Palate Cookbook, which I still love.  I had the dish recently at a friend's house and I was reminded how much I have enjoyed it over the last 30+ years.  It's great for weeknights since you can marinate it the chicken the night before and then all you have to do is bake it the next day.  I've had it with boneless skinless chicken which does cut the cooking time, but it's better with bone-in, skin-on (more flavorful and juicier.)  The recipe calls for 10 pounds of chicken to serve 10 people.  I always halve it and use 1 whole 5-pound chicken, cut into pieces.  You can use all breasts or all thighs and drumsticks if you want.
Here's your prep-ahead strategy for this week.  Check out my post from Friday which gives some great general tips on how you can prep ahead.
Sunday
Soak beans for Monday soup, Wednesday sloppy joes and Saturday spaghetti squash
Cook beans for sloppy joes and refrigerate
Cook beans for spaghetti squash and freeze
Make stock for Monday soup
Shred Brussels sprouts
Make dressing for Monday and Thursday salads
Make marinade for chicken Marbella
Prep (wash, dry, cut into florets) broccoli
Wash lettuce for salads
Shred cabbage for slaw and Thursday salad
Monday
Marinate chicken for Tuesday
Tuesday
Soak brown rice for tonight.  No need to soak white rice.
Wednesday
Salt chicken for Friday
Make marinade or dry rub for fish tacos
Buy avocados for Super Bowl.  Buy them hard and allow them to ripen on countertop.  When they give to gentle pressure, refrigerate them.
Prep fennel for roasted chicken
Saturday
Defrost chickpeas, if frozen
Previous Dinner Planners: