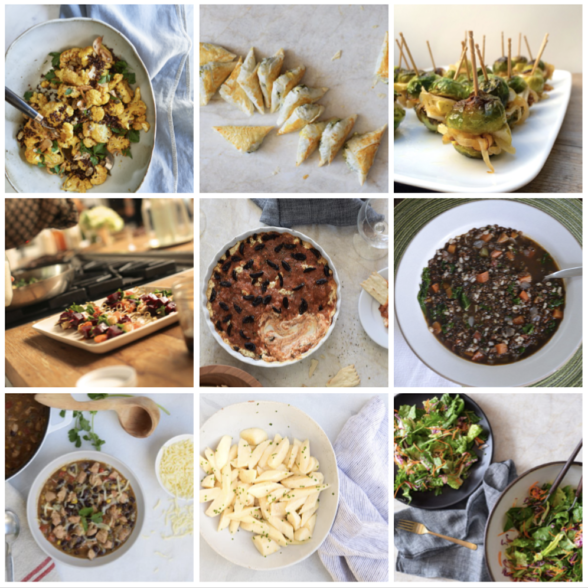 I hope your holidays have been merry and bright!  I have been taking some time off social media since Christmas to enjoy some much needed and rare family time.  I only spend two weeks of the year with my extended family, and this holiday has been rather emotional since my dad passed away in September.  We have really had a special week together.
I have been cooking a lot with my sisters and my daughters and I know you have been in the kitchen, too!  I have pulled together some inspiration for the coming week to keep us all eating well.  Here's your dinner planner for the week:
Meatless Monday: Turmeric Roasted Cauliflower with raisins, capers, and crispy quinoa (p. 110) and Curried Chickpea Salad (p.175) from my book
Tuesday (New Year's Eve): Appetizer ideas – Polenta Crostini with Spinach and Capers, Buckwheat Blinis with Smoked Salmon and Lemon Creme Fraiche, Mini Spanakopita, Zesty Potato Skewers, Mini Risotto Cakes, Brussels Sprouts Sliders, Endive with Grapes, Hazelnuts and Roquefort, Hen of the Woods Mushroom Toasts, Spinach and Artichoke Dip, Provencal Goat Cheese Gratin, White Bean Dip with Roasted Garlic, Butternut Squash, Beet and Apple Skewers, or a Cheeseboard (method here).
Wednesday (Happy New Year!): We always made lentils on New Year's Day for good luck. I usually continue this tradition with a big pot of lentil soup.
Thursday: Deer Valley-Style Turkey and Black Bean Chili, cornbread
Friday: Stovetop braised parsnips with coconut butter and white balsamic, simple roast chicken or fish with chermoula
Saturday Brunch: Cauliflower crust pizza, avocado caesar salad
Sunday: Big green detox salad with Bieler's Broth or Super Greens soup
Here's what you can do ahead if you need to:
Sunday
make all sauces and dressings
wash herbs and greens
make curried chickpea salad
make stock for soups (I am using the turkey stock I made and froze from thanksgiving for the turkey chili)
Wednesday
soak beans
prep veggies for rest of week
make chermoula
Friday
make cauliflower crusts
I have LOVED seeing all your creations of my recipes on Instagram. If you make any of my recipes, please tag me @pamelasalzman #pamelasalzman so I can check them out!
Click here to learn more about my online cooking classes! If you like my recipes, you'll LOVE my cookbook!  If you have 1 minute, would you mind leaving a review on amazon?  I would be so grateful, thank you!