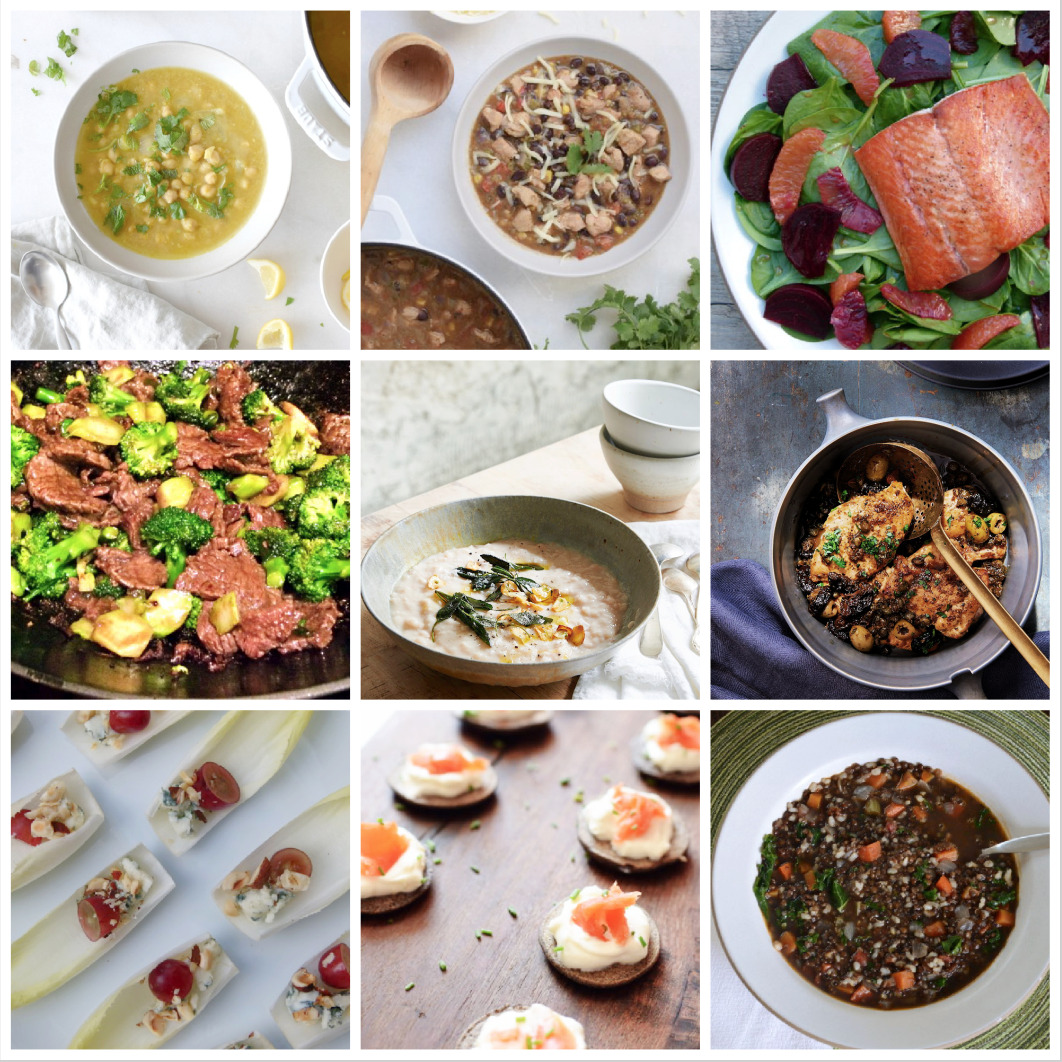 Christmas week is always full of cookies and extra helpings at lunch and dinner. We have enjoyed some foods in New York that we don't eat often in LA (mostly of the Italian variety.) I am hoping that in Utah next week we can get outside and be a little more active. Other than on New Years Eve, we are planning to cook our dinners at home. I have to be a bit more conscientious than I used to be about eating my way through the holidays. Now I am more focused on how I will sleep that night and how will I feel afterwards. I am trying to find a balance between enjoying holiday foods but not regretting it later! Here's your dinner planner for the week:
Meatless Monday: Lemony Chickpea Soup, whole roasted cauliflower
Tuesday: Deer Valley-Style Turkey and Black Bean Chili, cornbread
Wednesday: Wild Salmon with Blood Orange, Beet and Spinach Salad, served with roasted sweet potato wedges
Thursday: stir-fried beef and broccoli, steamed brown rice or cauli-rice
Friday: Quicker Chicken Marbella p. 212 and white bean puree with garlic and sage p. 189 from QTQ
Saturday (New Year's Eve): Appetizer ideas – Polenta Crostini with Spinach and Capers, Buckwheat Blinis with Smoked Salmon and Lemon Creme Fraiche, Mini Spanakopita, Zesty Potato Skewers, Mini Risotto Cakes, Brussels Sprouts Sliders, Endive with Grapes, Hazelnuts and Roquefort, Hen of the Woods Mushroom Toasts, Spinach and Artichoke Dip, Provencal Goat Cheese Gratin, White Bean Dip with Roasted Garlic, Butternut Squash, Beet and Apple Skewers, or a Cheeseboard (method here).
Sunday (New Year's Day): We always made lentils on New Year's Day for good luck. I usually continue this tradition with a big pot of lentil soup, but the Lentil Shepherd's Pie (which we now make every year on Christmas) is outstanding.
Here's what you can do ahead if it helps you:
Sunday:
Cook beans if making from scratch
Make stock
Monday:
Chop onion, celery, and pepper for chili
Cut citrus and make dressing for salad
Tuesday:
Roast beets
Wednesday:
Make sauce and marinade for stir fry
I have LOVED seeing all your creations of my recipes on Instagram. If you make any of my recipes, please tag me @pamelasalzman #pamelasalzman so I can check them out! I have a free Monday newsletter with my thoughts, new recipes, and things I'm loving lately. Subscribe here!
Order my cookbook, Quicker Than Quick! If you have 1 minute, would you mind leaving a review on amazon? I would be so grateful, thank you! Take a peek at my first cookbook "Kitchen Matters"!