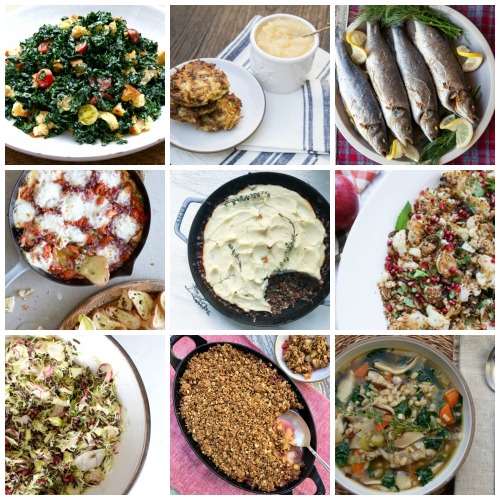 And we're off!  First stop, Long Island to celebrate Christmas with my family. I'll be on stories the whole week, cooking up a storm!  Then, Utah to meet up with my husband's family to ski for a few days. I was talking to a few friends this week about eating and drinking during the holidays and how so many people eat like they know they will doing a "cleanse" on January 2nd or Whole30 for the month of January.  How about we eat like we are healthy beings who want to stay healthy and feel good as often as possible?  I try to think that way as much as I can.  Food should not have power over us.  It is not going to solve our problems.  It can nourish us and provide enjoyment, yes. I'm just talking out loud so that I reinforce this with myself!  I hope you have a beautiful and joyous holiday.  XOXO
Here's your dinner planner for the week:
Monday (Hanukkah): Kale salad with creamy lemon dressing, brussels sprout latkes, slow cooker whole roast chicken, maple mustard roasted vegetables, zucchini-potato latkes, homemade applesauce
Tuesday (Christmas Eve): This is a potluck dinner at my aunt's house for 100-120 people!  We always have dozens of fish dishes, including linguine with clam sauce, baccala, stuffed clams, eel, octopus and more.  Here's a recipe for Whole Roasted Branzino if you're in the mood for an easy and elegant fish dish.
Wednesday (Christmas Day): My mom hosts Christmas dinner and we'll start off with a big cheese board with nuts, salami and crudites.  Plus I'll make the Italian 7-layer dip, Baked Feta from December 2018 classes, or cheesy pull apart bread (recipe coming soon). My mom always makes chicken soup with tortellini and tenderloin, but this year we're having the cranberry balsamic chicken from this month's class.  We'll also make vegan lentil shepherd's pie,  Cauliflower with Pomegranate Molasses, Puree of Broccoli, or Wild Rice Salad. Or I am considering a roasted carrot dish with a pomegranate-pistachio relish like this recipe.  I'm also going to make peppermint bark shortbread from this month's class (although this Chocolate Bundt Cake with Peppermint Ganache has been a hit in the past) and Pear-Cranberry Gingersnap Crisp MERRY CHRISTMAS!
Thursday: Leftovers! I usually make a mushroom-barley soup and add in yesterday's leftovers.  The kids love it!  Here's another great option:  Vegan Cream of Mushroom and Wild Rice Soup from Food52 or kale and white bean minestrone
Friday: Black bean and beet burgers, carrot salad with avocado
Saturday Brunch: Banana Baked French toast casserole from my my cookbook (I will use vegetarian antipasto salad.
Here's what you can do ahead if you need to:
Sunday:
Make all marinades, sauces and dressings
Wash and dry all veggies
Make gremolata
Make pear crisp topping and refrigerate
Tuesday:
Cook lentils or buy pre-cooked
Make shepherd's pie topping
Make white bean dip for Italian 7 layer dip
Make wild rice
Friday:
Assemble french toast casserole
I have LOVED seeing all your creations of my recipes on Instagram. If you make any of my recipes, please tag me @pamelasalzman #pamelasalzman so I can check them out!
Click here to learn more about my online cooking classes! If you like my recipes, you'll LOVE