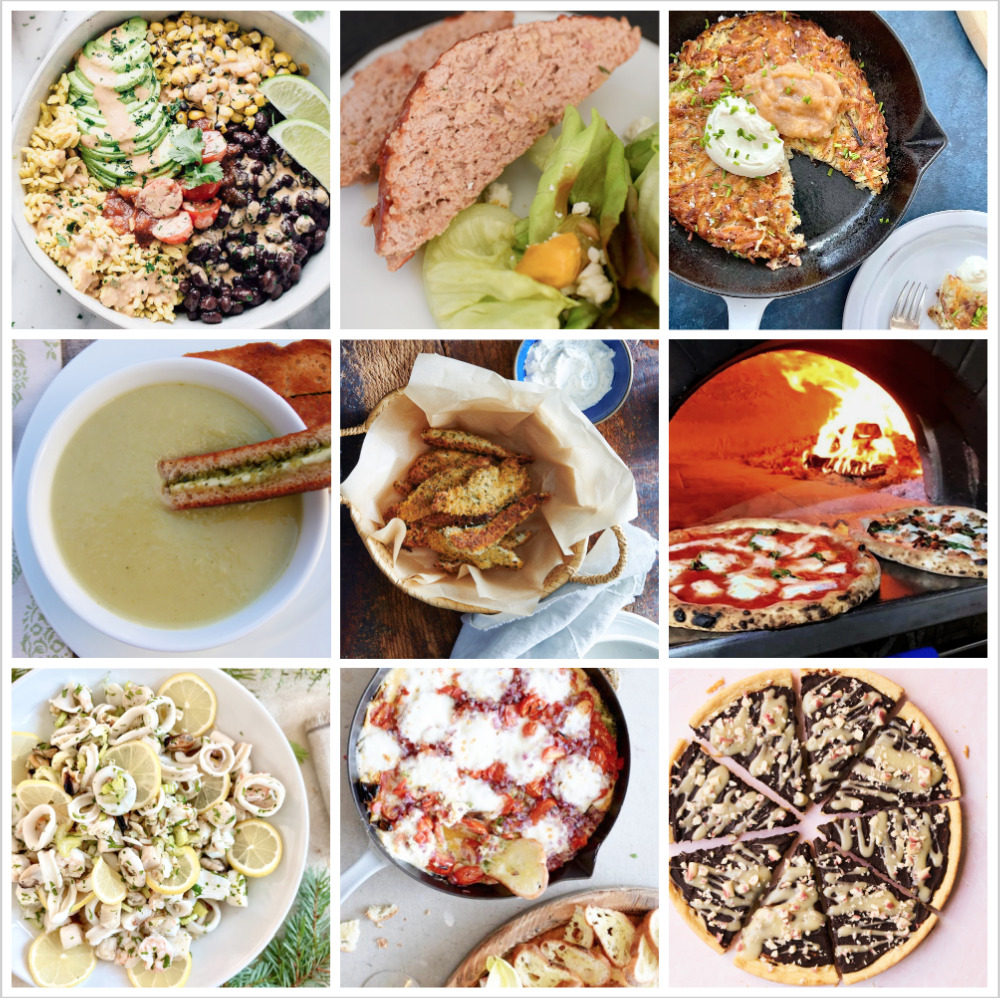 What a week – it's Hanukkah AND Christmas! Last week's dinner planner had some Hanukkah ideas since Sunday is the first night. We'll be at my mom's this week with all the kids, so I can barely contain my excitement. My mom and my sisters and I will cook together. We try to keep things easy and we make grocery runs every other day (since we can't store everything we need for the entire week.) Follow along on Instagram to see it all unfold. I've packed my matcha! Here's your dinner planner for the week:
Meatless Monday: DIY bowl night with black beans, rice, quinoa, lettuce, salsa, vegan queso, roasted brussels sprouts, chipotle cauliflower, and pickled onions (on page 109 of KM)
Tuesday: Turkey meatloaf, Big Skillet Latke, kale Caesar salad
Wednesday: Broccoli stalk soup served with grilled cheese sandwiches
Thursday: Ranch Chicken Fingers p. 227 from Quicker than Quick, coleslaw, baked chipotle sweet potato fries
Friday: Homemade wood fired pizza night at my mom's house weather permitting! We serve pizza with this vegetarian antipasto salad.
Saturday brunch (Christmas Eve): Normally, this is a potluck dinner at my aunt's house for 100-120 people! We always have dozens of fish dishes, including linguine with clam sauce, baccala, stuffed clams, eel, octopus and more. I have never published a clam sauce recipe, but I do something similar to this one but with a little tomato cooked into the sauce. If you are doing a seafood Christmas Eve, check out Cod Acqua Pazza, Seven Fishes Seafood Salad, or the Halibut with Capers and Lentils from my December 2020 online class; a simple arugula and radicchio salad; plus some garlicky broccoli rabe. Here's a recipe for Whole Roasted Branzino if you're in the mood for an easy and elegant fish dish or you can do the broiled branzino fillets from QTQ. My cousin Allison makes dozens of "haystacks" and there are biscotti, panettoni, and more.
Sunday (Christmas Day): My mom hosts Christmas dinner and we'll start off with a big cheese board with nuts, salami and crudites. Plus I'll make the Italian 7-layer dip, Baked Feta from QTQ, cheesy pull apart bread or broccoli and roasted tomato stromboli wreath from Quicker than Quick. My mom always makes chicken soup with tortellini and beef tenderloin, and a recent tradition is the vegan lentil shepherd's pie. Last year the Cheesy Broccoli Casserole was a mega-hit. I am also considering a roasted carrot dish with a pomegranate-pistachio relish like this recipe + a basic green salad. I will be making the Sticky Toffee Cake. And the kids will make loads of cookies and bars that we'll eat on Christmas as well. I know Anna wants to make Magic Bars, Emma will make Molasses Ginger Cookies, and my niece is making Peppermint Bark Shortbread. Although this Chocolate Bundt Cake with Peppermint Ganache has been a hit in the past and so has Pear-Cranberry Gingersnap Crisp MERRY CHRISTMAS!
Here's what you can do ahead if it helps you:
Sunday:
Wash lettuce
Make vegan queso
Pickle onions
Cook beans, if making from scratch
Monday:
Assemble meatloaf
Make salad dressing
Cut broccoli for soup
Wednesday:
Measure dry mix for chicken fingers
Friday:
Bake cookies. If you're making a crisp, you can make the topping now and refrigerate and bake the day you plan to serve it.
For the 7 layer dip, you can make the components, store them separately, and assemble the day you plan to serve it.
I have LOVED seeing all your creations of my recipes on Instagram. If you make any of my recipes, please tag me @pamelasalzman #pamelasalzman so I can check them out! I have a free Monday newsletter with my thoughts, new recipes, and things I'm loving lately. Subscribe here!
Order my cookbook, Quicker Than Quick! If you have 1 minute, would you mind leaving a review on amazon? I would be so grateful, thank you! Take a peek at my first cookbook "Kitchen Matters"!