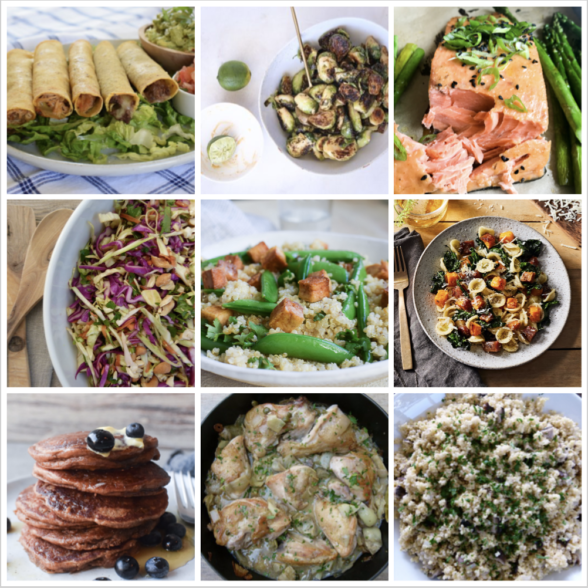 The holidays are upon us!  I went to a Cookie Swap yesterday hosted by Bake From Scratch and it was loads of fun (and sugar, oy!).  I made the Peppermint Bark Shortbread from this month's online cooking class and everyone raved about them!  It's our secret that they are so easy.  I am making them again today for a huge cookie swap that I am co-hosting Sunday, December 15th at 11:00 am at the FeedFeed in downtown LA.  Guess what?  Because I am one of the co-hosts, I can invite YOU!  Here are the details and it's totally free other than bringing, you guessed it, COOKIES to swap!  You do have to RSVP though.
Next weekend I am traveling back home to Long Island to celebrate Christmas with my family.  It's always my favorite week of the year!
Here's your dinner planner for the week:
Meatless Monday: Baked black bean taquitos, chipotle brussels sprouts
Tuesday: Brown butter miso-glazed wild salmon, asian slaw, ginger and honey glazed carrots 
Wednesday: Sugar snap pea and quinoa salad with tofu (I will replace snap peas with cauliflower or another fall/winter vegetable), I might add a quick saute of veggies if I think we need it
Thursday: Broccoli, celery root, and spinach soup from my book
Friday: Fall weeknight pasta from Food52
Saturday brunch: gingerbread pancakes
Sunday: Baked chicken with artichokes and capers, gluten-free millet and shiitake pilaf
Here's what you can do ahead if you need to:
Sunday:
Wash and dry all herbs and vegetables
Finely shred cabbage
Cut and peel carrots if necessary
Make quinoa salad dressing
Thursday:
Cut butternut squash or buy pre-cut
Friday:
Salt chicken, unless you're using kosher chicken
Make pancake batter
I have LOVED seeing all your creations of my recipes on Instagram. If you make any of my recipes, please tag me @pamelasalzman #pamelasalzman so I can check them out!
Click here to learn more about my online cooking classes! If you like my recipes, you'll LOVE my cookbook!  If you have 1 minute, would you mind leaving a review on amazon?  I would be so grateful, thank you!