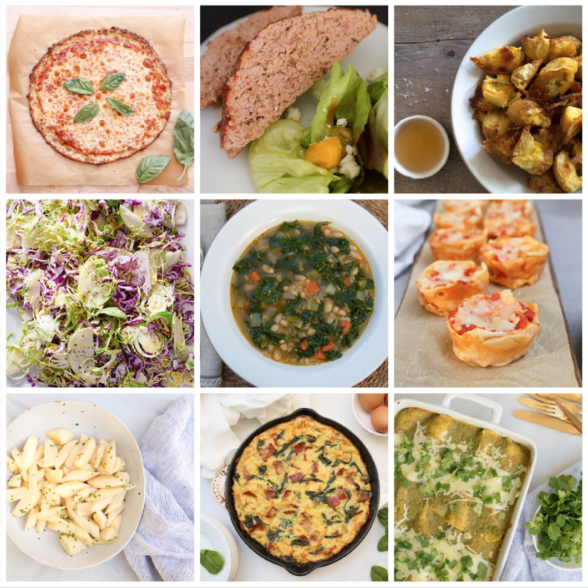 Oooh, I've got a great dinner planner for you this week!  Lots of cozy, comfort foods.  On the other hand, we are doing takeout twice a week, maybe more.  The restaurants in Los Angeles are fully shut down.  No indoor or outdoor dining; takeout only.  These businesses need our support.  Many of them have reasonably priced "family meals" that can serve a family of 4, so check out some of those options.  Buy gift cards from restaurants as gifts for teachers or others on your list.  I love supporting local restaurants that are small businesses, as opposed to national chains, but the big chains employ local folks who need to work.  Just something to consider!  Here's your dinner planner for the week:
Meatless Monday: Cauliflower crust pizza, avocado caesar salad
Tuesday: the best turkey meatloaf, crispy salt and vinegar potatoes, Brussels sprout slaw p. 63 from Quicker than Quick
Wednesday: Kale and white bean minestrone, cauliflower fritters a great alternative to latkes for a change of pace)
Thursday: lasagna cupcakes – you can add browned ground meat or roasted vegetables to any of the layers, sautéed broccolini (blanch in salted water for 3 minutes first, then saute in olive oil with lots of chopped garlic)
Friday: Stovetop braised parsnips with coconut butter and white balsamic, simple roast chicken or fish with chermoula,
Saturday brunch: Hashbrown and spinach casserole
Sunday: Roasted vegetable and black bean enchiladas verdes, Mexican sauteed greens
Here's what you can do ahead if it helps you:
Sunday:
Make salad dressings
Wash greens
Pre-bake cauliflower crust
Make stock, if making from scratch
Monday:
Make meatloaf mixture
Tuesday:
Cook beans, if making from scratch
Wednesday:
Assemble lasagna cupcakes
My new cookbook, Quicker Than Quick, is here!  I have LOVED seeing all your creations of my recipes on Instagram. If you make any of my recipes, please tag me @pamelasalzman #pamelasalzman so I can check them out!  If you have 1 minute, would you mind leaving a review on amazon?  I would be so grateful, thank you!
Take a peek at my first cookbook "Kitchen Matters"!