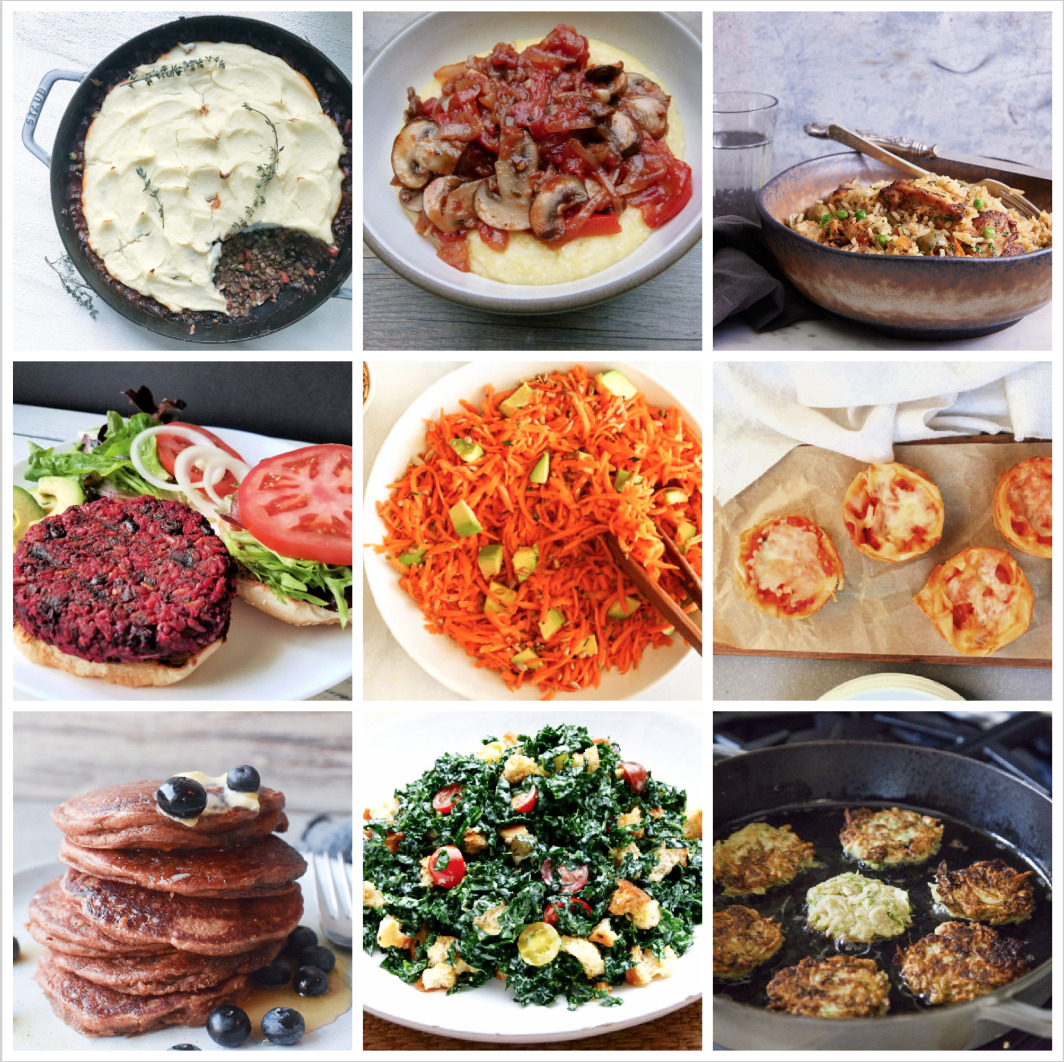 Happy Weekend! I am celebrating my nephew's bar mitzvah this weekend, so we have a lot of family events. Hubs and I are hosting a brunch at our home on Sunday. I am breaking it all down in Monday's newsletter. Subscribe here if you don't already. For my monthly online cooking class subscribers, I am doing a live zoom "office hours" on Wednesday at 5:00 pm PT. Check your email for the link! Here's your dinner planner for the week:
Meatless Monday: Vegan Lentil Shepherd's Pie (great time to give the test-run before the holidays!)
Tuesday: Creamy Polenta with mushrooms, white beans and braised greens, method here. (swap sauteed shrimp for the white beans if you prefer an animal protein.)
Wednesday: Weeknight arroz con pollo p. 215 from Quicker than Quick + a green salad with red cabbage and radishes and everyday salad dressing #2 (or make the creamy chipotle dressing from the Mexican chopped salad on p. 67)
Thursday: Black bean and beet burgers, carrot salad with avocado
Friday: Lasagna Cupcakes (feel free to add cooked ground beef or turkey or sausage or a meat substitute), served with broccolini sautéed with thinly sliced garlic. I also have this roasted vegetable lasagne.
Saturday brunch: gingerbread pancakes
Sunday (first night of Hanukkah): slow cooker whole roast chicken, onion-braised brisket, maple mustard roasted vegetables, roasted fish, use this method, Moroccan Roasted Carrots with Orange and LATKES! Recipes for skillet latke, zucchini latkes and Brussels sprouts latkes. A non-latke option if you get tired of latkes, are these cauliflower fritters. Kale salad with creamy lemon dressing, homemade applesauce
Here's what you can do ahead if it helps you:
Sunday:
Make cauliflower-potato topping for shepherd's pie and cut vegetables for filling
Make salad dressing
Wash greens
Tuesday:
Season chicken for arroz con pollo
Steam beets, cook brown rice, and cook black beans (if making from scratch) for burgers
Wednesday:
Assemble black bean and beet burgers
Grate carrots for salad
Friday:
Make pancake batter and refrigerate covered
I have LOVED seeing all your creations of my recipes on Instagram. If you make any of my recipes, please tag me @pamelasalzman #pamelasalzman so I can check them out! I have a free Monday newsletter with my thoughts, new recipes, and things I'm loving lately. Subscribe here!
Order my cookbook, Quicker Than Quick! If you have 1 minute, would you mind leaving a review on amazon? I would be so grateful, thank you! Take a peek at my first cookbook "Kitchen Matters"!