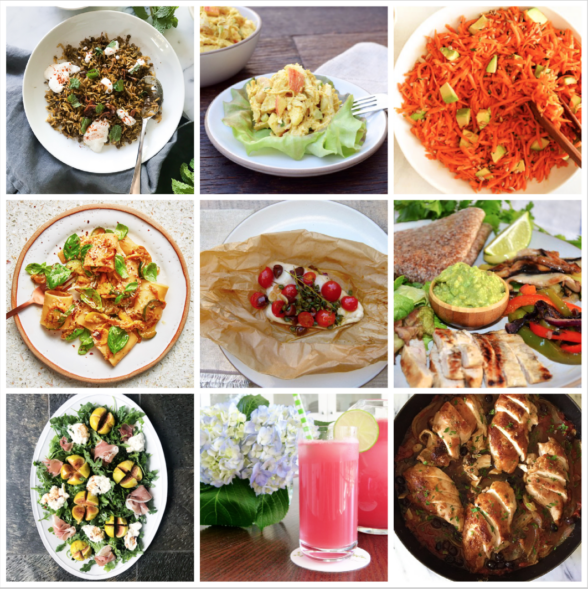 Thank you for all your kind messages, emails, comments this week after my friend Andrea passed away.  It has been a very difficult time.
A year and a half ago, I was invited by the Copper River Salmon Marketing Association to "Copper River Salmon Camp," a few days learning about my favorite fish, meeting fishermen and checking out Cordova, Alaska.  Because of the quarantine, the trip was rescheduled for next week!  So off I go for an Alaskan adventure.  I will not be doing an IG live this Monday, but please follow along on Instagram for all the Copper River fun! Here's your dinner planner for the week:
Meatless Monday: mejadra rice and lentils, sautéed swiss chard
Tuesday: curried chicken salad on lettuce cups, grated carrot salad with avocado
Wednesday: Mediterranean fish in parchment with grilled veggie couscous salad from good housekeeping
Thursday: Summer Squash and Basil Pasta from Healthyish
Friday: Grilled Chicken and Veggie Fajitas , you can add beans if you need more
Saturday brunch:  Salad with Burrata, Fig, and Prosciutto served with Watermelon Agua Fresca.
Sunday: Baked chicken with tomatoes, olives, and capers (you can make this in the slow cooker, too), cauliflower rice or simply sauteed zucchini noodles
Here's what you can do ahead if it helps you:
Sunday:
Cook lentils and rice
Grate carrots
Make salad dressing
Wash greens
Monday:
Poach chicken if cooking from scratch. You can also make the entire salad and keep it refrigerated.
Wednesday:
Slice squash
Thursday:
Chop veggies for fajitas
Friday:
Make watermelon agua fresca
I have LOVED seeing all your creations of my recipes on Instagram. If you make any of my recipes, please tag me @pamelasalzman #pamelasalzman so I can check them out!
My cookbook, Quicker Than Quick, is discounted for the first time on Amazon!  If you have 1 minute, would you mind leaving a review on amazon?  I would be so grateful, thank you!
Take a peek at my first cookbook "Kitchen Matters"!